January 8, 2020
Wide open, scary spaces all the way to Mount Rushmore
High-speed, open roads actually cause me a fair share of anxiety.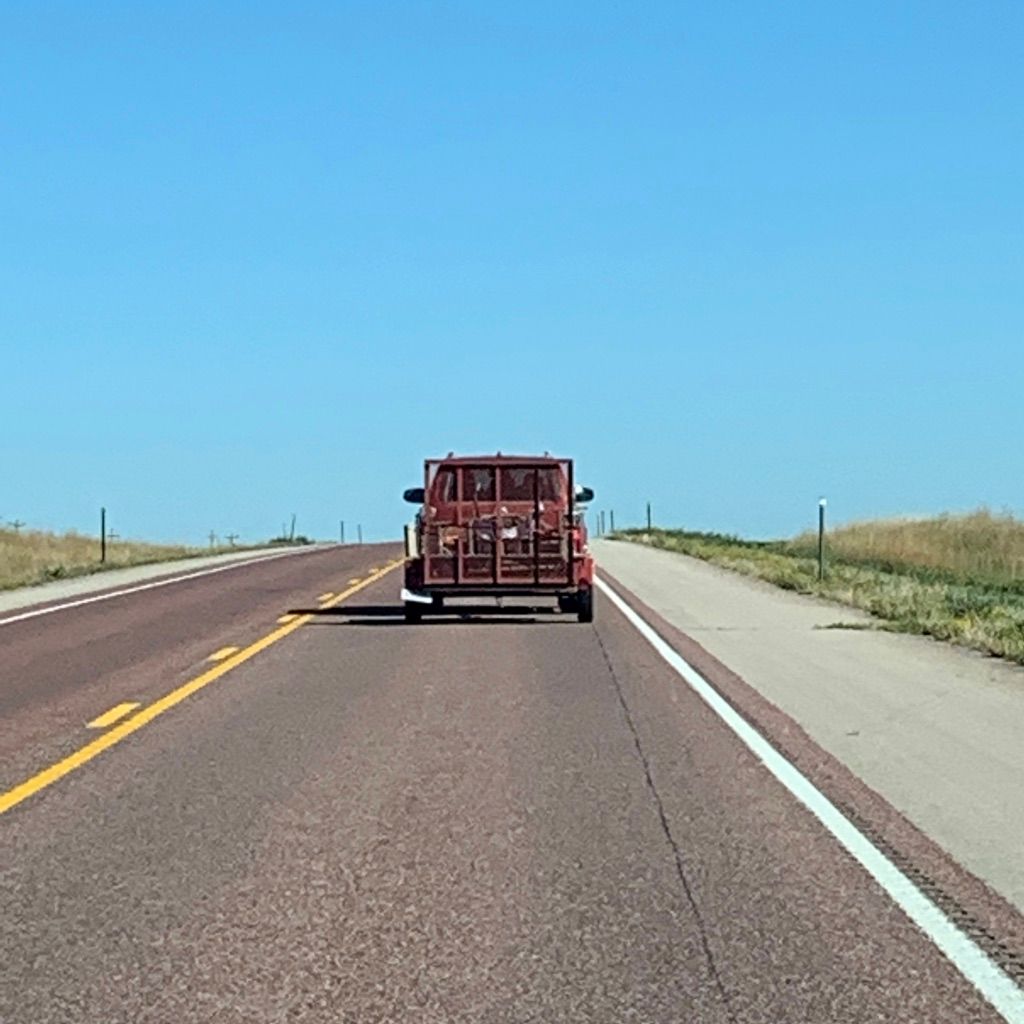 Y'all, I am not a country girl.  Don't let my generous use of the term y'all fool you.  I am half Texan by marriage, so technically I'm qualified to use this term.  However, I am a city girl through and through.  I love the city, love the convenience, love the hustle, love the grit, love it all.  I feel comfortable in a city.  I like people around, I like to be somewhere my screams can be heard.  So the next few days through some serious country towns and desolate roads were challenging for me, definitely out of my comfort zone.  Don't get me wrong, I love nature, love hiking and seeing historical sights like Mount Rushmore, I just want it to be close to a city.  You will notice as more blog posts go up, most of our destinations from here on out are in larger U.S. cities (this was by design).
Let me qualify what I mean by "challenging".  First off, something many people don't know about me is that I do not enjoy long road trips.  High-speed, open roads actually cause me a fair share of anxiety.  Spending 4 months driving around the United States, I of course anticipated this being an issue for me.  Do things that make you uncomfortable "they" say.  It's good for you, right?  Get out of your comfort zone "they" say.  Who "they" are, I will never know, but if "they" say it, then it must be true.  That being said, we spent the next 3 and half days on some very fast moving, windy, open roads which were riddled with semi-trucks wizzing by, mostly in areas which had no Internet or phone services (my nightmare).  With the assistance of only 1 Xanex over the course of 3 days, I did it and survived!  "They" should be very proud of me.
We left Salt Lake City on a Wednesday and headed to Cheyenne, Wyoming as our half way stopping point.  The drive was...you guessed it...long, fast and nerve-wracking (for me).  There was however, a cool Lincoln Monument along the Lincoln Highway no less.  America loves Lincoln and so do we, so naturally we stopped to snap a photo.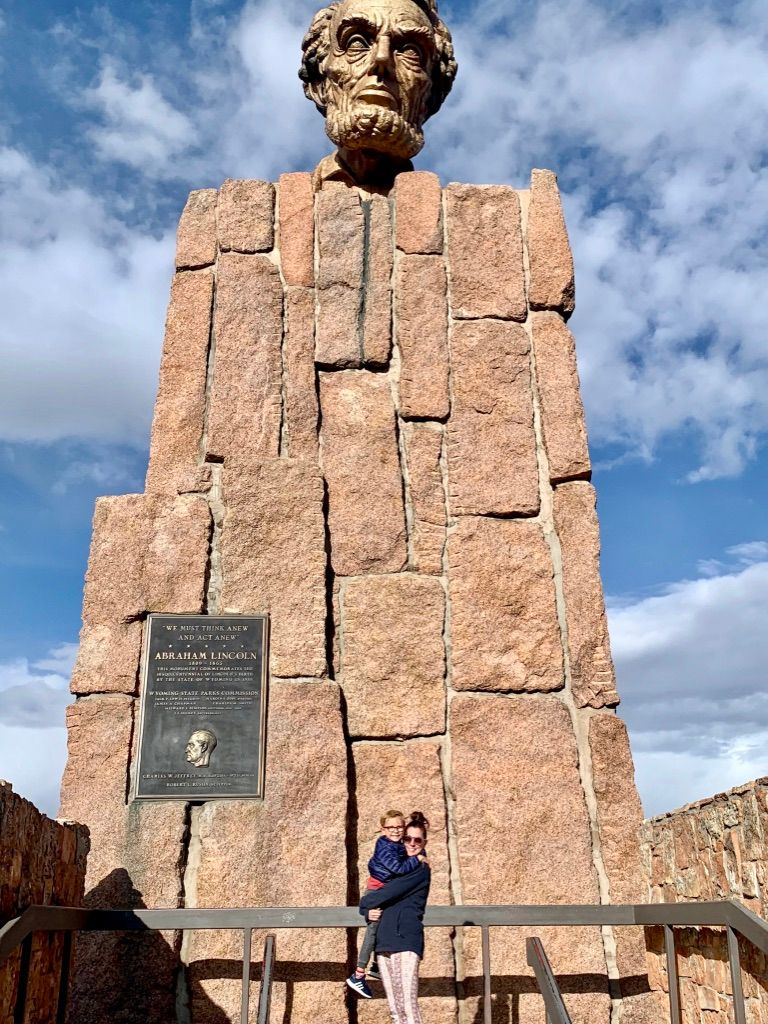 We arrived at the Historic Planes Hotel in Cheyenne around 4 p.m.  We pulled into the downtown area hungry but excited to stay in this old-timey hotel.  We hadn't splurged on a hotel thus far in our trip and we were happy to finally be staying at a cute historical one.  Upon arriving, we realized there was no visible parking area for the hotel which concerned us, but we figured we must be missing something.  Jamie checked in and 30 minutes later came out with a concerned look on his face, "Yep, no parking here, street parking only".  This is kind of an issue for us since we have a year's worth of belongings in our car, including Jamie's work computer.  Oh well, we decided we would haul all of our belongings into the hotel just to be safe, even if we were just staying over-night.  We loaded all of our luggage and computers onto the luggage cart and entered the hotel. (Have you seen the Pace Picante commercial where the cowboys call out their friend for showing up with an imposter salsa?  Upon finding out it was made in NYC and not San Antonio, they all scream in unison, "New York City??!!"  These were the voices I heard in my head as we walked through the entrance of this hotel with our iMac and abundance of luggage). I walked in and was immediately smashed in the face by the overwhelming smell of cigarette smoke, like casino level cigarette smoke!  "Alright", (not so optimistically trying to be optimistic at this point), "certainly the rooms can't be this bad".  A fact I never confirmed to be true since we never made it up to our room.  
This hotel had one very charming, extremely small (I'm being generous), historic elevator.  So charming in fact that once our luggage cart was loaded, there was no room for any of our bodies!  At this point Jamie removed the cart from the elevator and we weighed out our options.
Option 1: Send the luggage up the elevator on its own and run up 5 flights of stairs in hopes to catch it right when the doors open.
Option 2: Carry all of our luggage up 5 flights of stairs.  This was early on in our travels and we still had way to0 many belongings (we have since sized down considerably).  
Option 3: Cancel our reservation and find another place to stay.
Option 3 was agreed upon within 15 seconds of our discussion.  I walked up to the front desk and asked if it was too late to cancel and still receive a full refund.  "Have you been to the room?", the guy asked. "No, we can't fit our luggage in the elevator" (which he was fully aware of since he had been sitting there the whole time watching our struggle). "Then yeah", he said.  Then yeah, may have been the most polite response we got out of this guy and also our signal that we could be refunded and get the hell out of there.
The next hour was a shit show of calls to Hotels.com.  They had to call the front desk of the hotel to confirm we were no longer checking in, the front desk was picking up the phone and hanging up on them.  This happened several times in a row.  How's that for a country-western middle finger?  Some other uncomfortable stuff happened during that hour, including the fine gentleman at the front desk pronouncing our last name as Fagner instead of Wagner.  I'm going to stop right there as by now you're probably getting the picture.  
We got out of that place and headed to dinner.  We found another hotel room which was pricey but ended up being fantastic. We downed 4 overpriced drinks (2 each) and went to sleep.  Shout out to Little America Cheyenne for saving our hides that night.  They had free parking too!  Also a shout out to Hotels.com for giving us a $75 voucher for our hassles.
We were up, car-packed, snacks ready and on the road by 7 a.m. the next morning heading off on our drive to Custer State Park and Mount Rushmore.  I held my breathe for much of the drive until we arrived at the sign welcoming us to Black Hills National Park.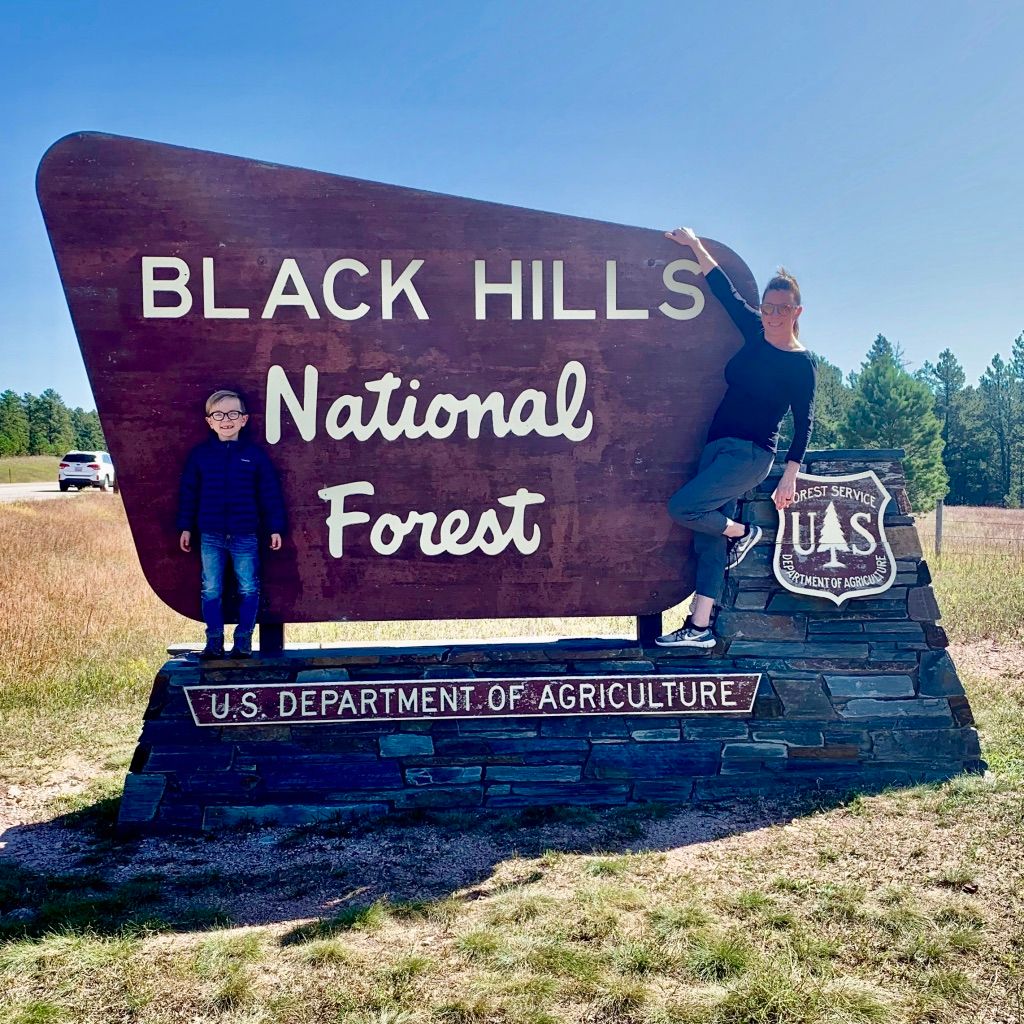 We made it to Custer State Park by noon and headed down Needles Highway to check out this home on the range where the buffalos roam and the deer and antelopes play.  Thanks to a travel family that we met on Instagram, I was given some valuable tips for exploring this area.
Custer State Park
Per the pro-tips we were given, we took Needles Highway Drive. What a sight!  The views of the spire-shaped rocks from here are phenomenal.  Next, we drove through a space about the width of our car called Needles Eye Tunnel and along the beginning of the highway.  This was my favorite part of Custer Park.  It is so beautiful through here with views of the cathedral spires at every turn.  There are tons of places to hike along this road.  We decided to do the Cathedral Spires Trail which is 1.6 miles, involves some mild rock climbing but is otherwise very kid-friendly.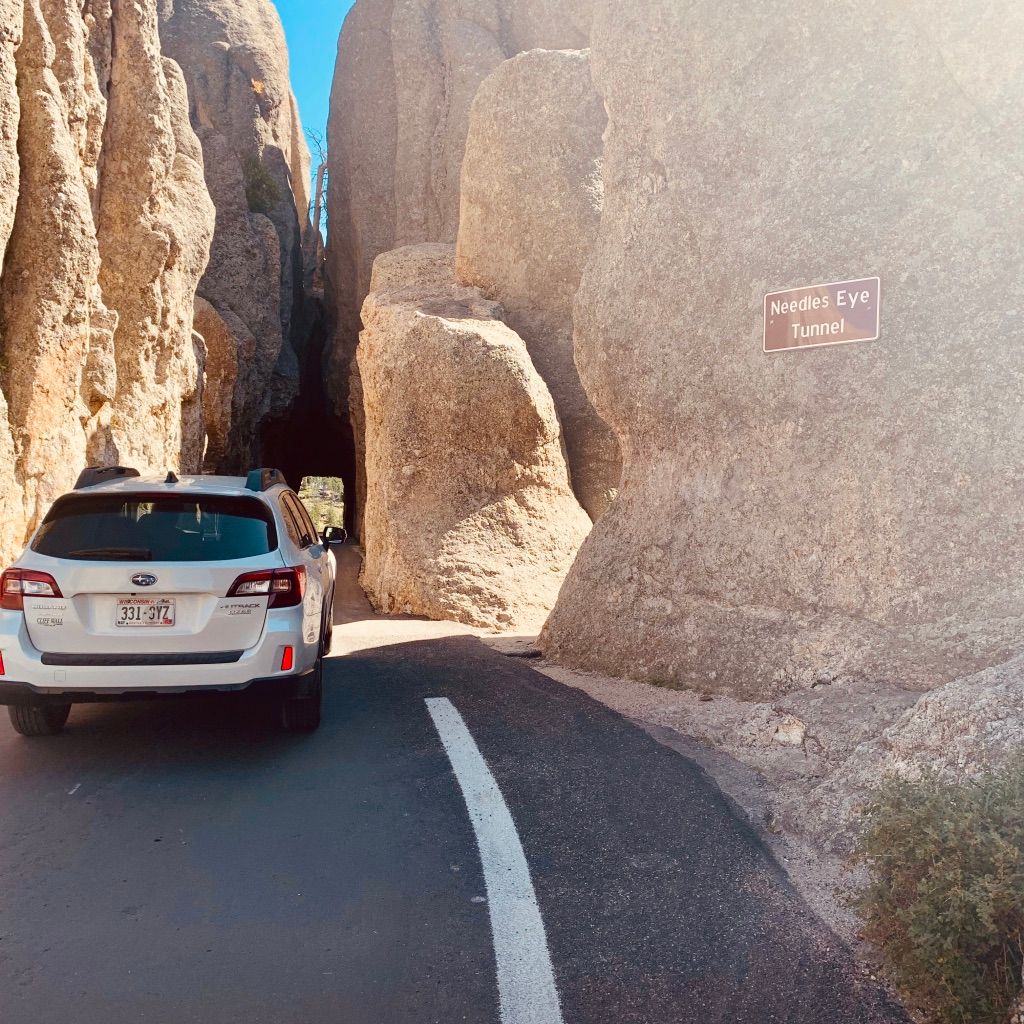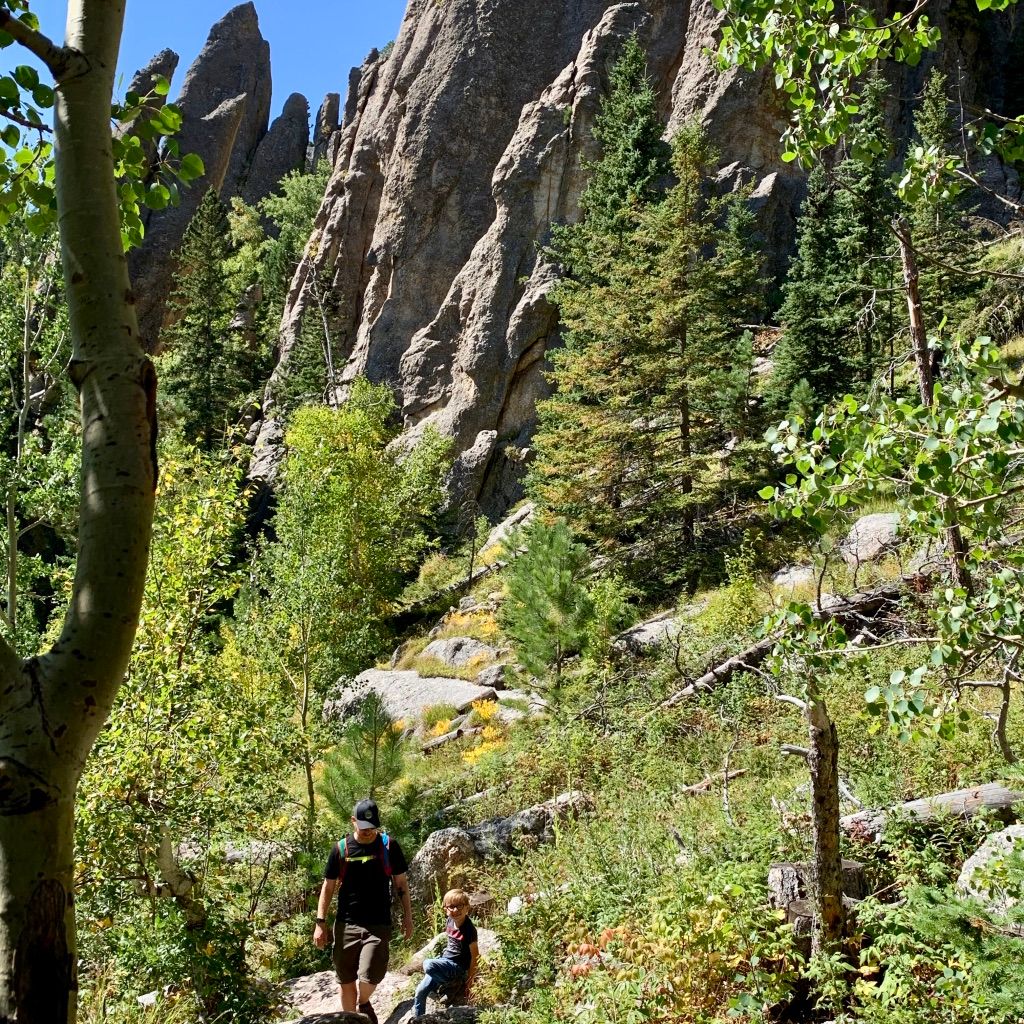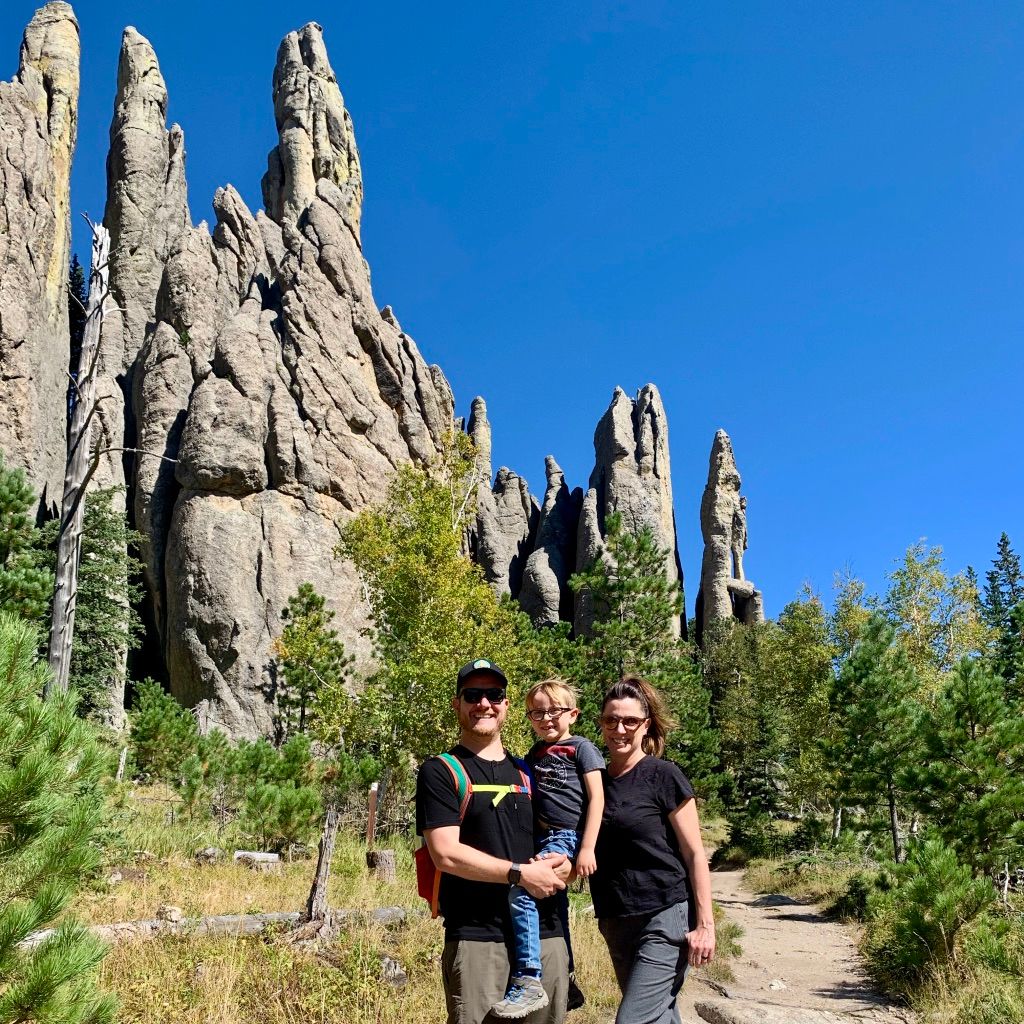 The Wildlife Loop
After our hike we continued along the highway to the visitor center.  It's here that a park ranger informed us: A buffalo is capable of crushing a small SUV in seconds but otherwise it's perfectly safe to drive by them at close range.  In spite of his encouraging words we took our chances and headed down the Wildlife Loop in hopes of seeing some buffalos charging, I mean roaming.  
There was not as much wildlife as we had hoped for on the Wildlife Loop that day. The highlight was the pack of adorable burros who came straight into our car windows looking for snacks.  We were't sure if we were supposed to feed these guys and we certainly didn't have snacks appropriate for a burro, so we refrained from offering them our road snacks.  That didn't seem to stop other tourists as we noticed one over-indulgent burro walking around with a Cheez-It on it's back.  As we continued down the road we did see a herd of buffalo off to the side of the road lying in the grass.  They weren't particularly close to the road but close enough to get a decent view of them, especially through binoculars kindly loaned to us by some other buffalo watching tourists.  We did end up seeing one lone buffalo crossing the road a little ways up and praise be, he did not charge, nor crush our car!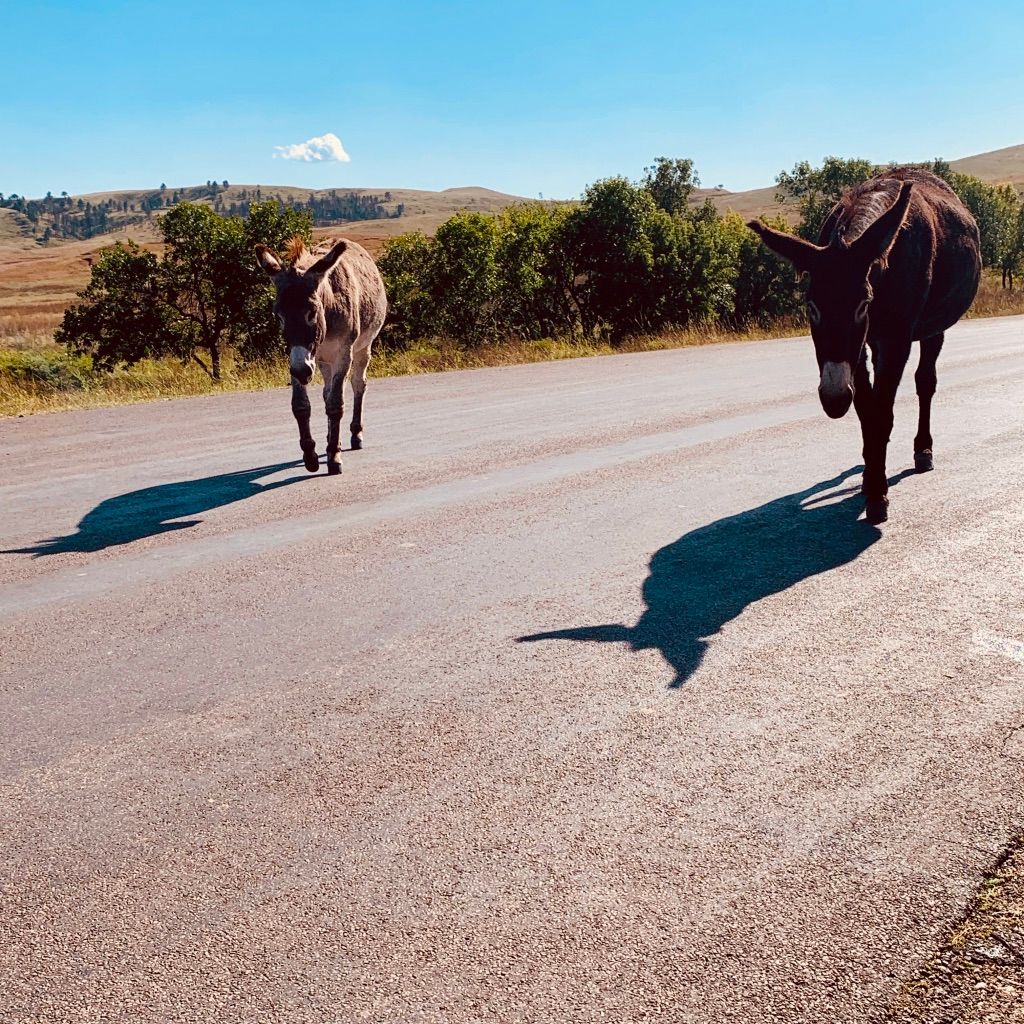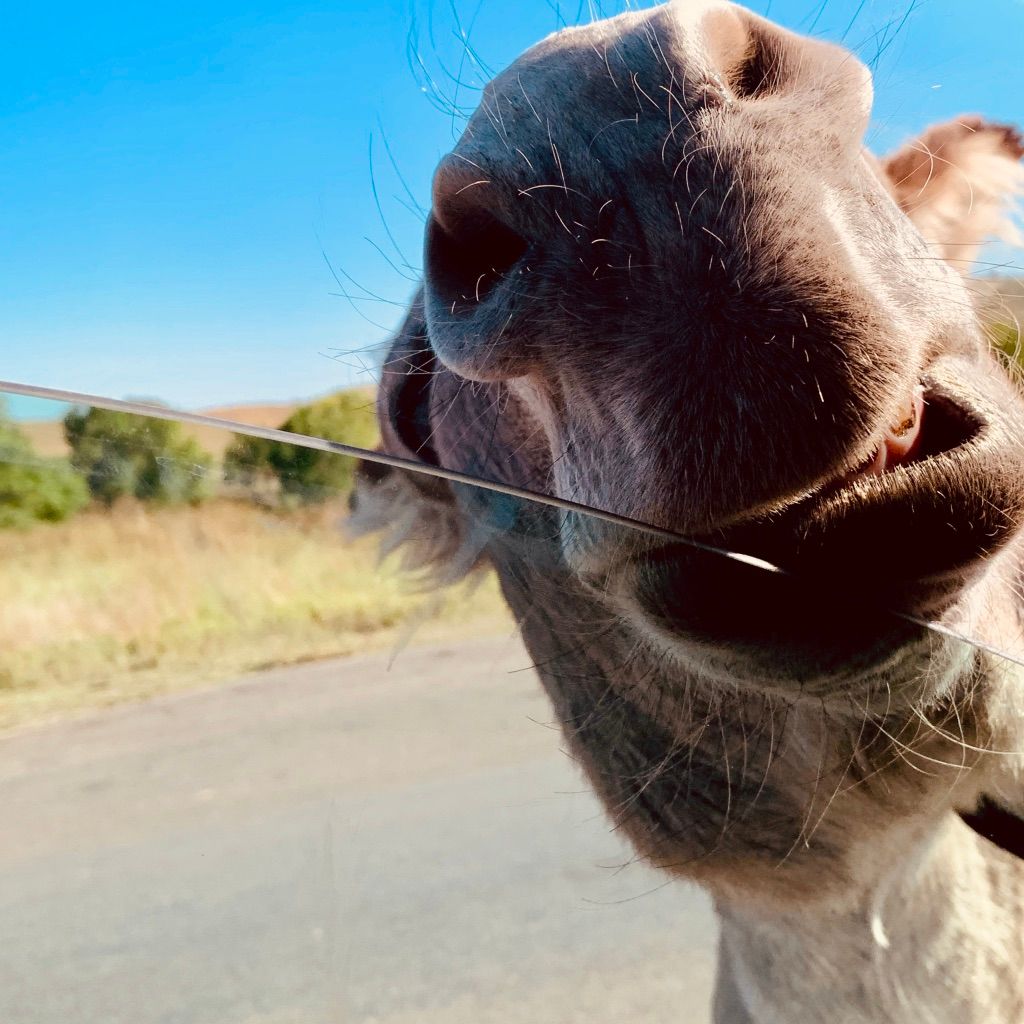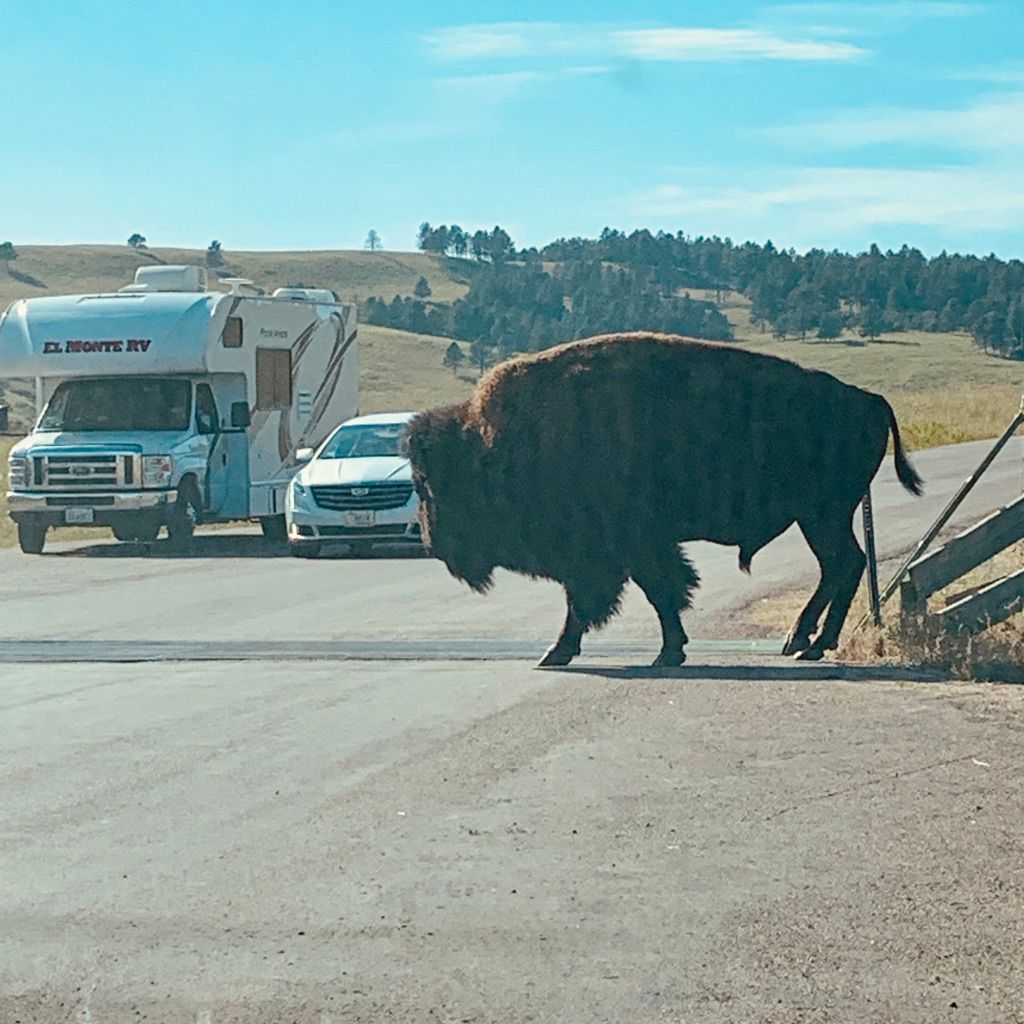 Iron Mountain Road
Next, we took Iron Mountain Road towards Keystone, the town we were staying in that evening.  What an incredible drive!  Honestly, for someone who is not a fan of driving, take my advice on this one and drive this road.  This is definitely the most amazing stretch of road that I have ever been on and a truly unforgettable experience.  Iron Mountain Road is 17 miles long and filled with curves, switchbacks, wooden bridges (called pigtail bridges) and very narrow granite tunnels.  A couple of these tunnels were built specifically so that when passing through you get a little peak of Mt. Rushmore.  Other than a lookout point at the beginning of the road these tunnels are the only glimpse you get along the way showcasing the mountain sculpture.  This road is designed to be driven very slow in order to take in the sights and smells of your surroundings. Driven slowly (the speed limit is 35 miles per hour) and making a couple stops along the way, this drive will take you about 45 minutes to complete.  If you don't do anything else in Custer State Park, do this drive.  It's magical and was the highlight of our day!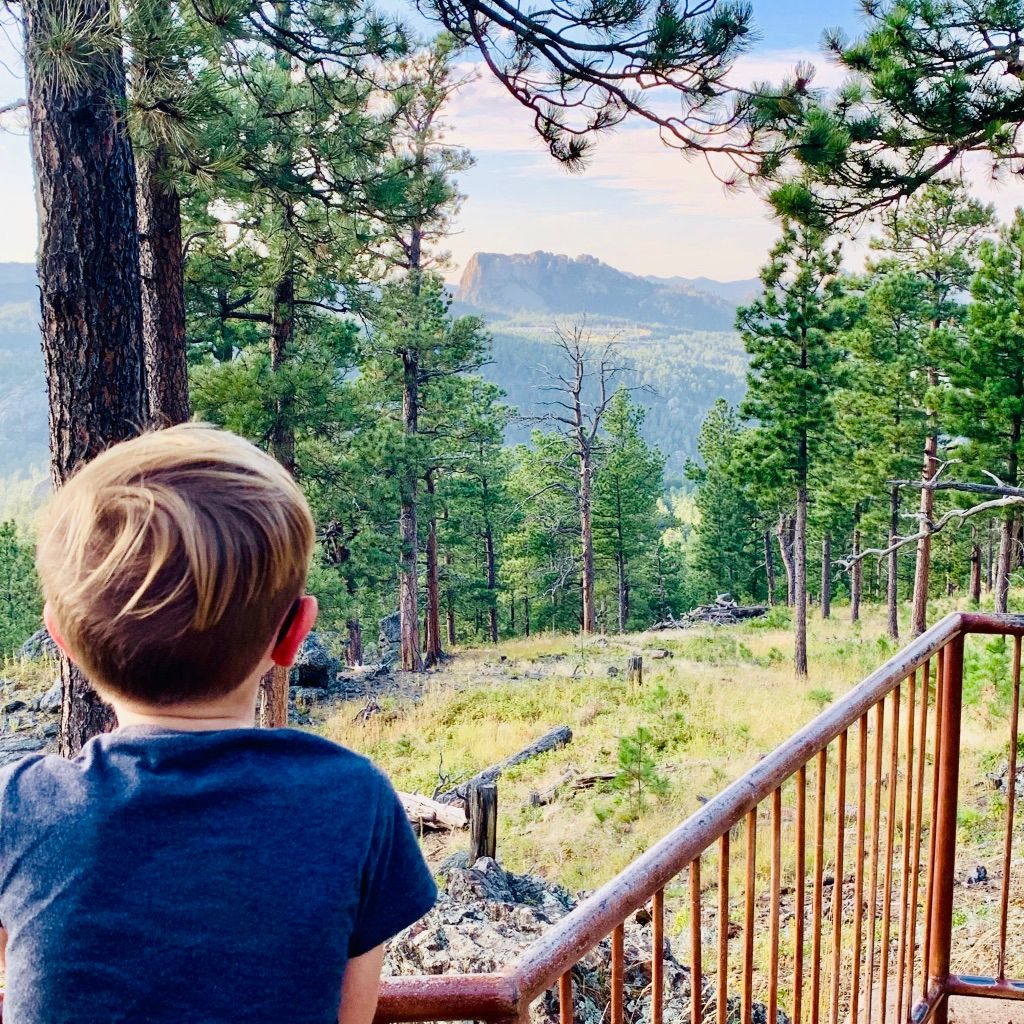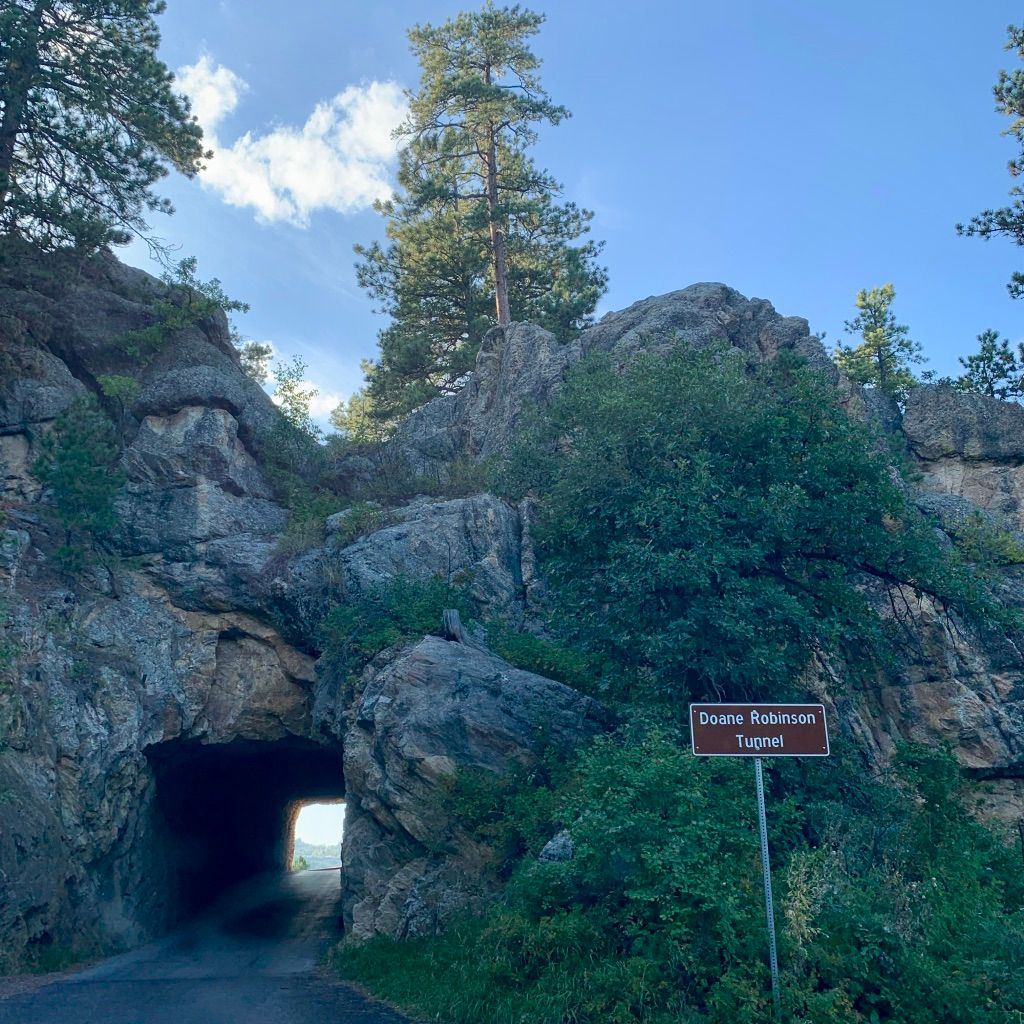 Keystone, South Dakota
We arrived in the quaint, little town of Keystone, South Dakota around 5 p.m. that evening.  This is an old mining village which has been transformed into a small resort town catering to the thousands of tourists passing through each year to check out the monuments.  Unless you are hanging out at the Red Garter Saloon (which looks exactly like a scene out of Deadwood) this town is a bit snoozy.  There are a few somewhat overpriced restaurants along the strip but nothing too amazing. We stayed at the Baymont Hotel which had a bunk bed in our room. So, in Quinn's opinion this was the BEST place we have ever stayed in!  Hey, as long as he's happy, we're happy.  We were exhausted from our long day and went to bed early that night.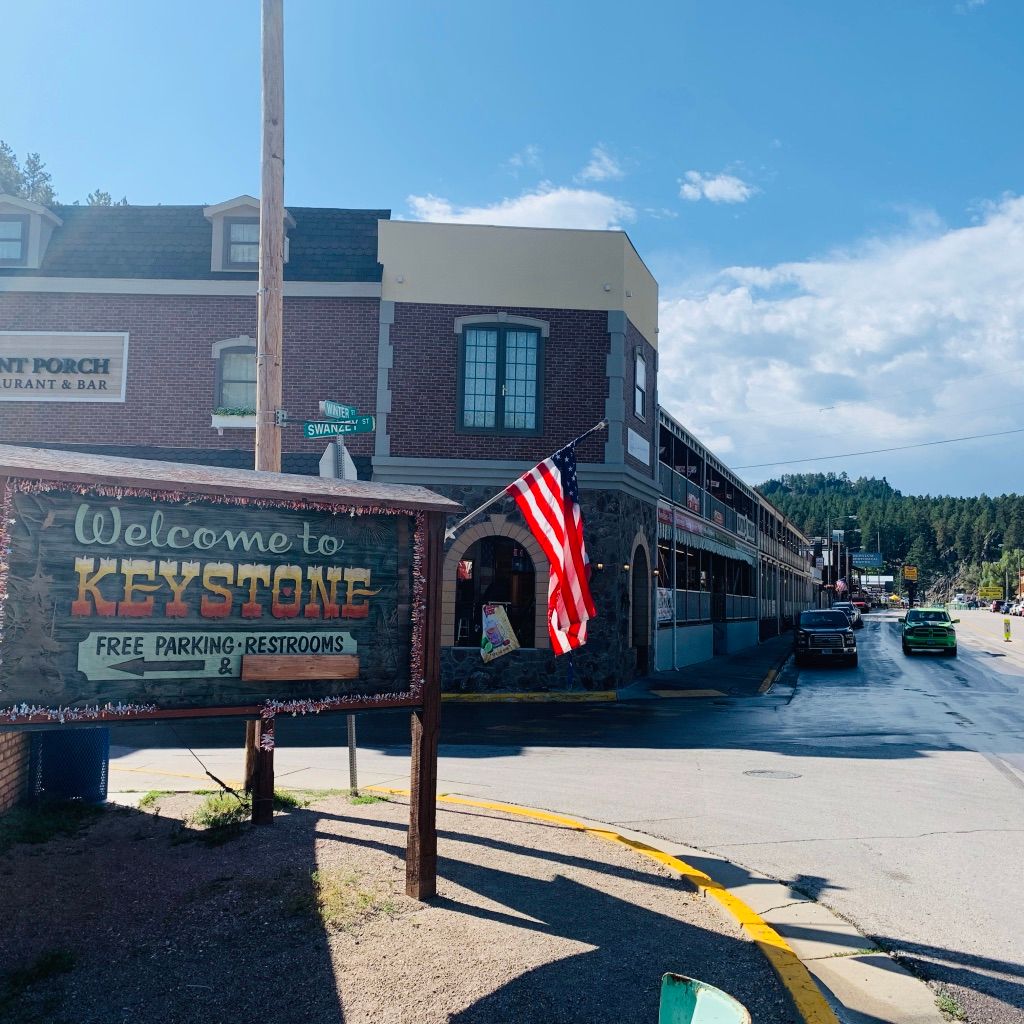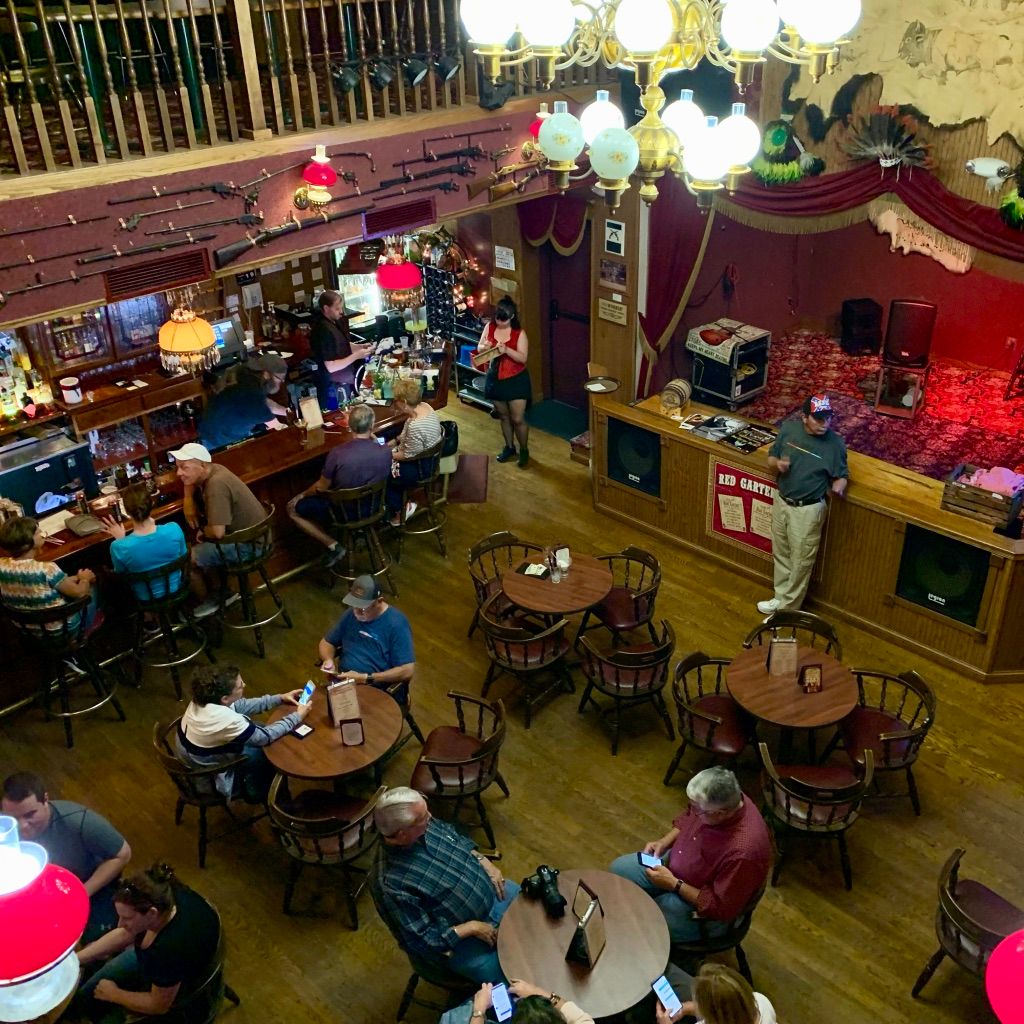 Mount Rushmore
The next morning we got up very early, hit up the free breakfast at our hotel and headed right over to Mt. Rushmore at 7:30 in the morning to beat the crowds.  It was slightly raining that morning but by the time we got there it had subsided and we were blessed by the most amazing view of Mt. Rushmore with a rainbow shooting out over the top . The monument opens up at 8 a.m. officially but you are welcome to show up anytime and I highly recommend doing so.  We spent the next hour and a half walking around the base and hiking the Presidential Trail.  This trail has about 422 steps and takes you up close and personal to the sculpture.  In all honesty, I really did not expect to enjoy this experience as much as I did.  The sculpture of the President's faces is truly magnificent and the grounds on which it resides is absolutely breathtaking.  We saw tons of chipmunks and squirrels along our hike, including a red squirrel (which from our home studies we learned are very rare in North America).  Getting there before the crowds and having the trail all to ourselves was the best decision we could have made.  This whole morning is engraved in my memory forever!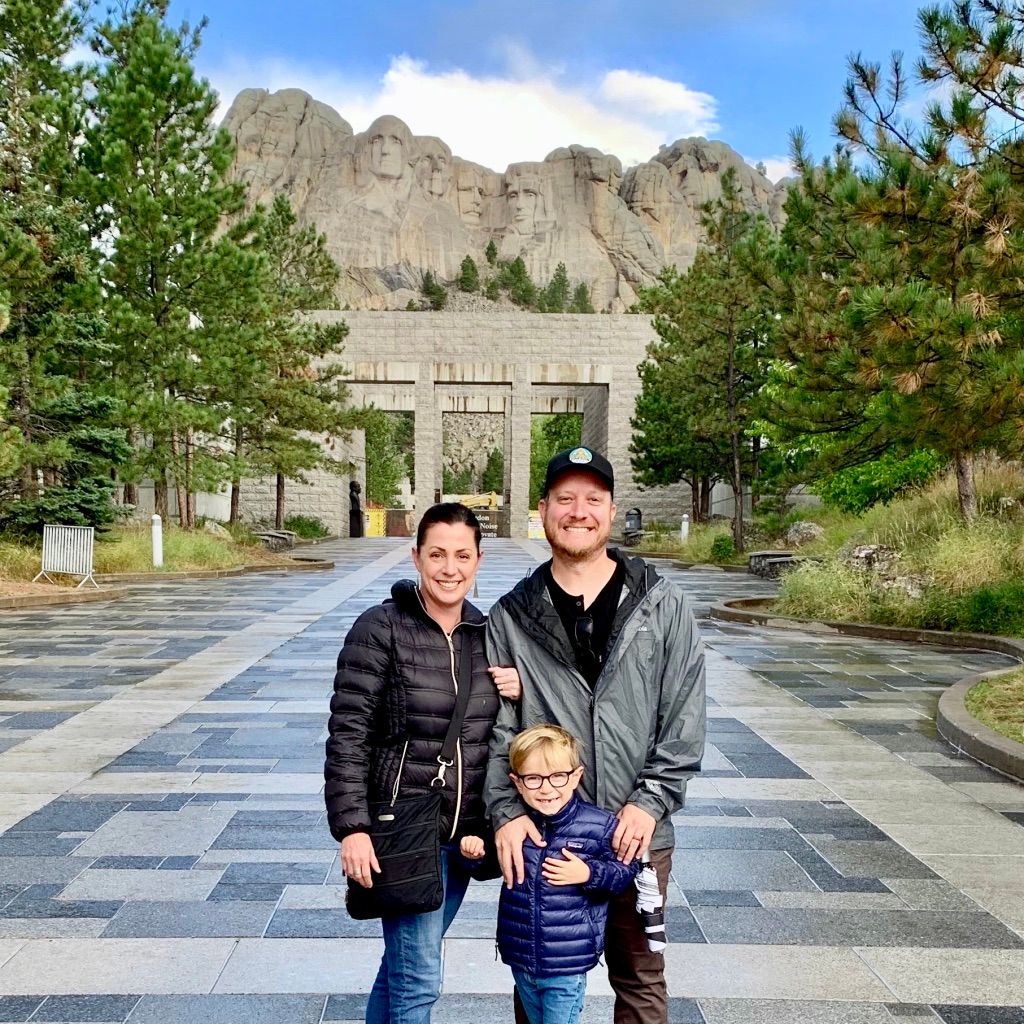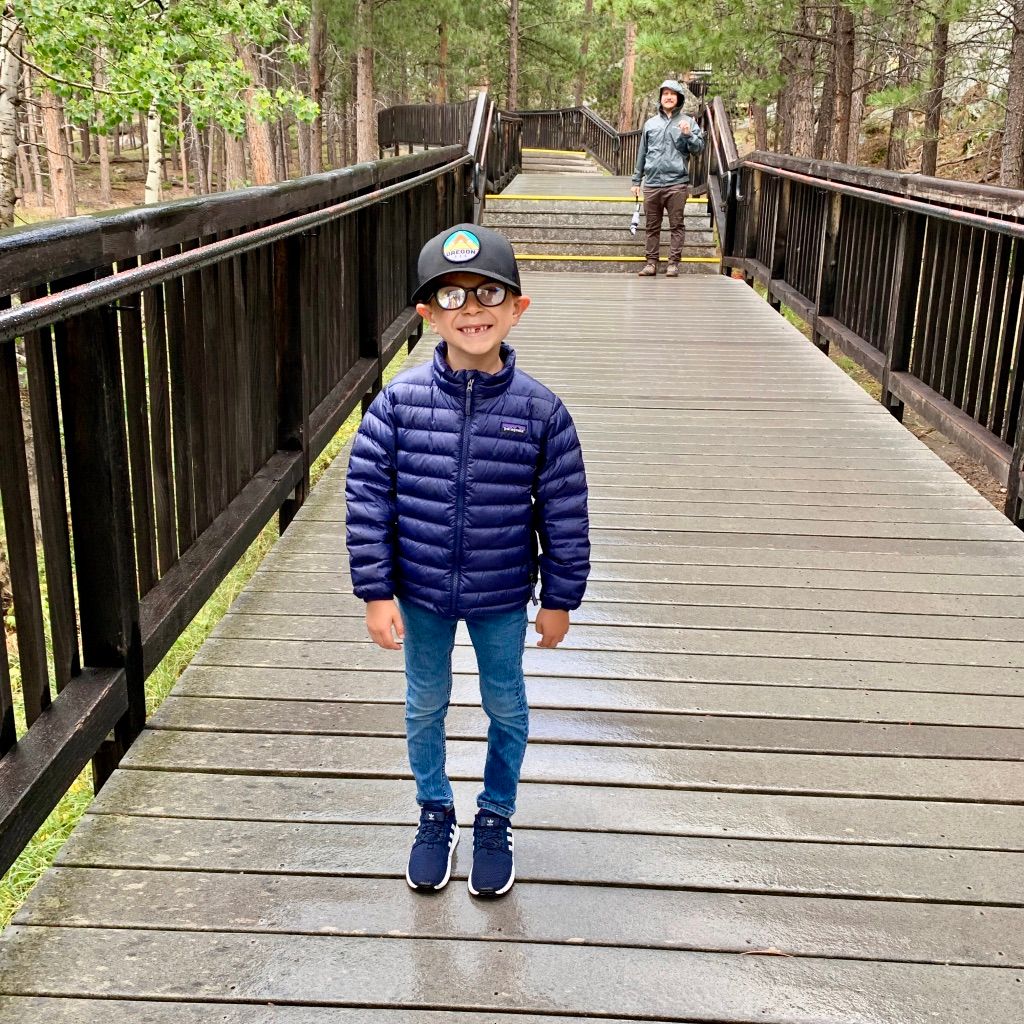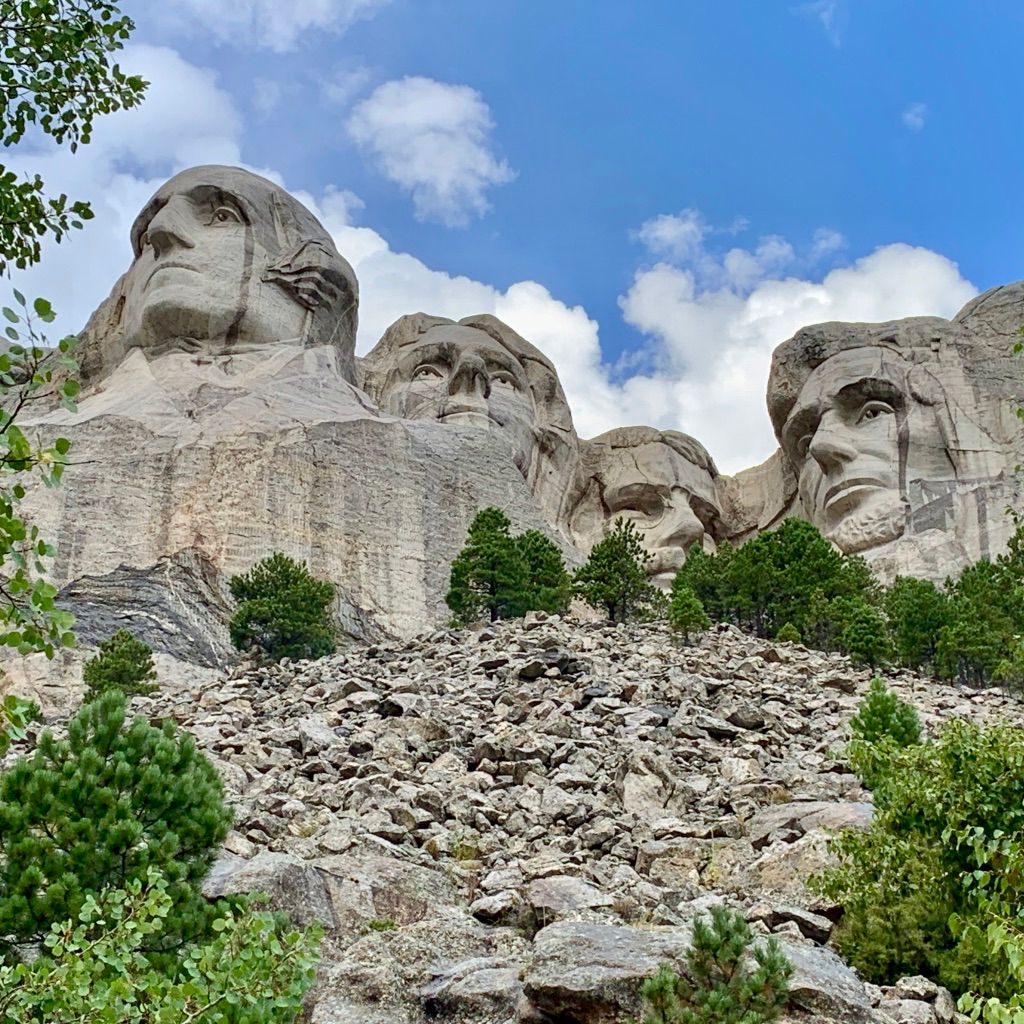 After our hike we headed over to the Sculpture Studio which is located right at the base of the trail.  Here you can sit in on a short presentation about the sculpture and how it came to be. Very much worth the time.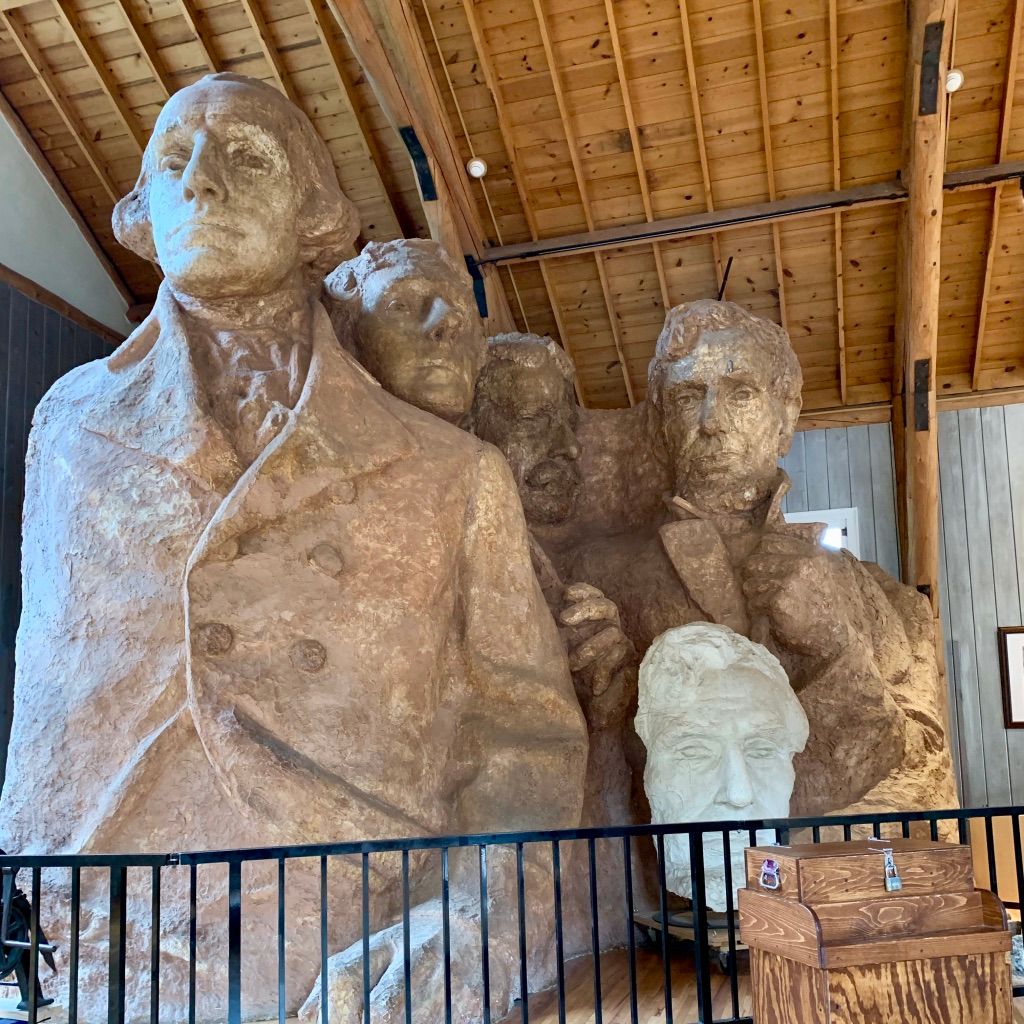 Mount Rushmore definitely exceeded all of our expectations and we highly recommend visiting this place sometime in your life.
We headed out of Keystone after our morning at Mt. Rushmore and ended up in Rapid City, South Dakota at a place called Harriet & Oak for lunch. Daaaang, what an unexpected treat this place was.  Harriet & Oak is a little cafe and and coffee roaster in downtown Rapid City.  They have amazing coffee drinks, beer, wine and a variety of scratch-made food with vegan and Paleo options to choose from.  It's super hip and even has an old fashion VW bus smack in the middle of the cafe that you can sit in.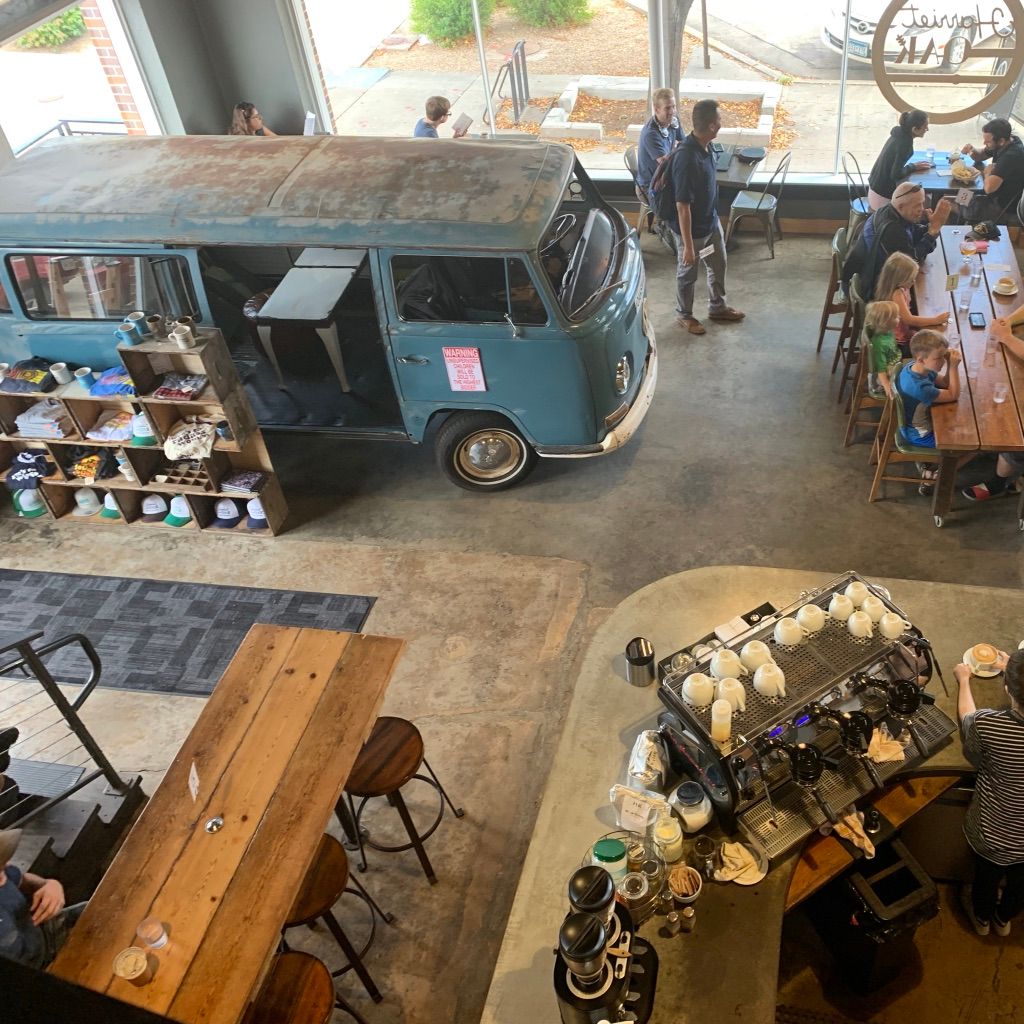 After lunch we high-tailed and white knuckled it through the middle of the country as we headed east towards our next stop, Minnesota.