February 10, 2020
Sammy's Organic Thai Cooking School: Chiang Mai, Thailand
We loved the fact that we got to travel outside of the city to a farm where we would be using organic ingredients grown fresh on-site.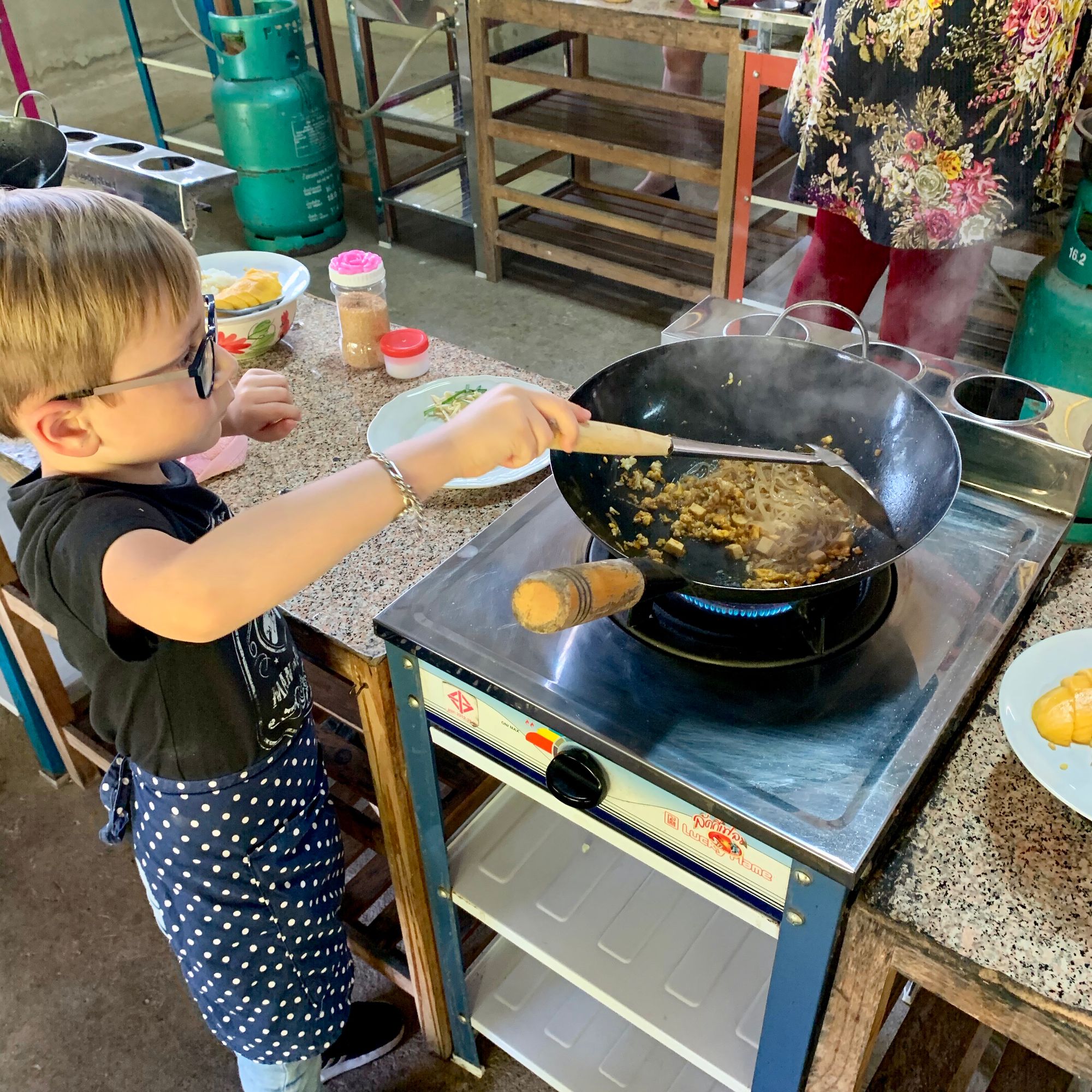 A cooking class in Thailand...dream come true!  This was on the top of our bucket-list of things we wanted to do while in Thailand.  But as per usual, with activities popular among tourists, there are so many to choose from.  Which is the BEST??  So off to the internet I went, in search of the perfect cooking class for the Wagabonds.  
There are literally tons of cooking classes to choose from in Chiang Mai.  While I'm sure many of them are great, we were looking for one that would be good for children and adults alike.  I read about Sammy's Organic Thai Cooking School and I knew right away that this was the place for us.
Sammy's cooking school is located about 20 minutes outside of the city on his third generation family farm.  We loved the fact that we got to travel outside of the city to a farm where we would be using organic ingredients grown fresh on-site.  I had also read that Sammy's was a good place for kids and that they were free to run around and explore the grounds should they lose interest in the cooking class along the way (which almost never happens, right?!).
We were picked up promptly at 8 a.m. and taken to the center of town where we met up with the rest of our group. Our first stop was an outdoor market which has been around for more than 100 years.  Sammy has been coming to this market since he was a kid.  You could tell that this was a real locals market as we were the only tourists to be seen.  Sammy walked us through the market and educated us on the likes of Thai chilies, the best brand of coconut milk, and the difference between sticky rice and jasmine rice.  It was very educational.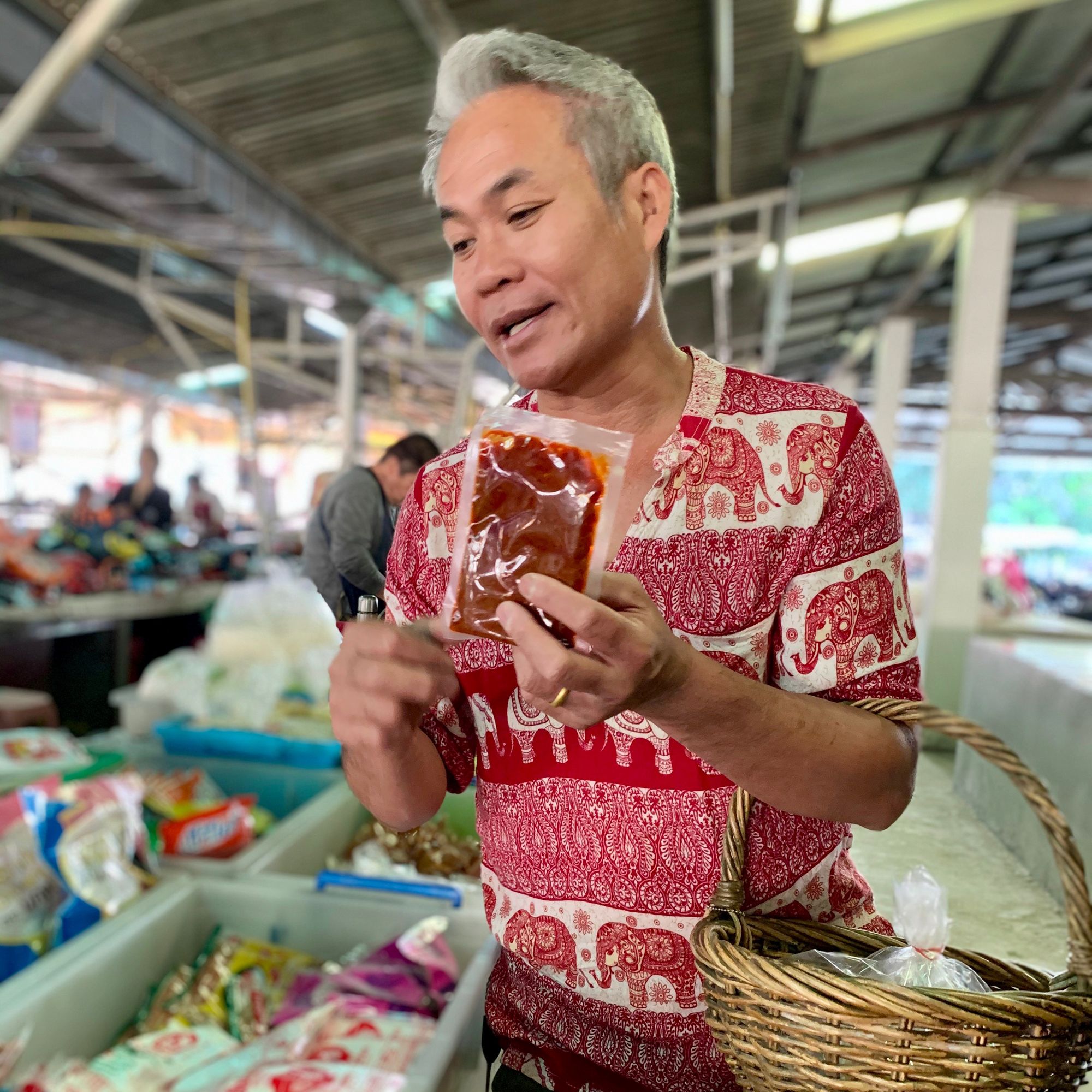 We instantly loved Sammy.  He is adorable and absolutely hilarious, finding every opportunity to slip in a subtle joke where he could.  He's smiley and has a real infectious and playful personality which kept us laughing all day long.
After the market we headed to Sammy's farm.  The farm is nestled within acres of rice paddies and surrounded by lush green hills.  The main cooking area is an open-air kitchen equipped with several stations of individual burners.  Next to the cooking stations is a long-wooden table.  At each place setting was a small round cutting board, pestle and mortar, an apron and a hand cloth.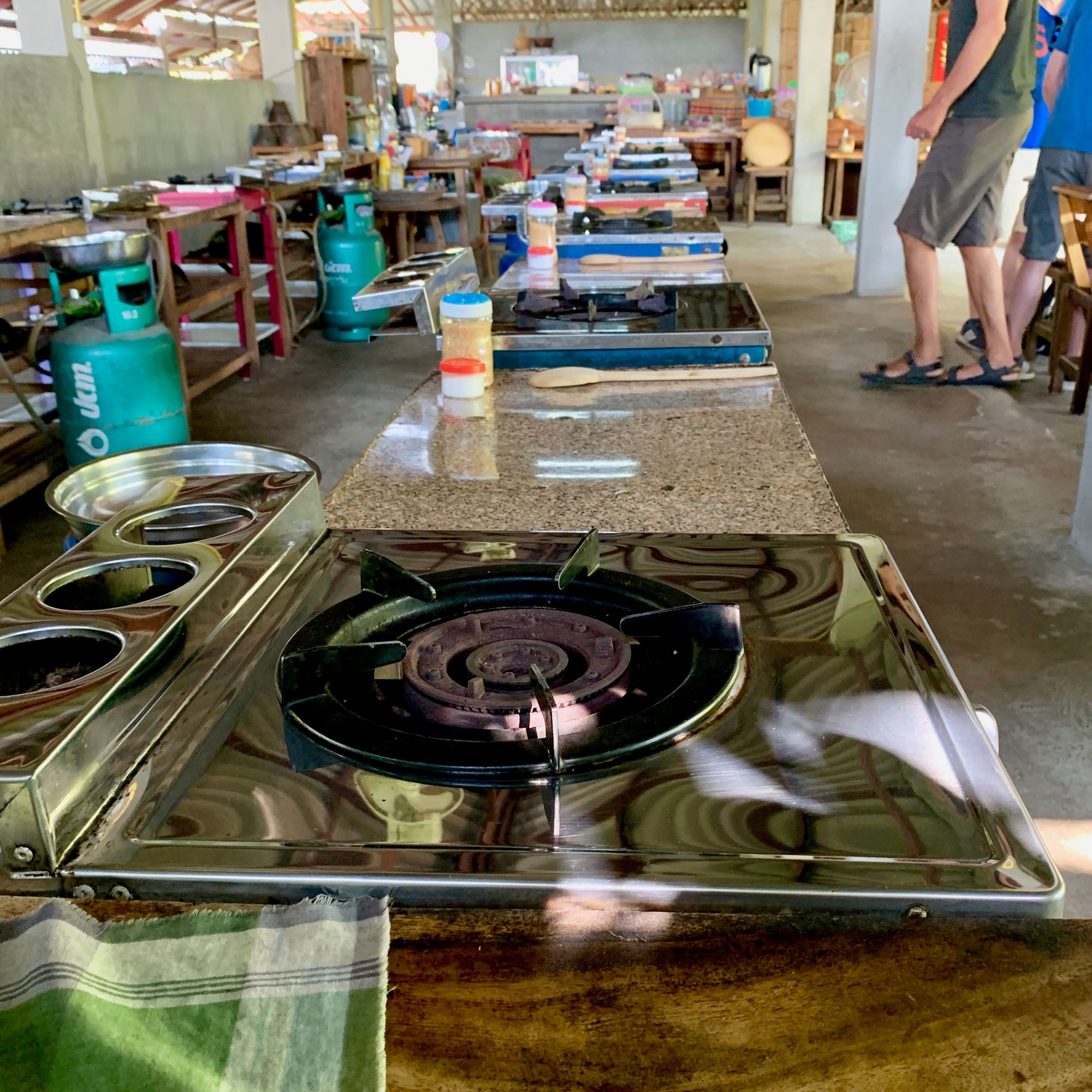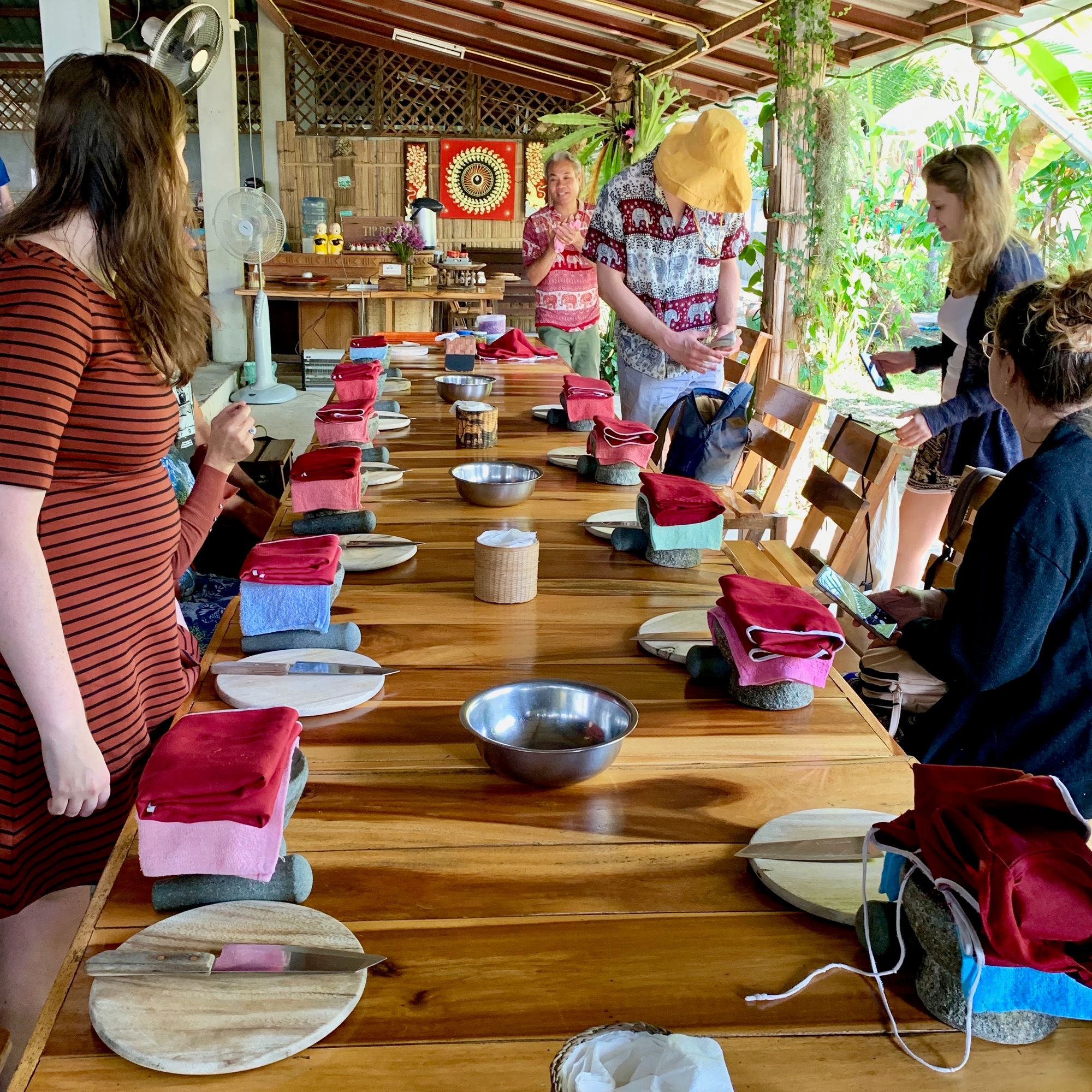 We spent the first 30 minutes having coffee and exploring the grounds.  The kitchen area is surrounded by several bamboo decks furnished with floor cushions and hammocks.  The decks over-look fish ponds surrounded by coconut palm trees.  There are a couple bridges which span the length of the ponds and the property is filled with pots brimming with fresh herbs, plants, fruit trees and vegetables.  Sammy is super proud his farm, as he should be, this place is paradise!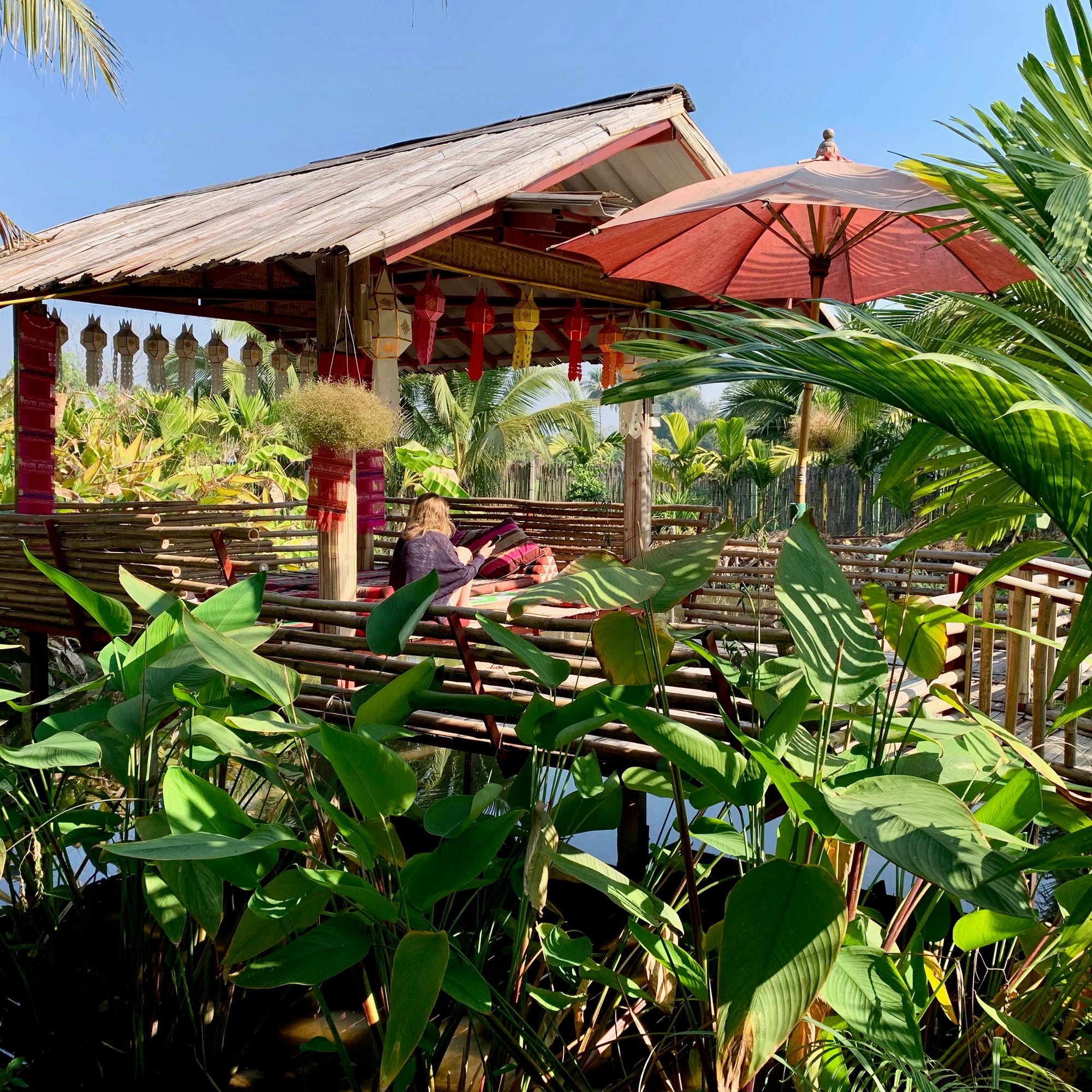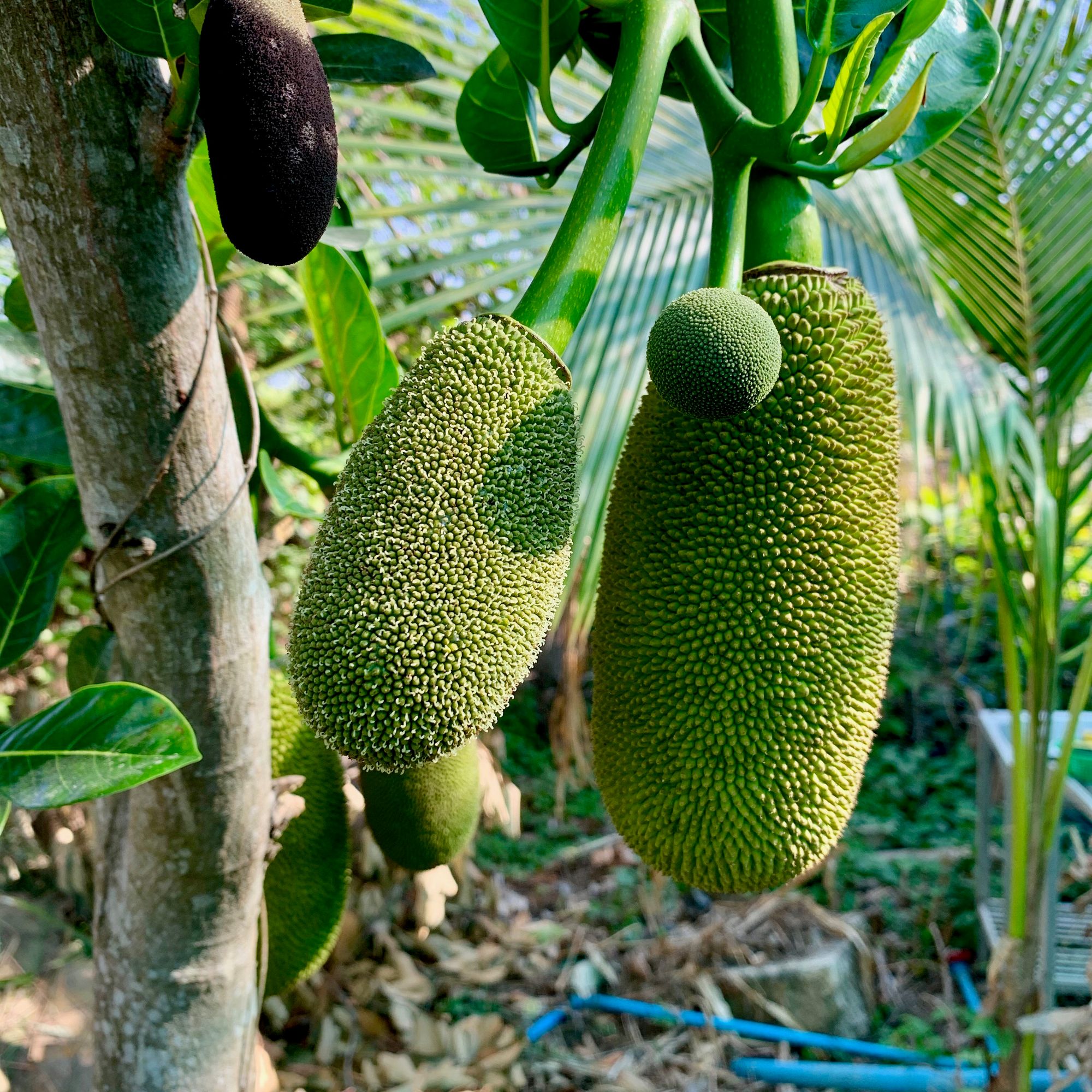 Sammy went on to pick fresh ginger, turmeric, lemongrass, citronella, kafir lime leaves and coconuts.  Explaining to us the flavors and aroma of each and how they are all integral ingredients to Thai cooking.  He cracked opened a variety of coconuts and gave us a lesson in making fresh coconut milk using a hand-made wooden coconut grater that has been in his family for more than 50 years.  As he grated away he reminded us of the most important technique, "keep smiling".  Sammy went on to tell us that as a kid he took a saw to the heirloom after being tasked with grating one too many coconuts.  Albeit an unsuccessful attempt to destroy this device, the grater did indeed have the scar to show for it!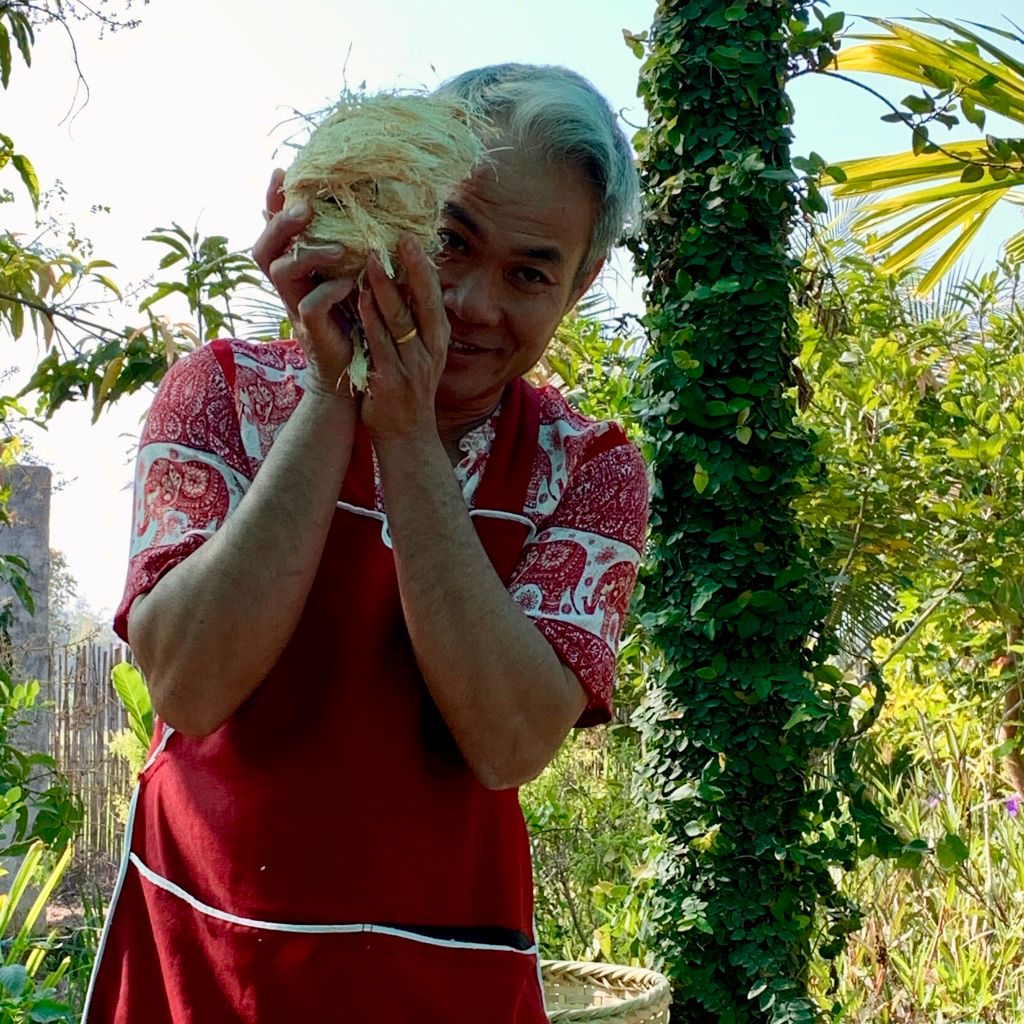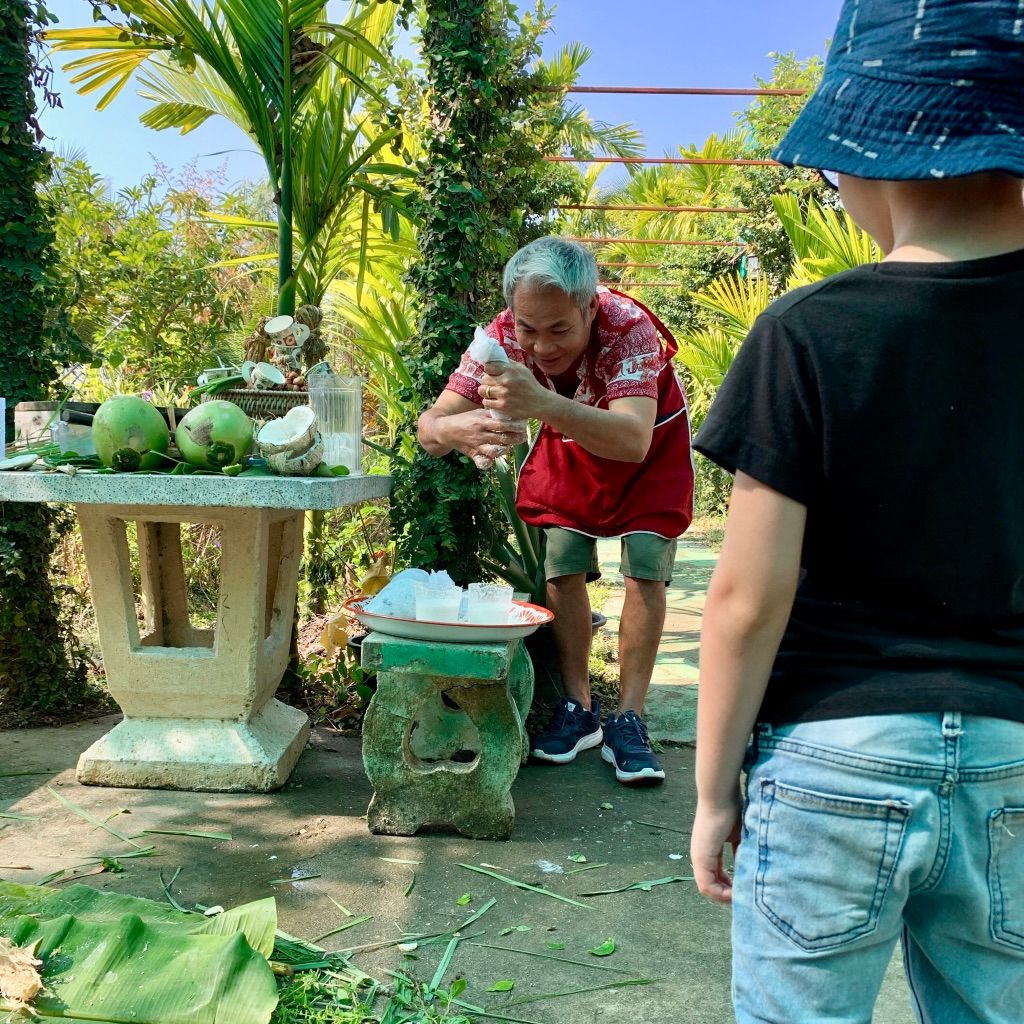 Time to cook!  We were given a list of Thai classics to choose from.  Curry: Red (also called jungle curry), yellow or green with chicken.  Soup: Hot and sour prawn soup, coconut chicken soup or Thai vegetable hot soup.  Stir Fried: Minced chicken with holy basil, chicken with cashew nut or the classic Pad Thai noodle with chicken.  For a vegetarian option, tofu or vegetables could be substituted for chicken in any of the dishes. For dessert, the infamous mango-sticky rice!
The first thing we all prepared was the curry paste of our choosing.  We did this by use of a hand pestle and mortar.  This was probably the hardest part of the cooking process as it took a ton of elbow grease to pound all of the ingredients into a creamy paste.  You could smell the aroma of fresh curry as we all pounded away at our mortars and of course...'kept smiling'!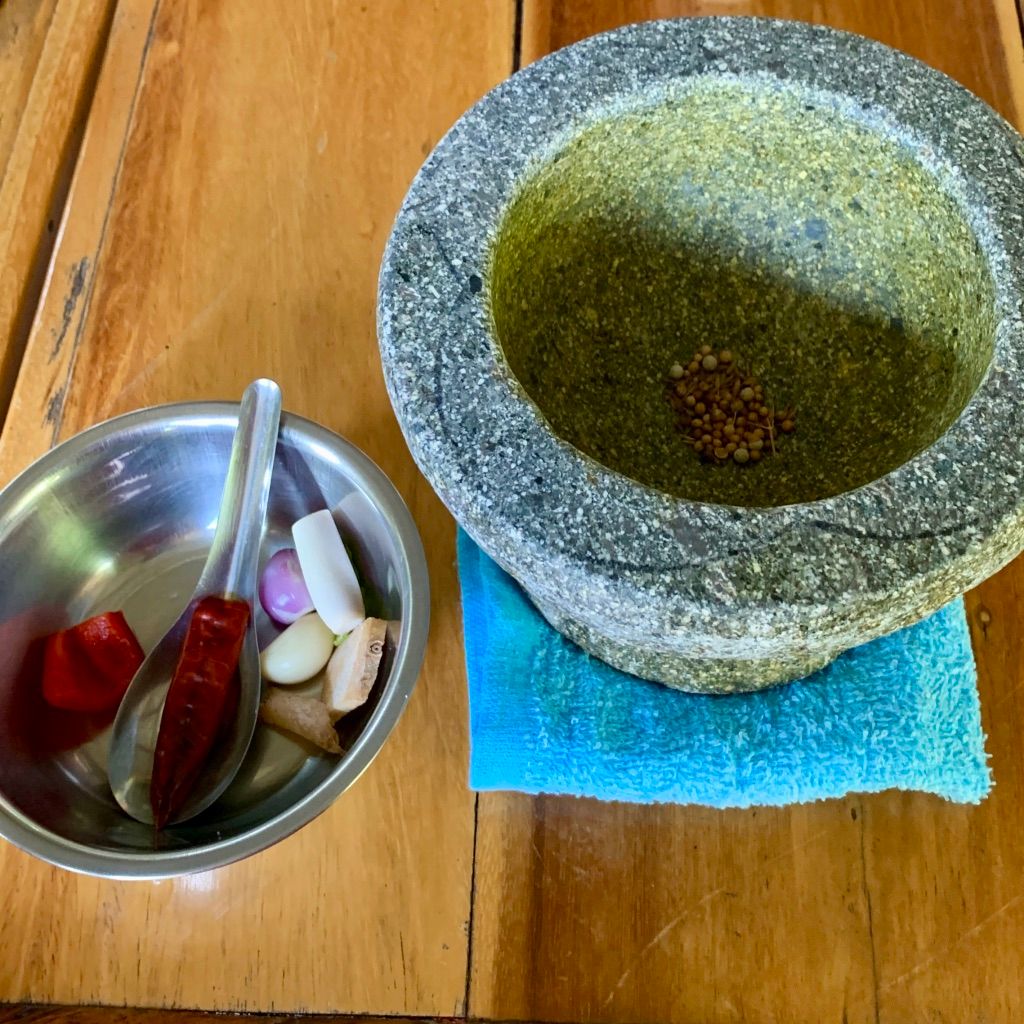 After we were finished with our curry paste, Sammy's wife took over, walking us step by step through the cooking process of all the dishes.  There is no need to commit all of these steps or ingredients to memory because at the end of the day you will receive a copy of Sammy's cookbook with all the recipes included.
Here are some of our results.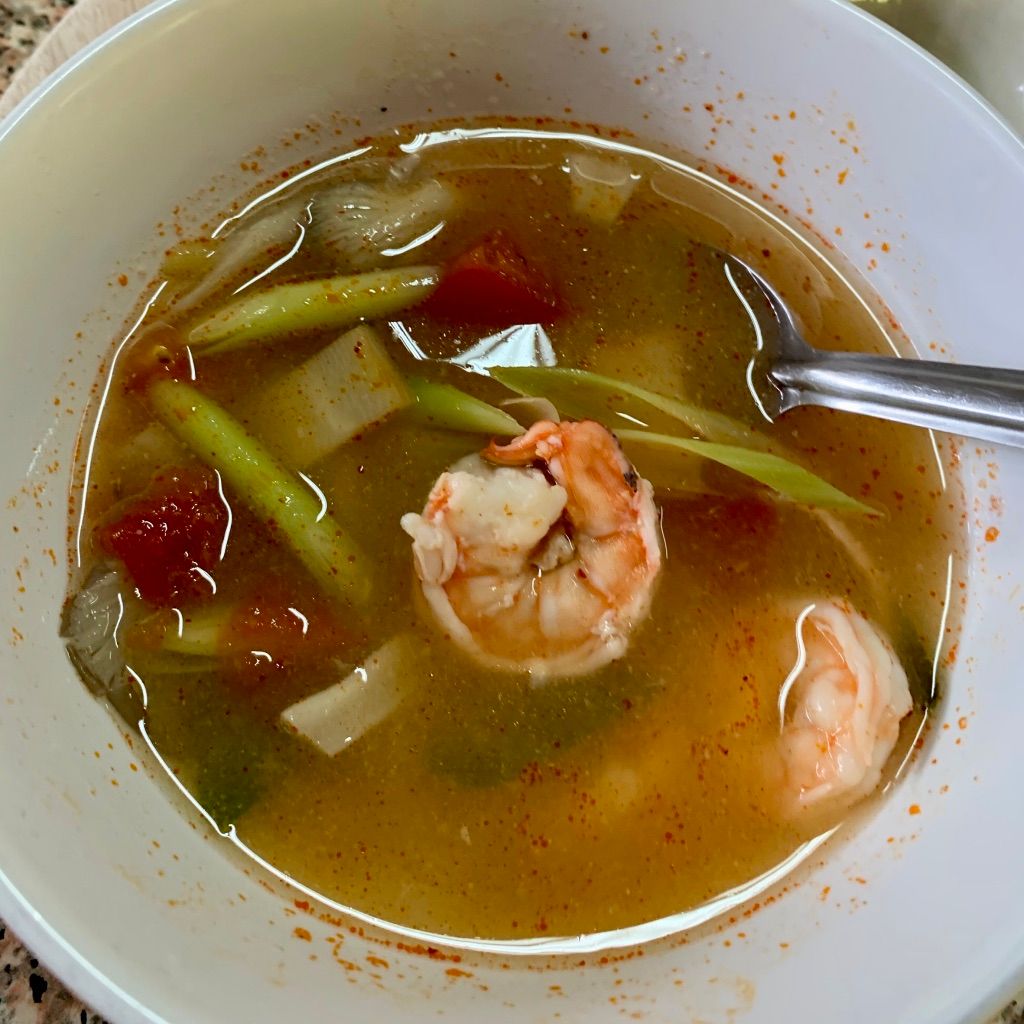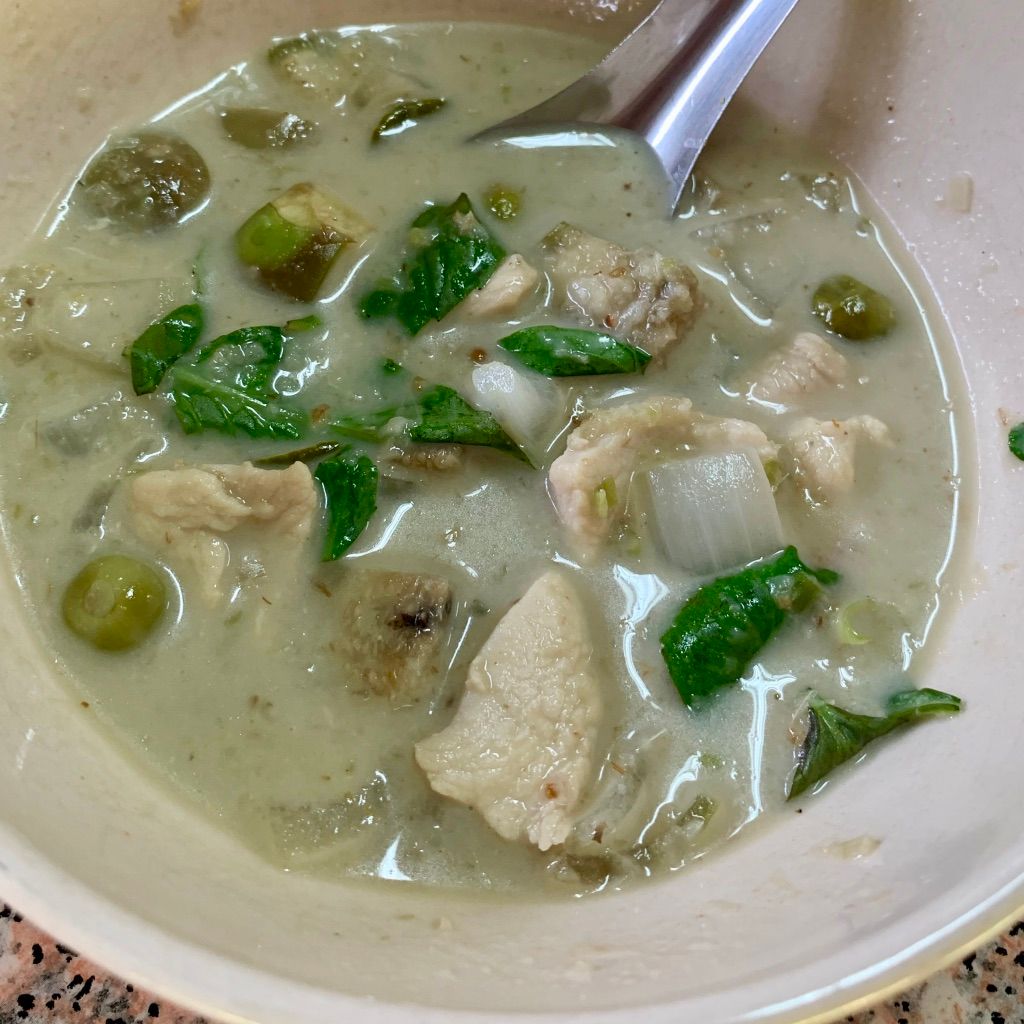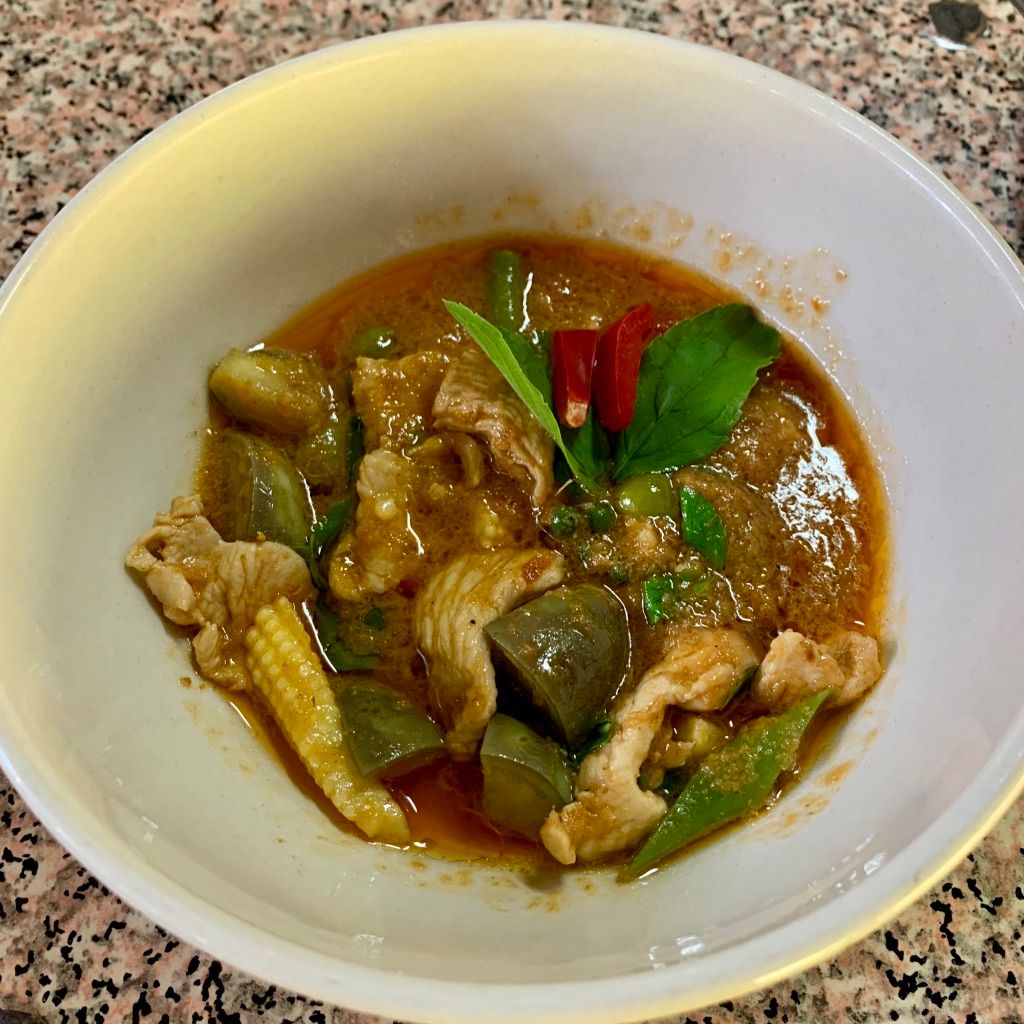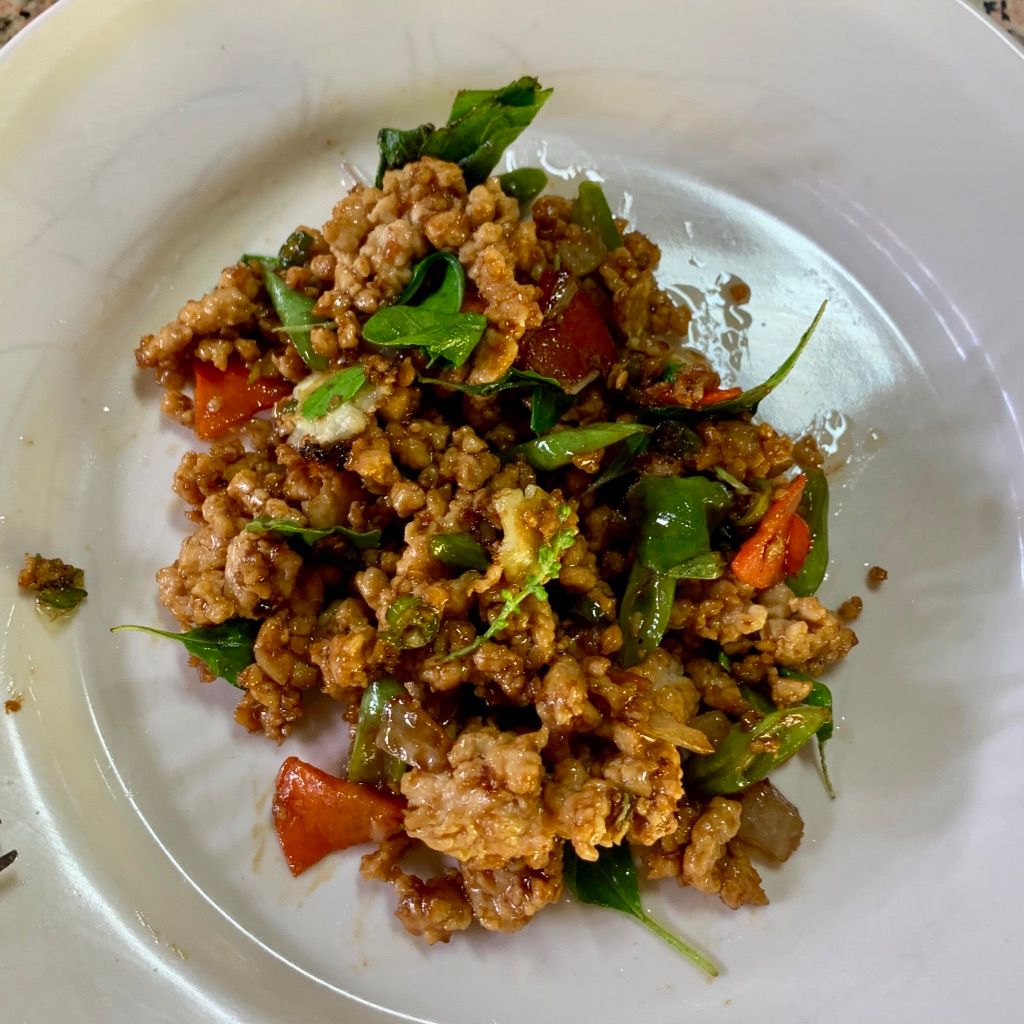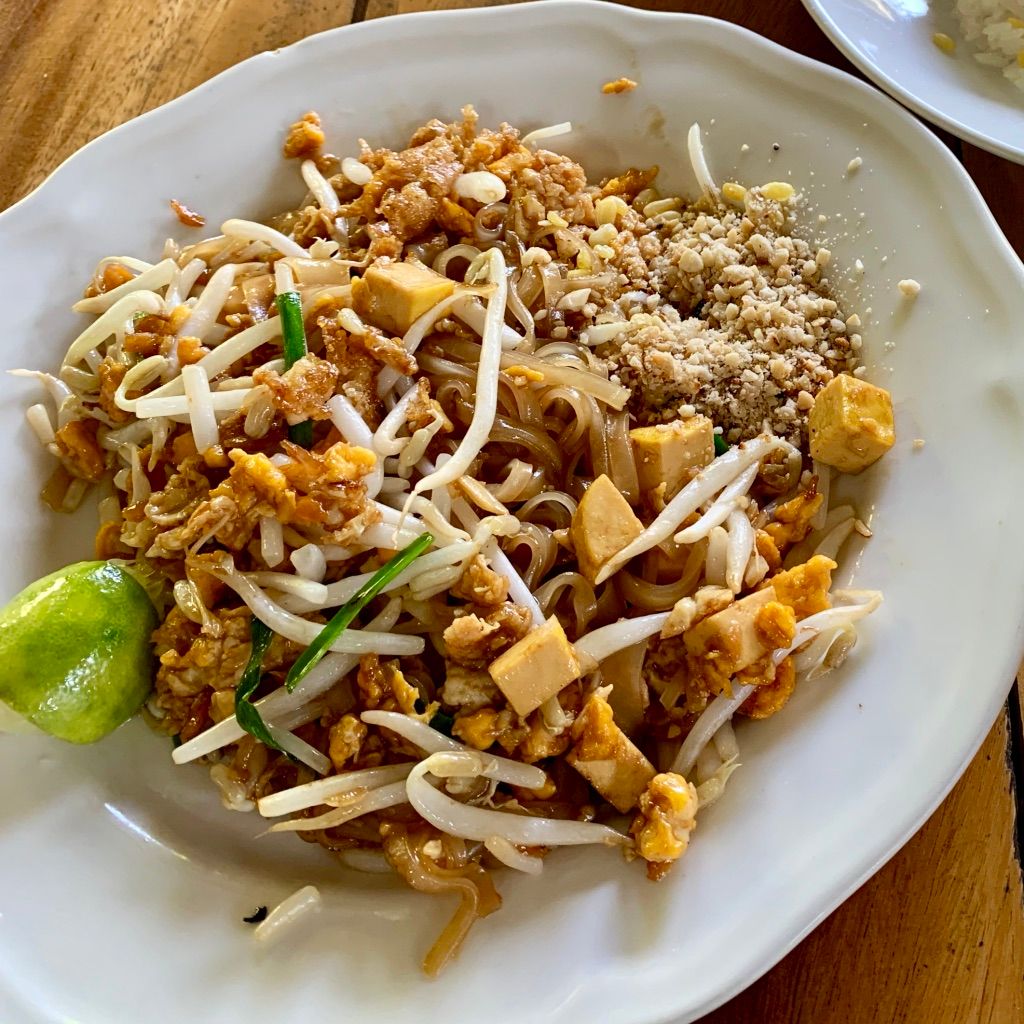 The last hour of the day was spent lounging around in hammocks, relaxing or napping.  What better way to spend an hour after stuffing your face with the most delicious home-made lunch? For those of you who have kids that don't relax in the middle of the day, they are welcome to do what our son did, run around and explore the farm.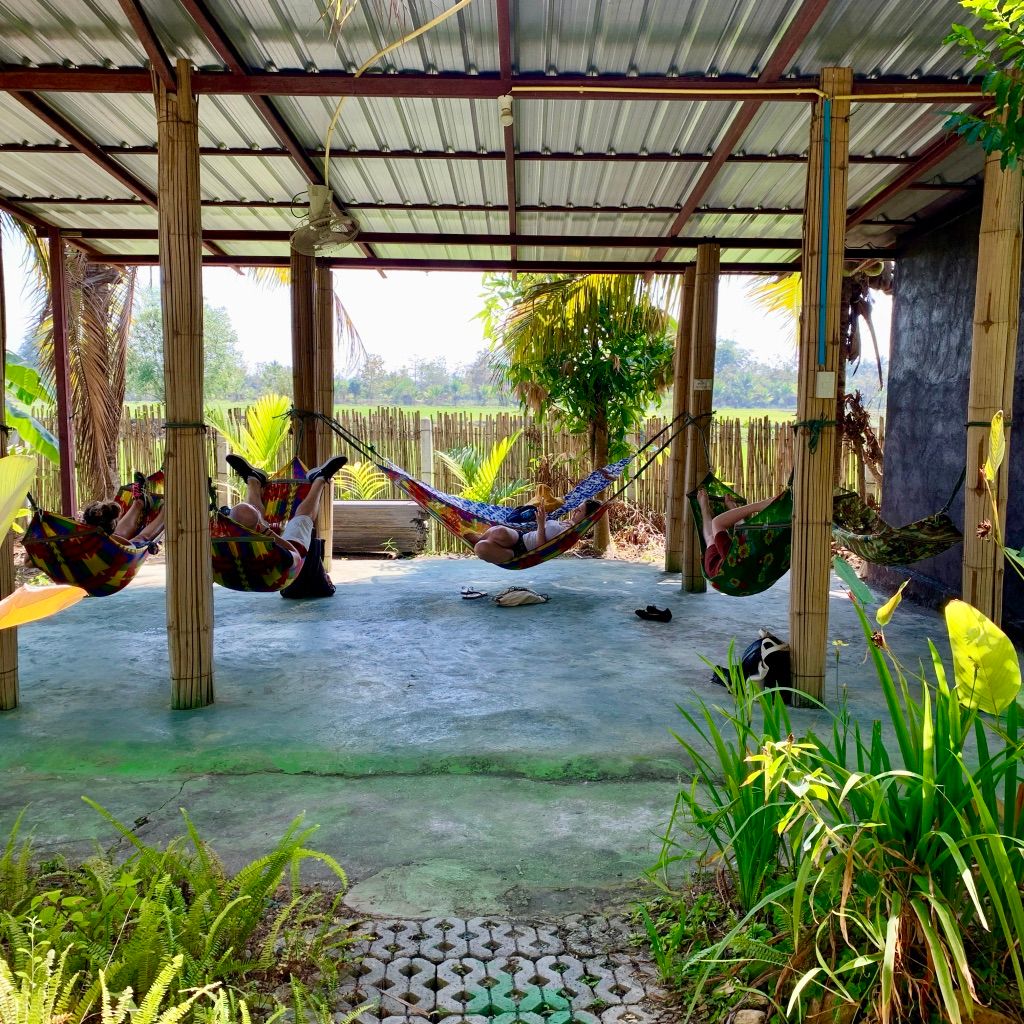 If you are looking for a great, kid-friendly cooking experience in Chiang Mai, Sammy's farm is your place!