March 3, 2020
Chiang Rai in a long-tail boat nutshell
The evening was picturesque as the sun set over the mountain tops.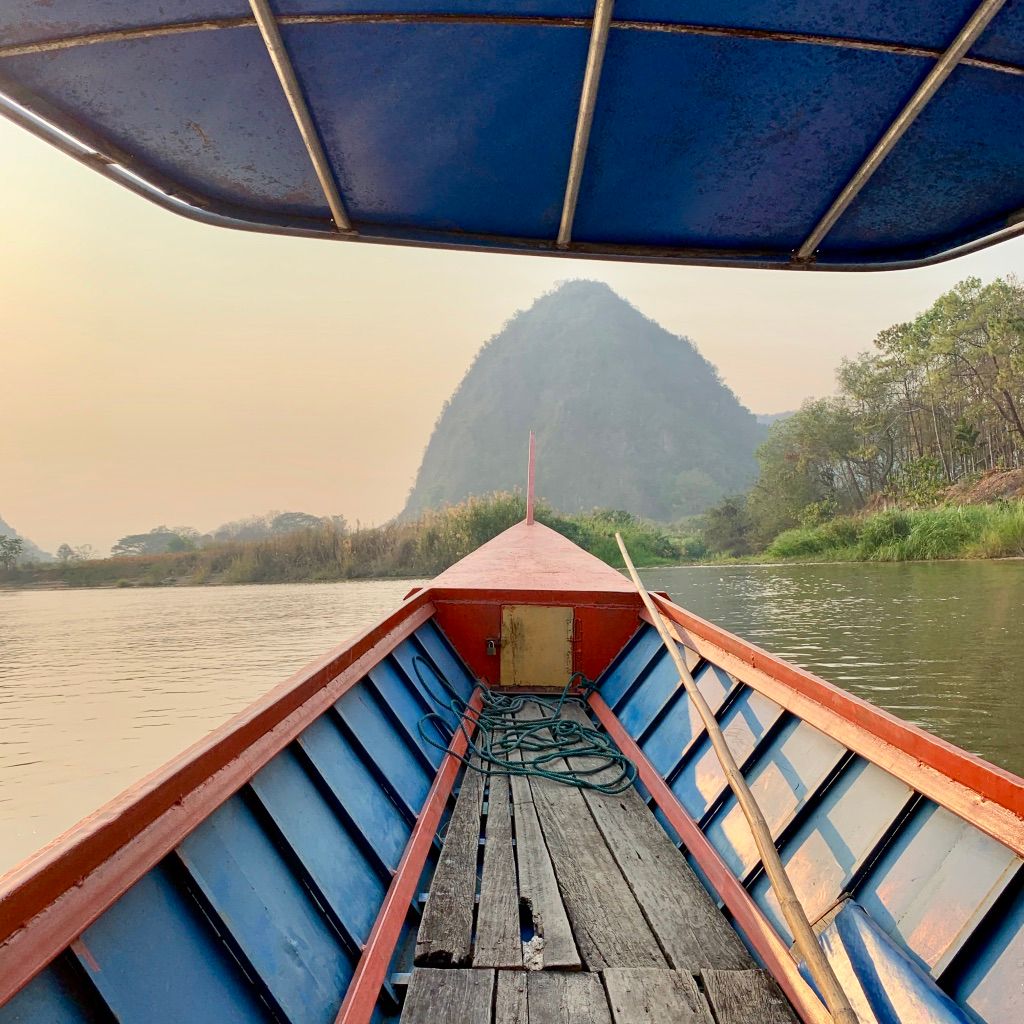 Chiang Rai, home of the long-neck Karen tribe, part of the infamous golden triangle of opium, and known for it's kitschy White Temple; there were so many reasons we wanted to visit this northernmost province of Thailand.   Located just 3 hours north of Chiang Mai by bus, this alluring town was a hop, skip and a jump away from us, so we decided to make it a weekend trip.  I happened to read that there was a hot-air balloon festival going on in Chiang Rai the weekend after Valentine's Day so we booked our trip for that weekend.  We used 12Go.Asia for our bus tickets and spent a little extra for the VIP bus since it had a bathroom which we figured may come in handy on the 3 hour commute.  Turns out, I was the only one who ended up using this 'VIP' bathroom.  This experience now holds top ranks on my list of most wild bathroom moments.  The stall was the size of a coffin (if I'm being generous).  The back of the bus, coupled with the rickety roads of Northern Thailand made me feel like a crash-test dummy.  It was pretty amazing that I managed to land even one drop of pee in the actual toilet itself.  To make matters funnier, the door wouldn't lock shut.  I had to hold it closed while trying to maintain my aim and squat just high enough so that not one inch of my sweet cheeks touched that wizzed on seat.  All the while being thrown ferociously about the stall.  All I have to say is, thank god I didn't have to help Quinn use this bathroom!
It's not really our M.O. to stay in super fancy hotels, especially during this year of travel. Not sure what got into us this weekend but we decided to stay in the fanciest hotel we could find in Chiang Rai, which was totally unnecessary.  Maybe it was that Valentine's Day love flowing through the air, or the excitement of our first weekend get-a-way since being in Thailand.  Or maybe we were just overly excited to find a 5 star hotel, balcony suite for $140/night, including a stupendous breakfast buffet.  Where we're from, the prices for a room at a resort like this would have been around $500-$600/night.  So we went for it, and it was fantastic! The hotel that I speak of is called, The Riverie by Katathani.  It overlooks the Mae Kok River and offers a great view of what's known as the Big Buddha which sits on the hilltop above Chiang Rai.  We had a balcony suite overlooking the river and hotel pool.  Quinn was super excited because the pool had a small play area with a waterslide.  Jamie and I were super excited because the pool had a pool bar!  If you're in Chiang Rai and are looking for something boujee, The Riverie is a great place to stay.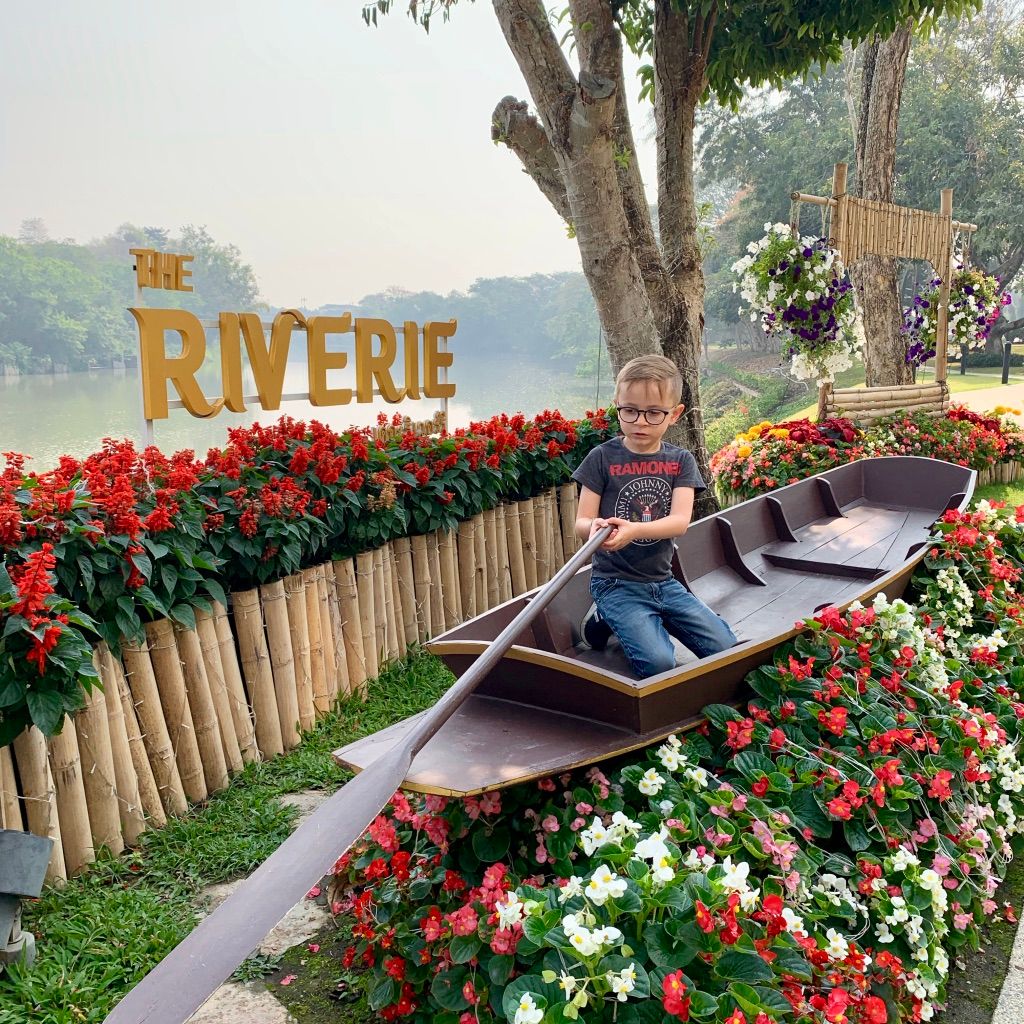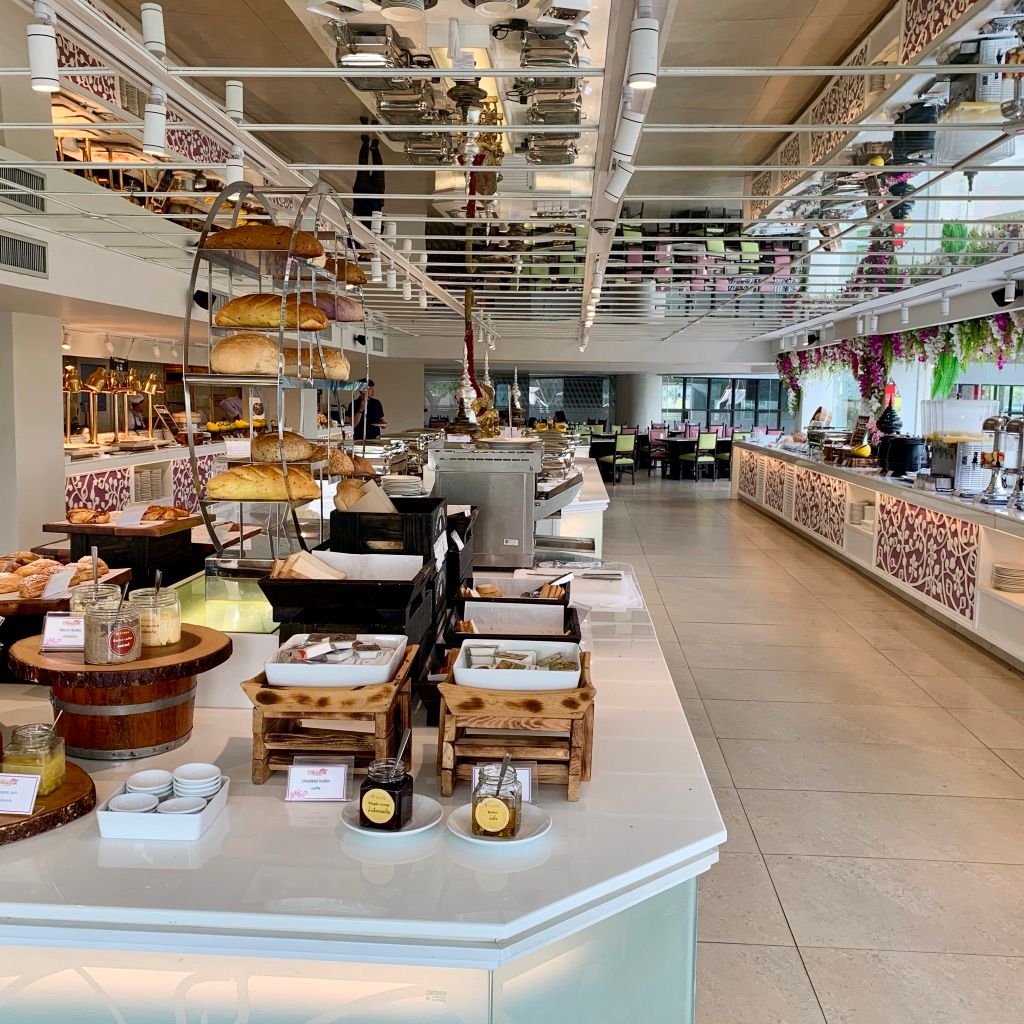 Now, for all of the wild things we got up to in Chiang Rai!
The Chiang Rai Balloon Fiesta:
Thailand loves a good festival and this one was no exception. The Balloon Fiesta is an annual event in Chiang Rai and it's a pretty big deal.  It's a 5 day festival of hot-air balloon madness.  Balloon pilots from all over the world come to participate in competitions and festivities. We were lucky enough to catch the last night of the festivities.  We felt like we had stumbled into the Thai Coachella.  Hot-air balloons, lasers, musical performances of all kinds, beer gardens, food stall heaven and loads of great merchandise for purchase.  This place was like night market meets rave.
The drive was nearly 40 minutes from our hotel to the Singha Park where the festival was being held.  Followed by a 30 minute trek from where our Grab driver (Thailand's version of Uber) had to drop us off due to the amount of traffic.  This was definitely not the easiest place to get to, but definitely worth the journey. It's said that tourists come from all over for this event but we didn't feel that way at all.  We actually loved the true local feel that this festival had.  The majority of the crowd appeared to us to be Thai locals.  It sort of felt like the whole town of Chiang Rai was in attendance.  Our suspicions regarding this were validated the next day when 3 separate employees working at our hotel informed us that they had spotted us at the Balloon Fiesta the night before.
If you are visiting Chiang Rai in February, this festival must not be missed!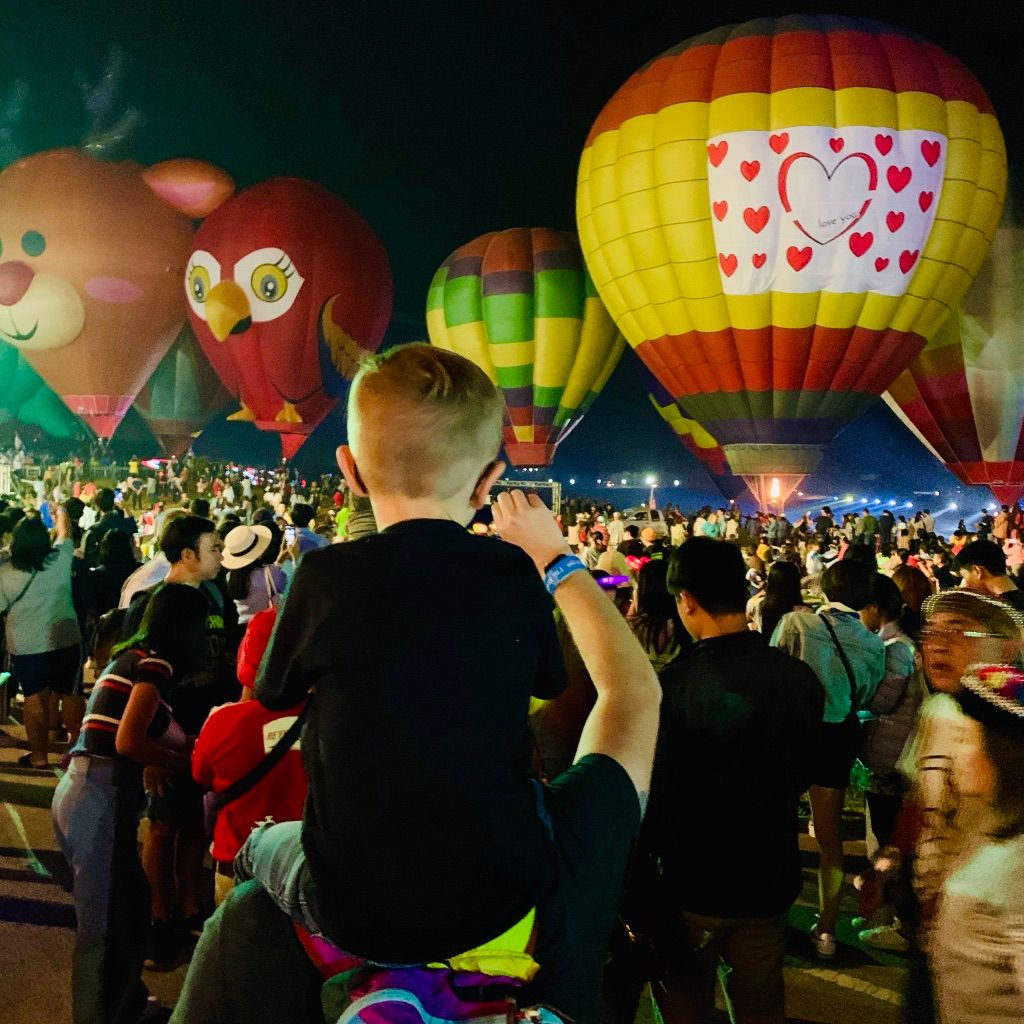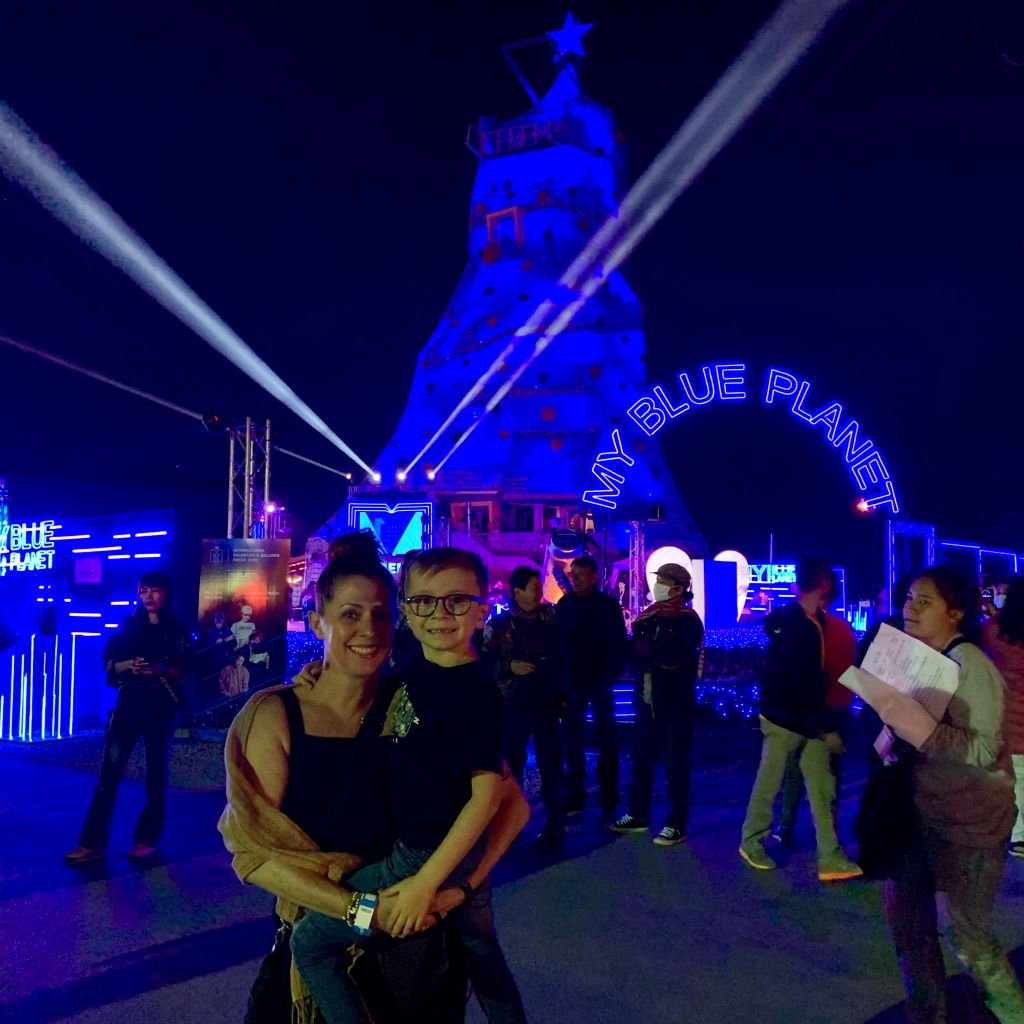 On our Grab ride home from the festival we met Noom. Noom was so great and offered to be our driver the following day for our visits to the temples.  Noom picked us up at 9:30 a.m. and chauffeured us around all day.  The perk to having Noom as our driver was that he spoke English relatively well and was very enthusiastic about teaching us Thai. So we basically got a tour guide and language teacher all in one!  I've managed to retain one phrase from our day's worth of lessons.  That phrase is sawadi ton chaw, which means good morning.  I've been told by some locals that my accent is very good when pronouncing this, and I owe that all to Noom!
Wat Rong Khun (White Temple)
Going to Chiang Rai and not visiting the White Temple is like going to New York City and not visiting the Statue of Liberty. It has to be done!  This was the first place Noom took us. What a trip this temple is!  As expected it's brimming with tourists in search of the best selfie they could take in very calculated poses.  The next best thing to seeing the White Temple is watching all the tourist take selfies, it's pretty entertaining. All jokes aside, there are tons of great photos to be taken here.
It's definitely like no other temple we've seen.  It's described as an art exhibit in the style of a Buddhist temple and that's because it's designed completely by a local artist from Chiang Rai.  Chalermchai Kositpipat decided to restore the formerly dilapidated temple funding the project with all of his own money.  Talk about a labor of love!  It feels like a mix between a Buddhist temple and a museum of pop-culture.  It's offbeat, innovative, ingenious, kitschy, breathtaking, and just a wee-bit terrifying. The details of the temple and everything that surround it are INSANE!
My favorite part was the silver heart-shaped wish leaves hanging from the ceilings of walkways and prayer trees.  You can purchase these leaves for 30 baht ($1 US), write wishes or messages on the leaves and hang them on the prayer trees. Quinn really wanted to write all of our names on our wish leaf.  The leaves are eventually relocated to a permanent spot making them a fixture for life at the White Temple.  The glimmer of these leaves hanging all around is dazzling!
Guys...you gotta go to the White Temple sometime in your life!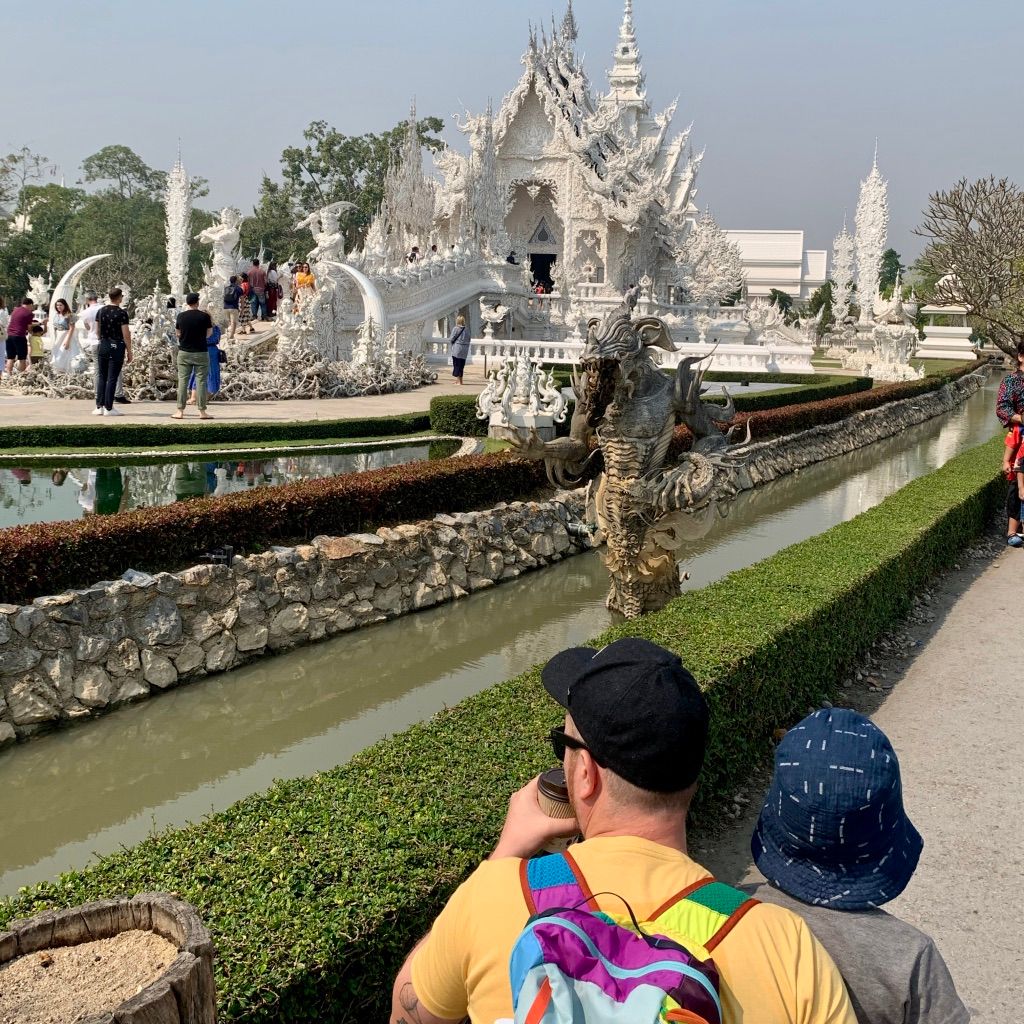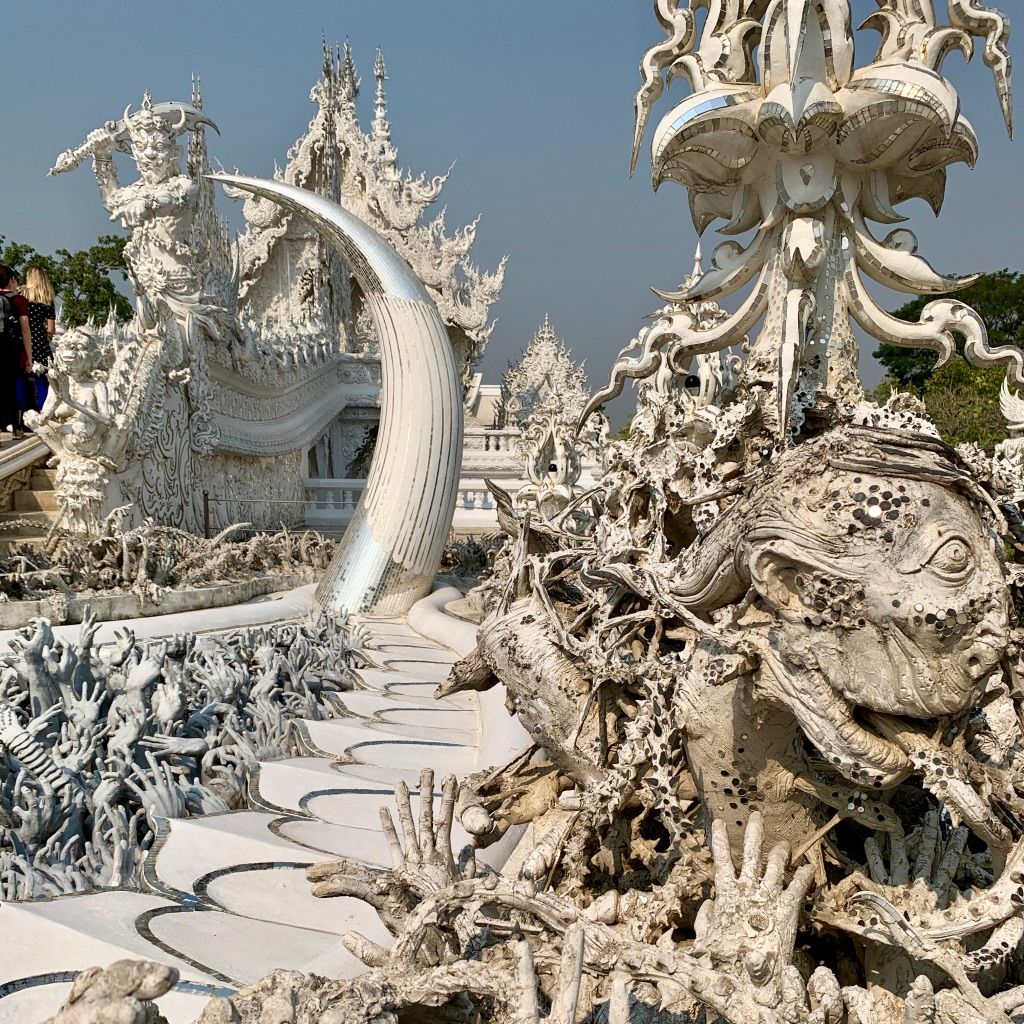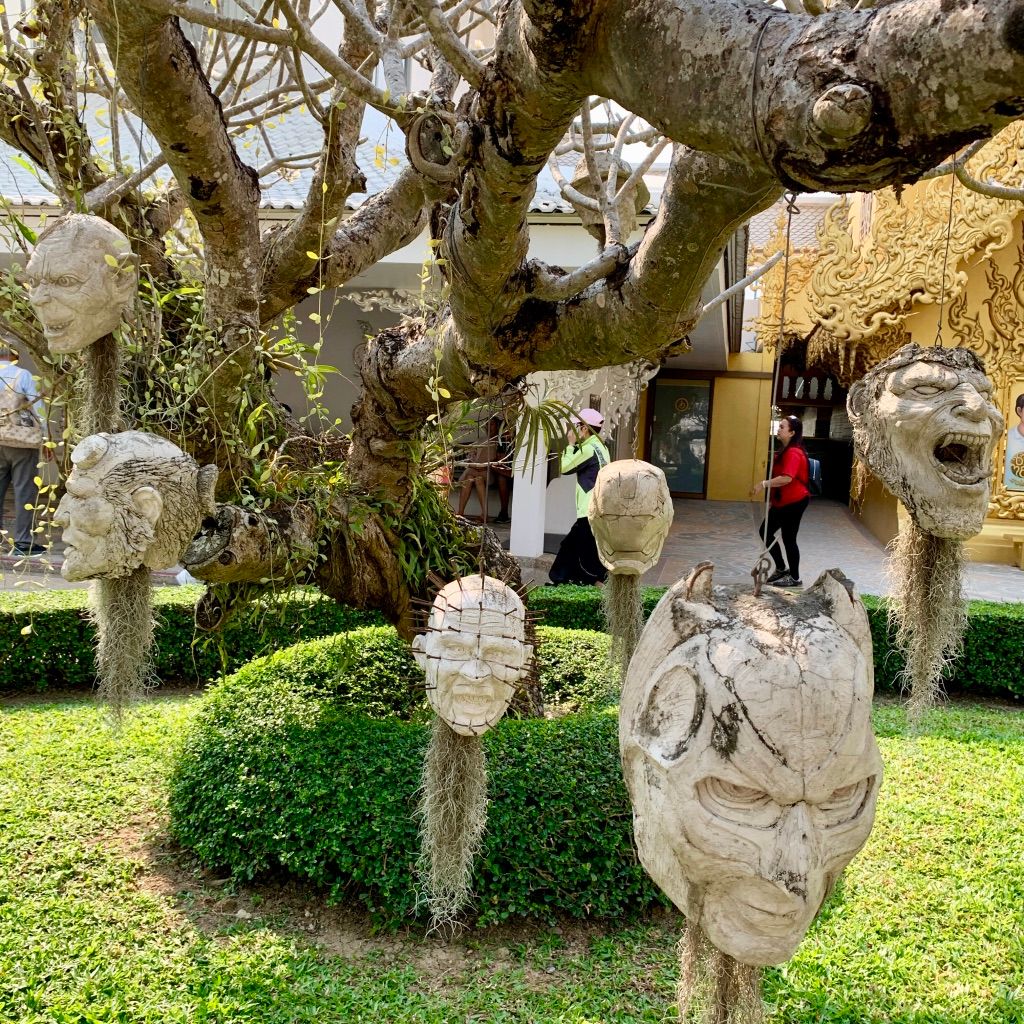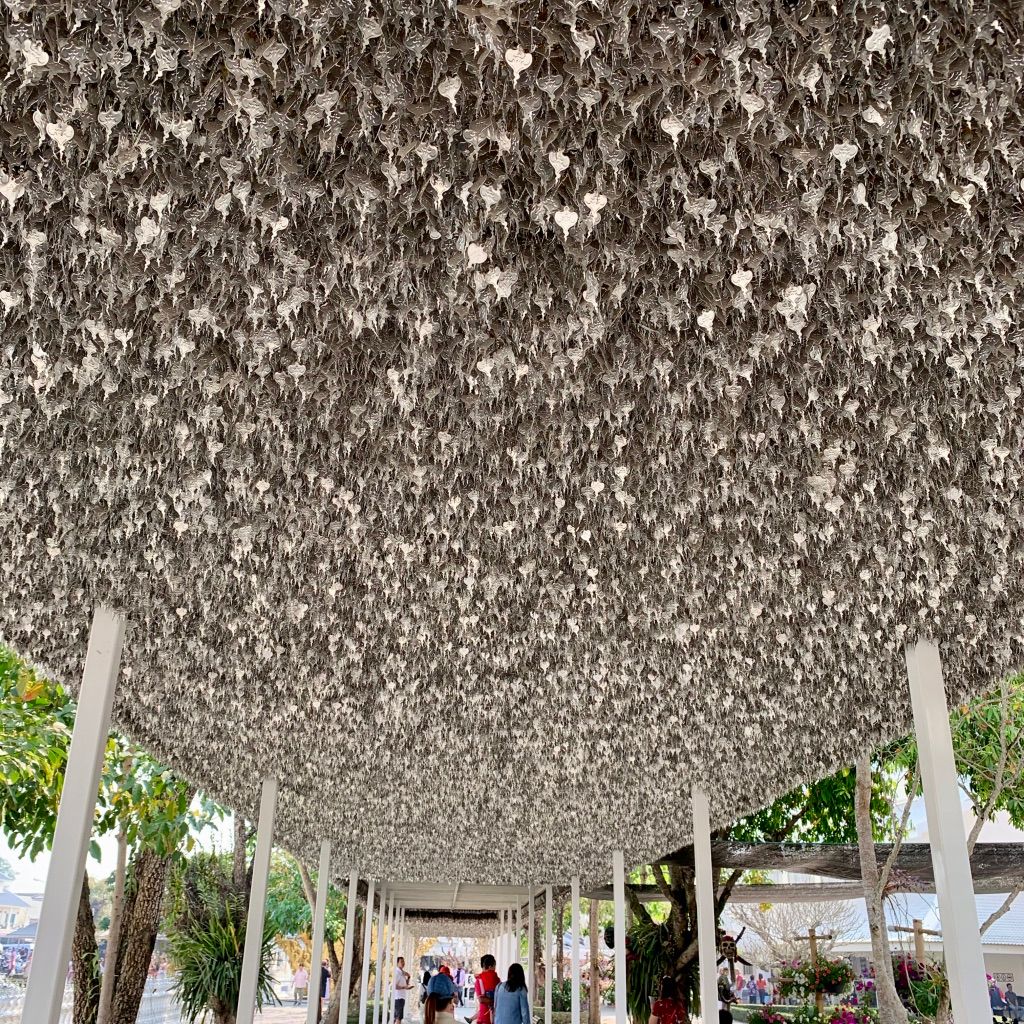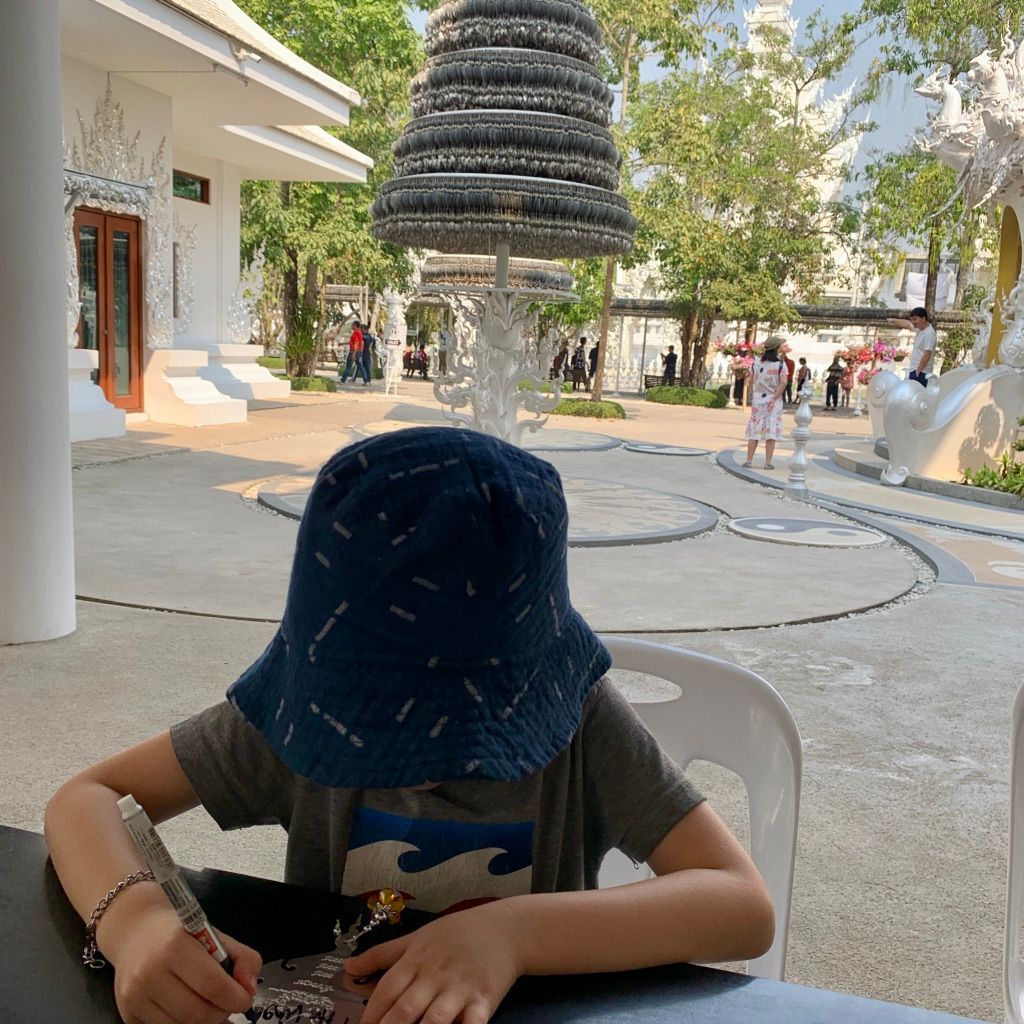 Wat Huay Pla Kong (Big Buddha)
Next we headed off to the Big Buddha. Which later I found out is not really Buddha at all, but instead the goddess of Mercy, known as Bodhisattva.  Makes sense its called Big Buddha, it is a lot easier to say than Bodhisattva.  A Bodhisattva in the Buddist faith, is one who has reached enlightenment.
This Bodhisattva stands 23 stories tall. You can take an elevator up to the top of her if you so choose.  The 23rd floor is a tiny circular landing point.  Not as tiny as the bus bathroom but preeeety small.  There are ornate carving on the walls and gorgeous statues everywhere but the real gift is the view.  That's if you are into views out of the slits of Bodhisattva's eyes which have no barriers or screens attached to them.  Im not!  It was all I could do to get myself to shove my selfie stick out one small window in the back which did have safety bars over it.  I got a brief video before racing back to the elevator to get out of there.  The space is small, there's lots of people up there, and I am not the biggest fan of heights, but hey...I'm one step close to enlightenment after that experience.  The boys loved it!  
There's also a pretty sweet pagoda, called Long Son Pagoda to check out next to Big Buddha.  And to top it all off, there are two small food stalls that serve free lunch....you heard me FREE!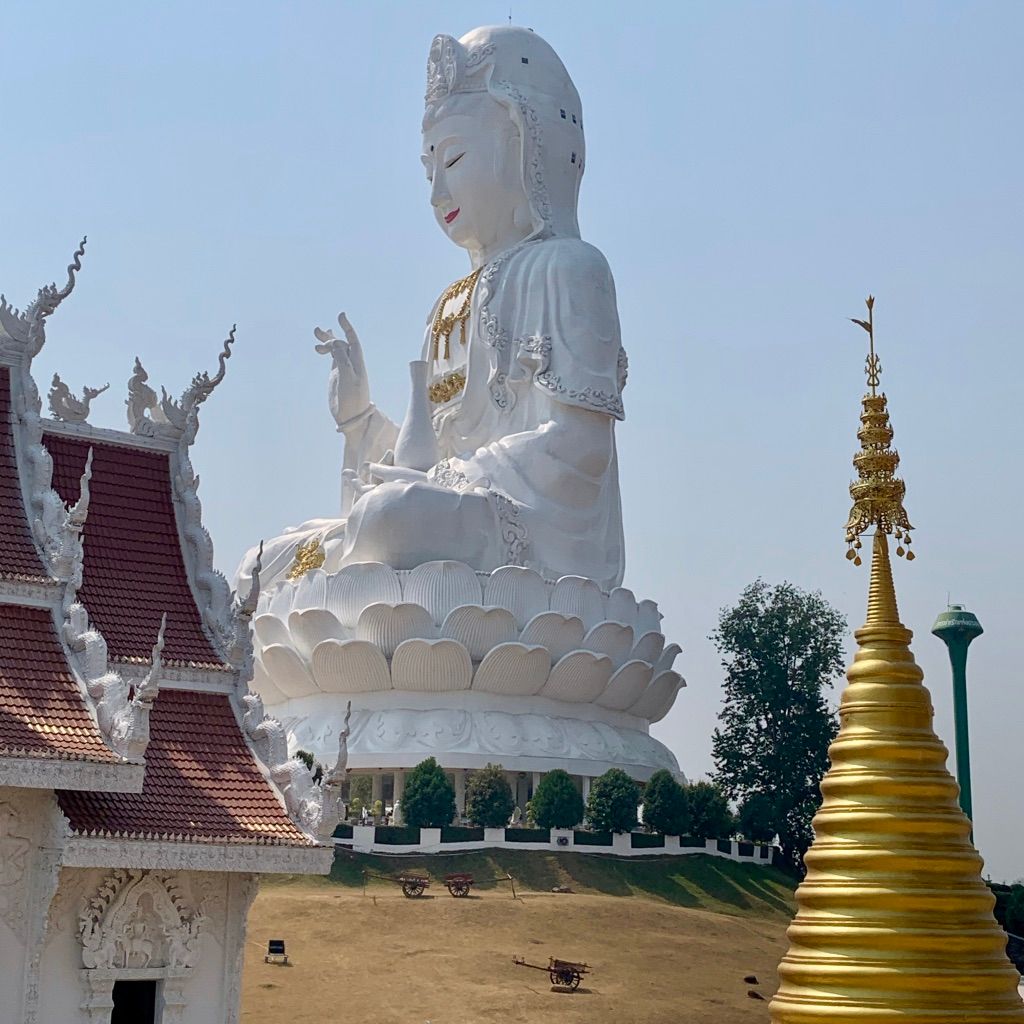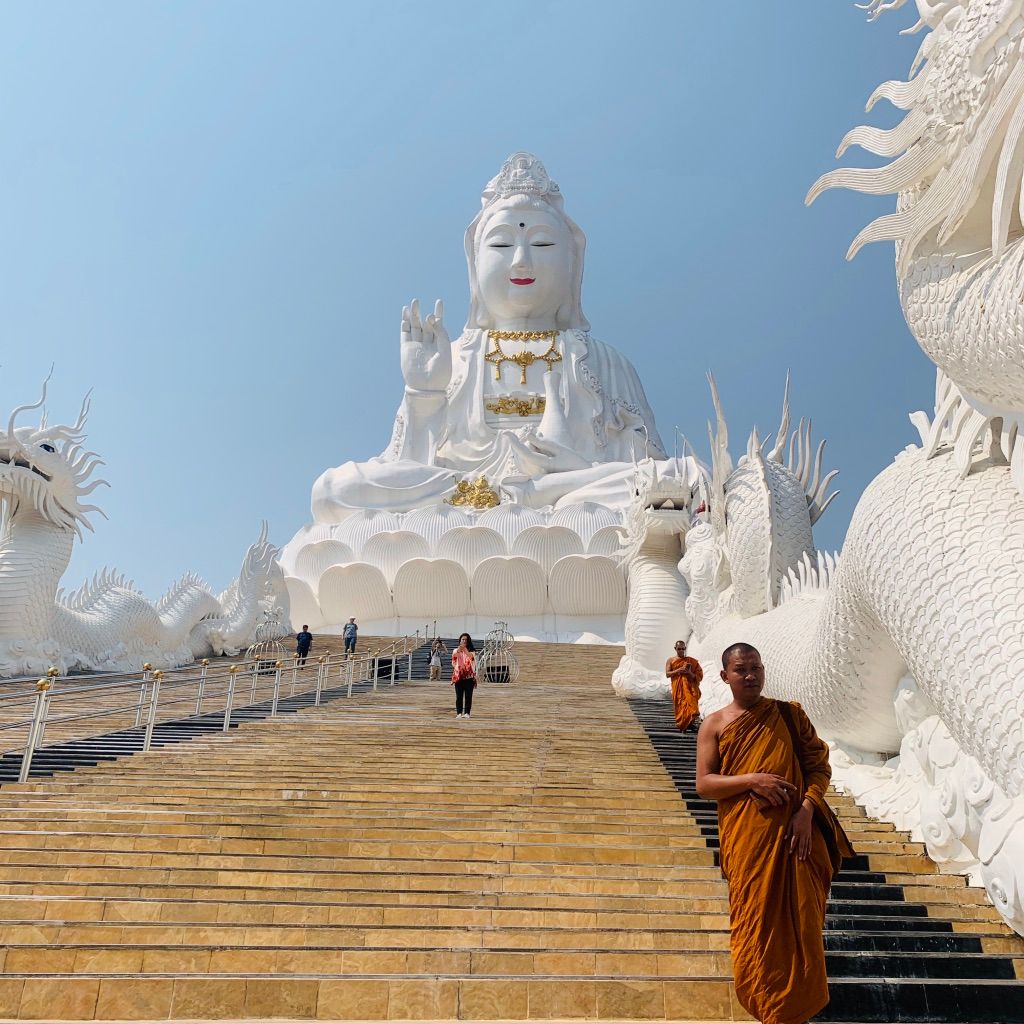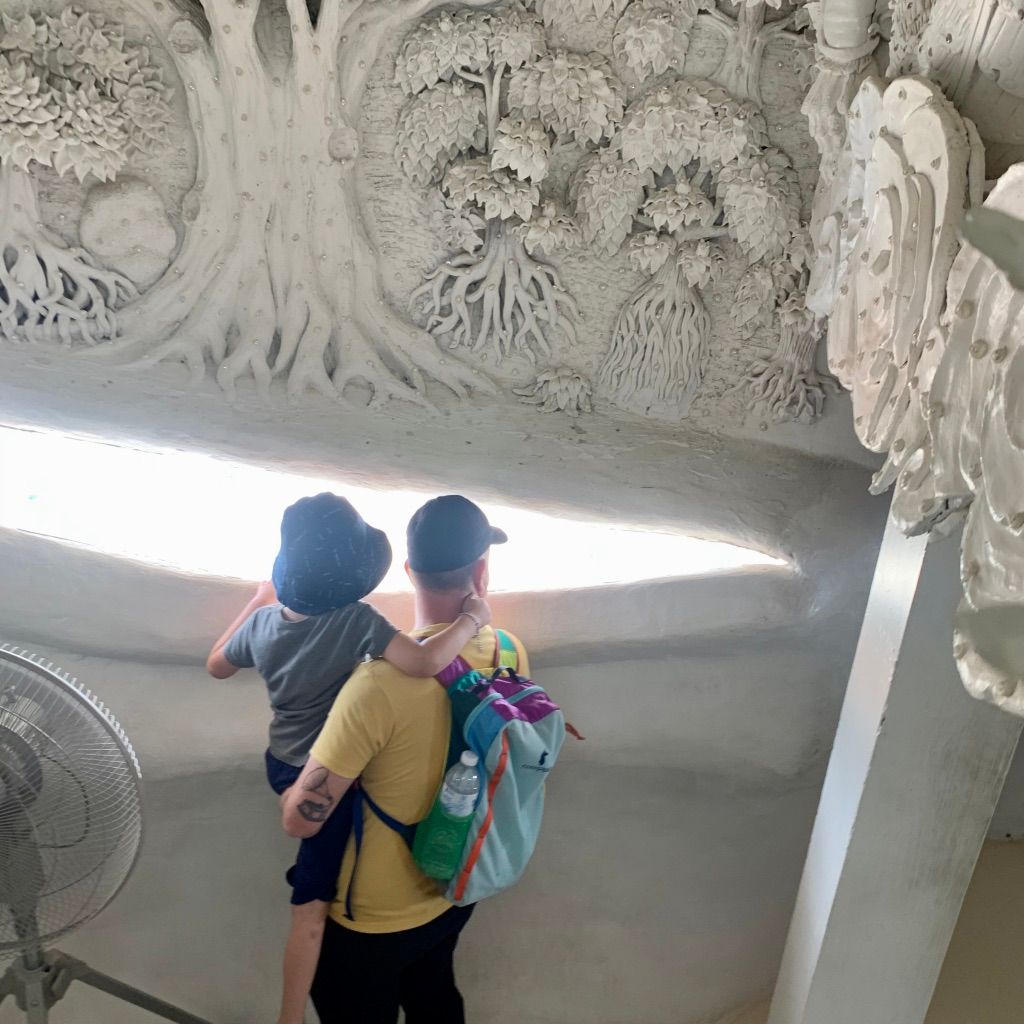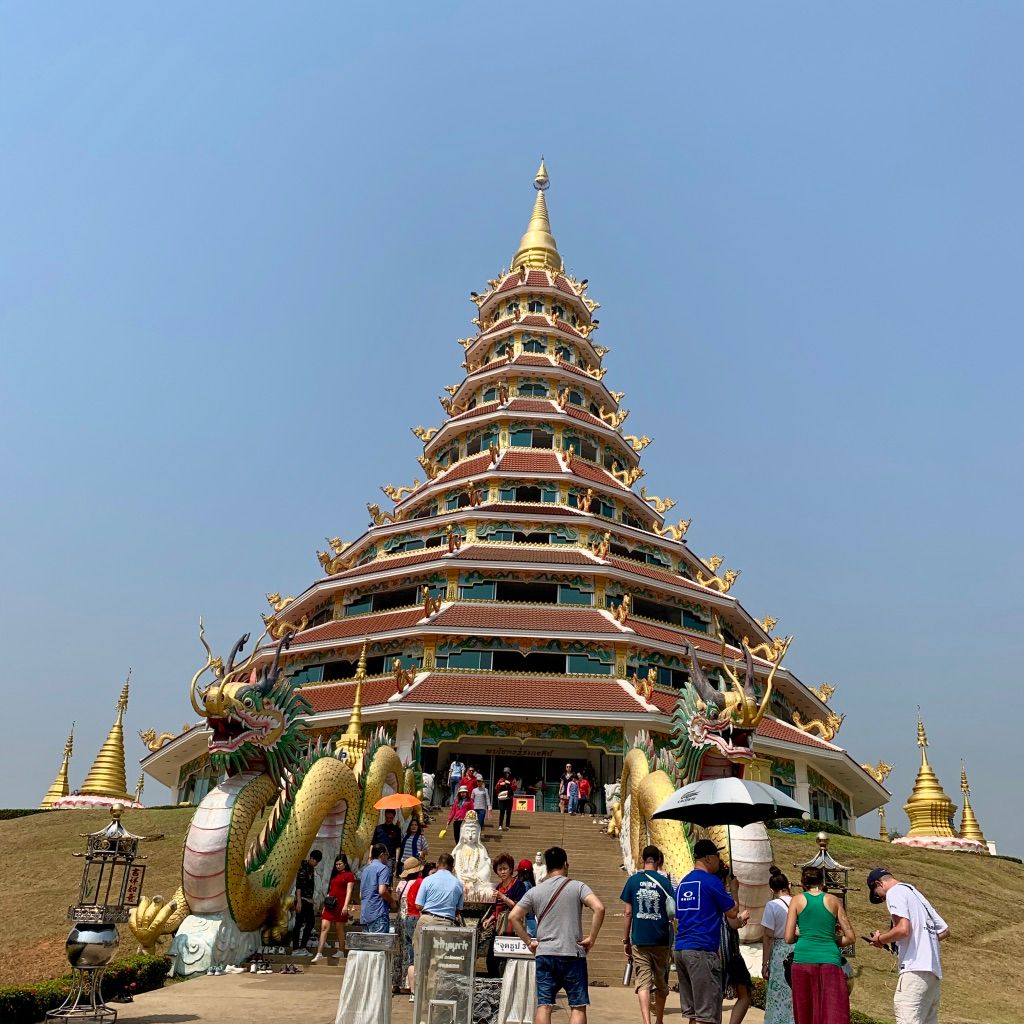 Long-Tail Boat Along the Mae-Kok River:
Now for our favorite part of the weekend, a simple ride down the Mae Kok River in a long-tail boat.  Nothing screams, "Im in fucking South East Asia" like riding in a long-tail boat.  These are canoe shaped boats with canopies. The 'tail' is actually the front of the boat which stretches out into a long, elegant point.  They are used primarily to transport people down rivers.  They are iconic in Thailand and they are chic.
Our hotel offered boat rides to visit the elephant camps or to go visit one of the hill tribes.  After weeks of research, we already had our elephant situation figured out so we weren't interested in a visit this weekend.  As far as visiting the hill tribes,  initially we were really keen on going to visit one of the northern Thailand tribes. The Karen tribe who are best recognized as wearing the gold rings stretched around their necks were at the peak of our interest.  Upon looking into where and how to visit these tribes, I read about them being exploited by the tour operators due to the growing popularity among visitors.  Some say that very little money from the tours go back to the villages who really need it. The term "human zoo" is thrown around to illustrate how these people are trapped in their villages and exploited for purposes of tourism.  
Look, there is a lot of debate over this.  Most certainly some of these hill tribes are also benefiting from the money of tourist buying their merchandise or staying in home-stays in their villages.  Article after article will tell you to do your research to find the best way to visit these tribes and most definitely there is an ethical way to do so.  At the end of the day, I just didn't want to do any more research.  The way I see it, sometimes when you have to spend hours researching the ethicality of something it's easier to just strike it off of your list.
Instead, we opted for a simple ride up and down the Mae Kok River at sunset.  The evening was picturesque as the sun set over the mountain tops.  Many families were out enjoying the sunset hour with dinner on the river.  Kids were playing and men were fishing.  The excitement of everyone we passed along the way was infectious and we found ourselves exuberantly waiving back and yelling hi!  It was peaceful, the sky was golden, it was a perfect night.  And then, Jamie had to pee.  He used sign-language to explain to the driver of our boat that he had to pee.  Meanwhile, I'm laughing, thinking he's shit out of luck.  And then, our driver (who spoke zero English prior) pulls the boat over to the hillside and says, "Thailand toilet" with a laugh!  Off Jamie went to go piss in the most scenic Thailand toilet he has ever used, on the hillside of the Mae Kok River.  We all had a good laugh over this.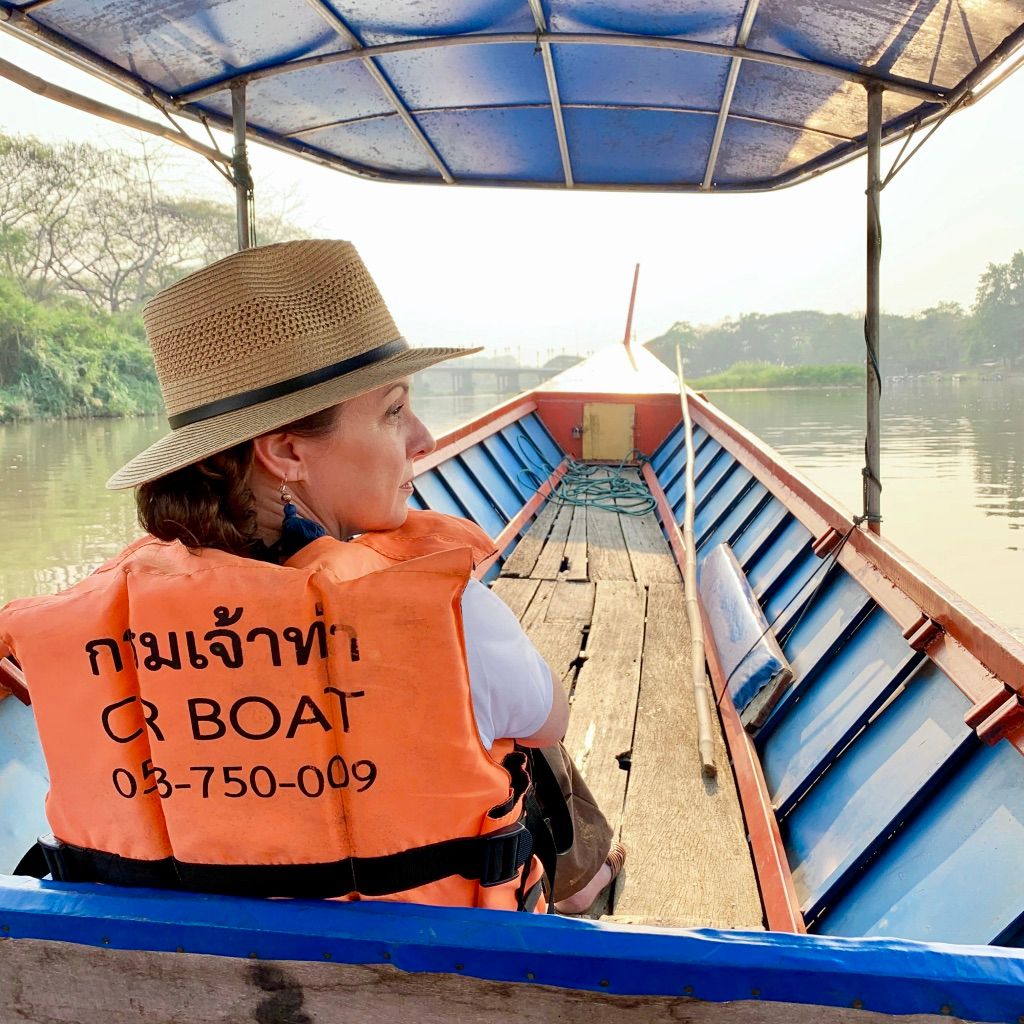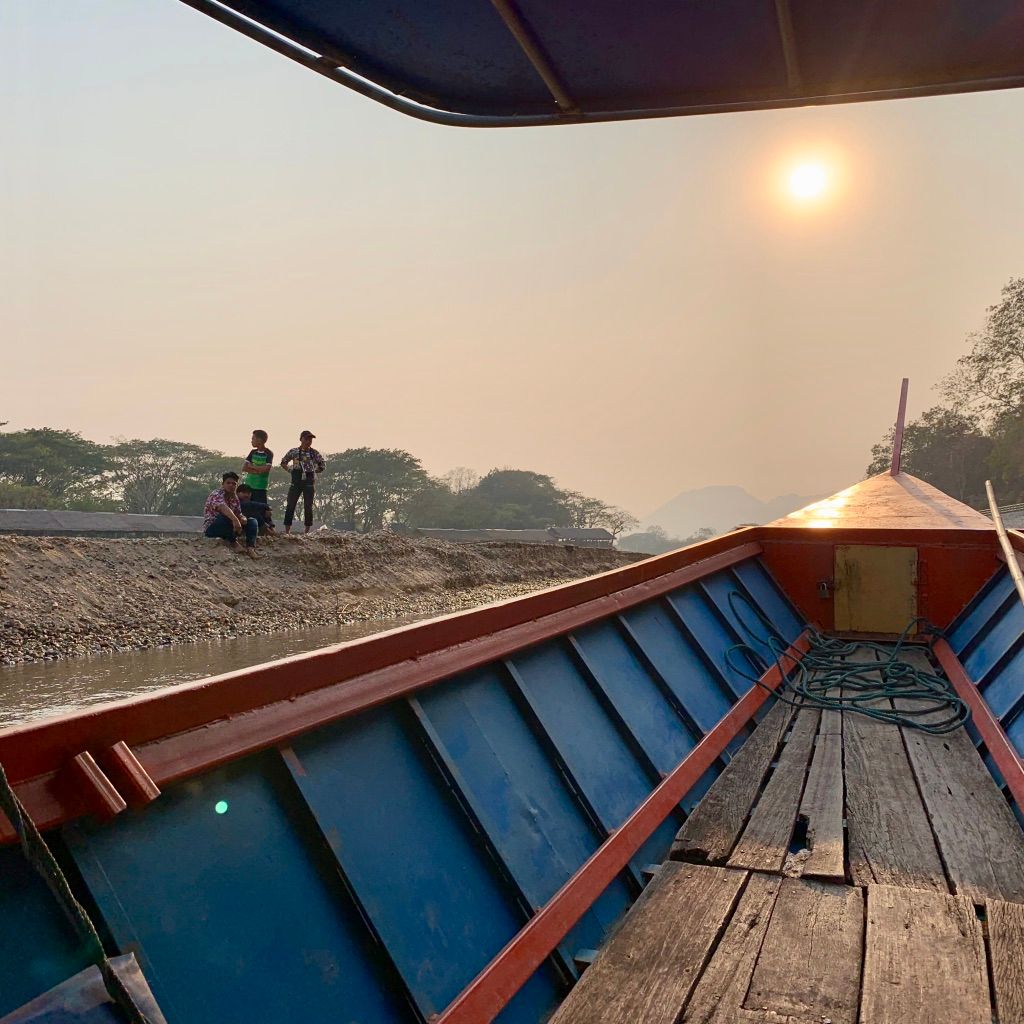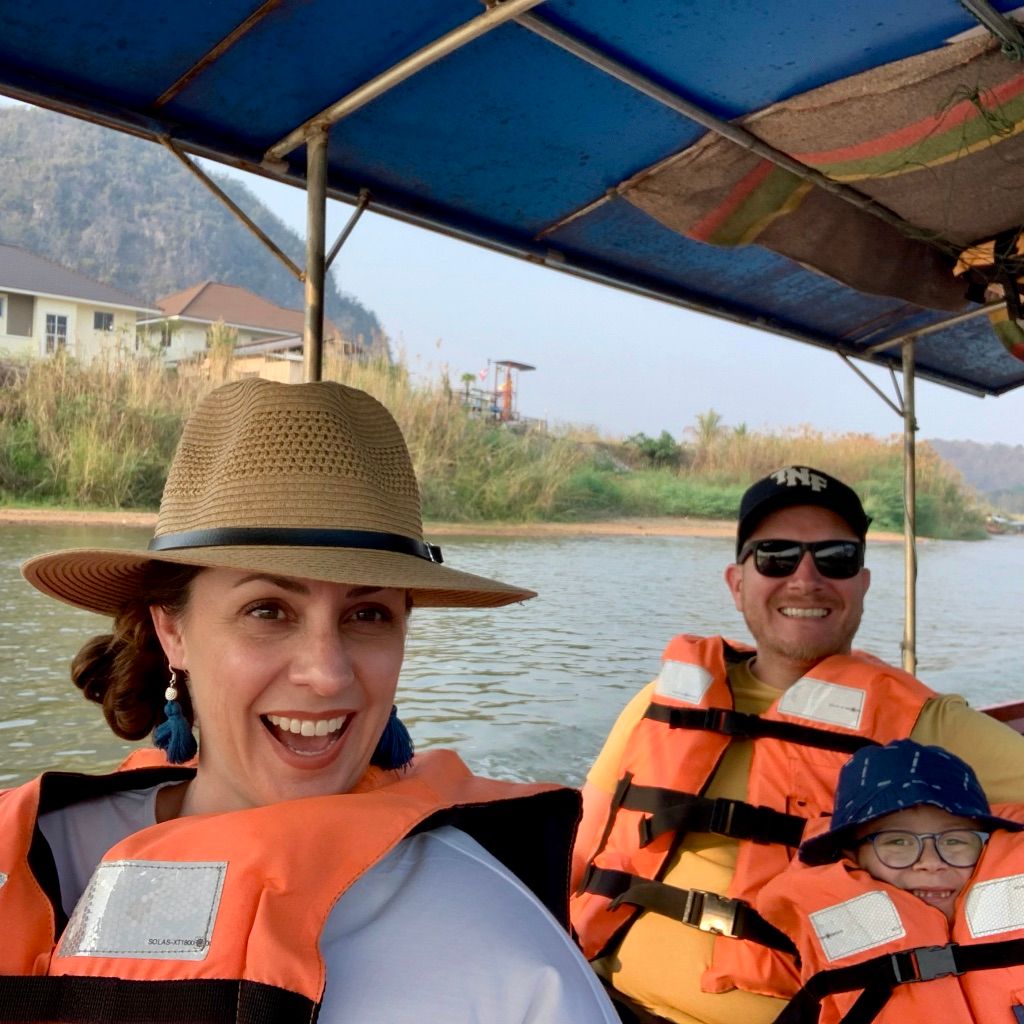 Wat Rong Suea Ten (Blue Temple)
Last but not least, the Blue Temple.  You've seen one temple, you've seen them all right?  Nope...not until you've seen the Blue Temple.  The blue-ness of this place is gripping.  I won't bore you with any facts about the Blue Temple (honestly, I don't really know any).  The photos speak for themselves.  Let's just put it this way, even the monks were taking photos!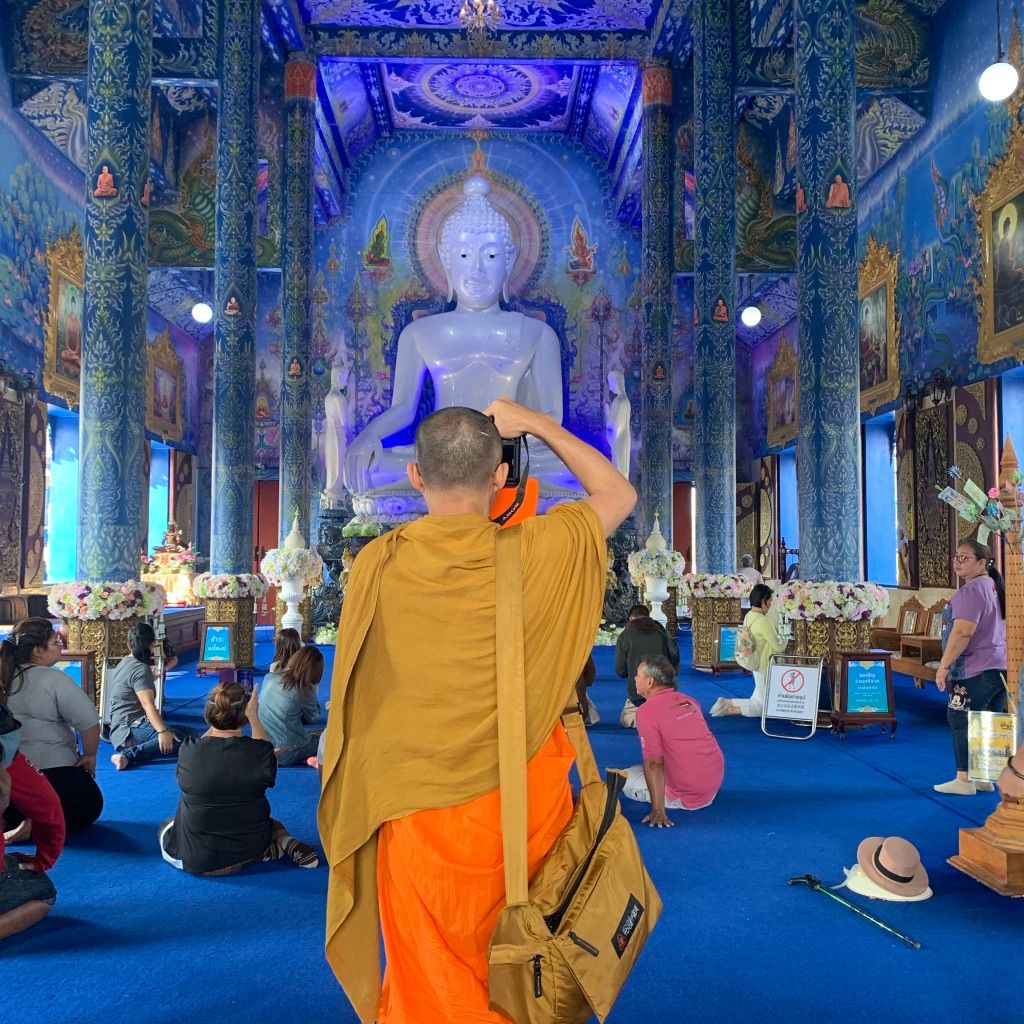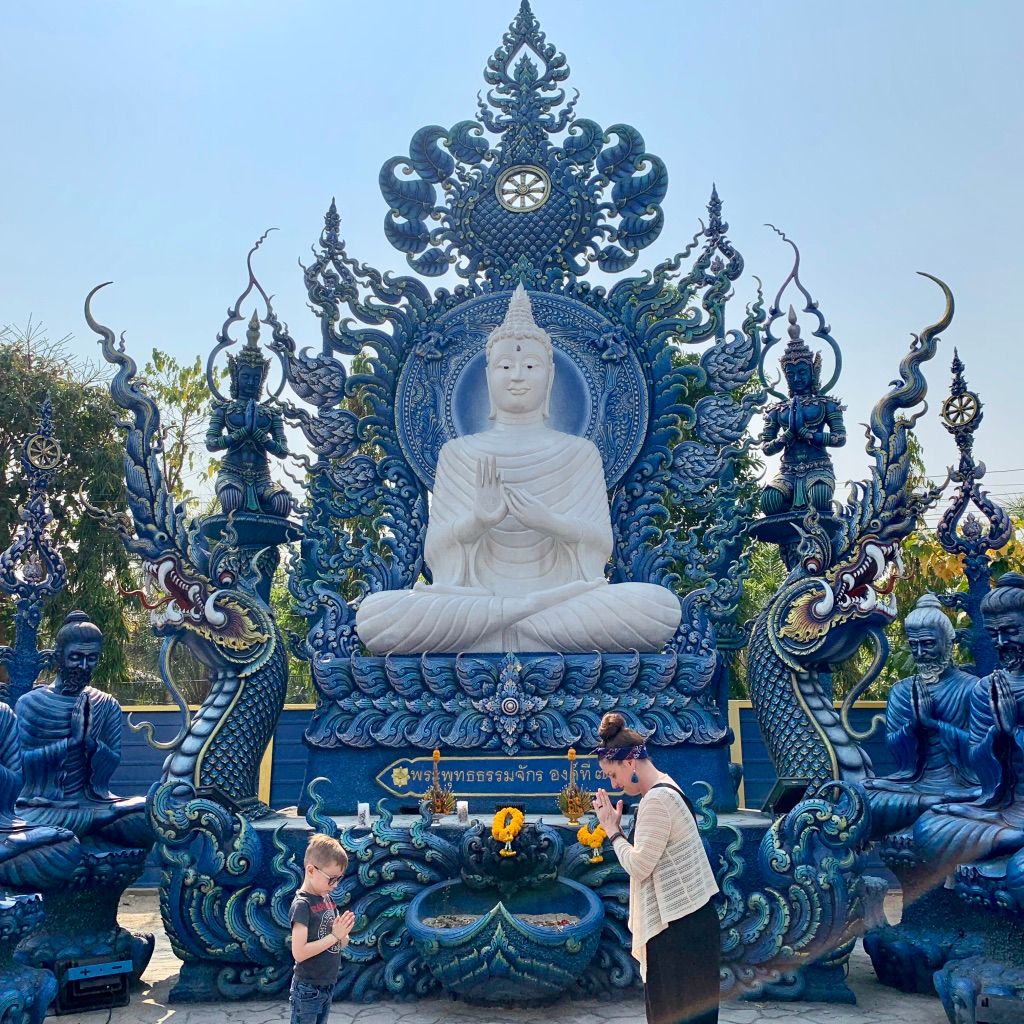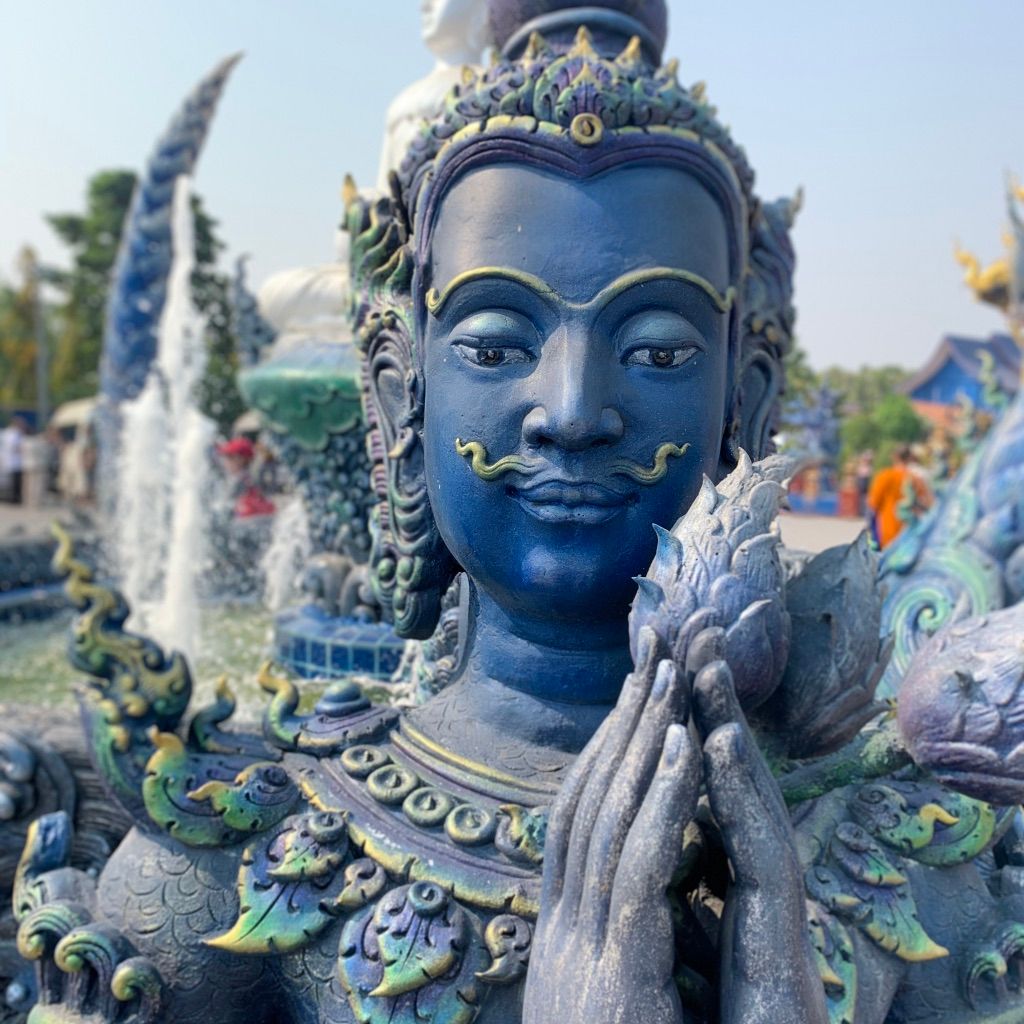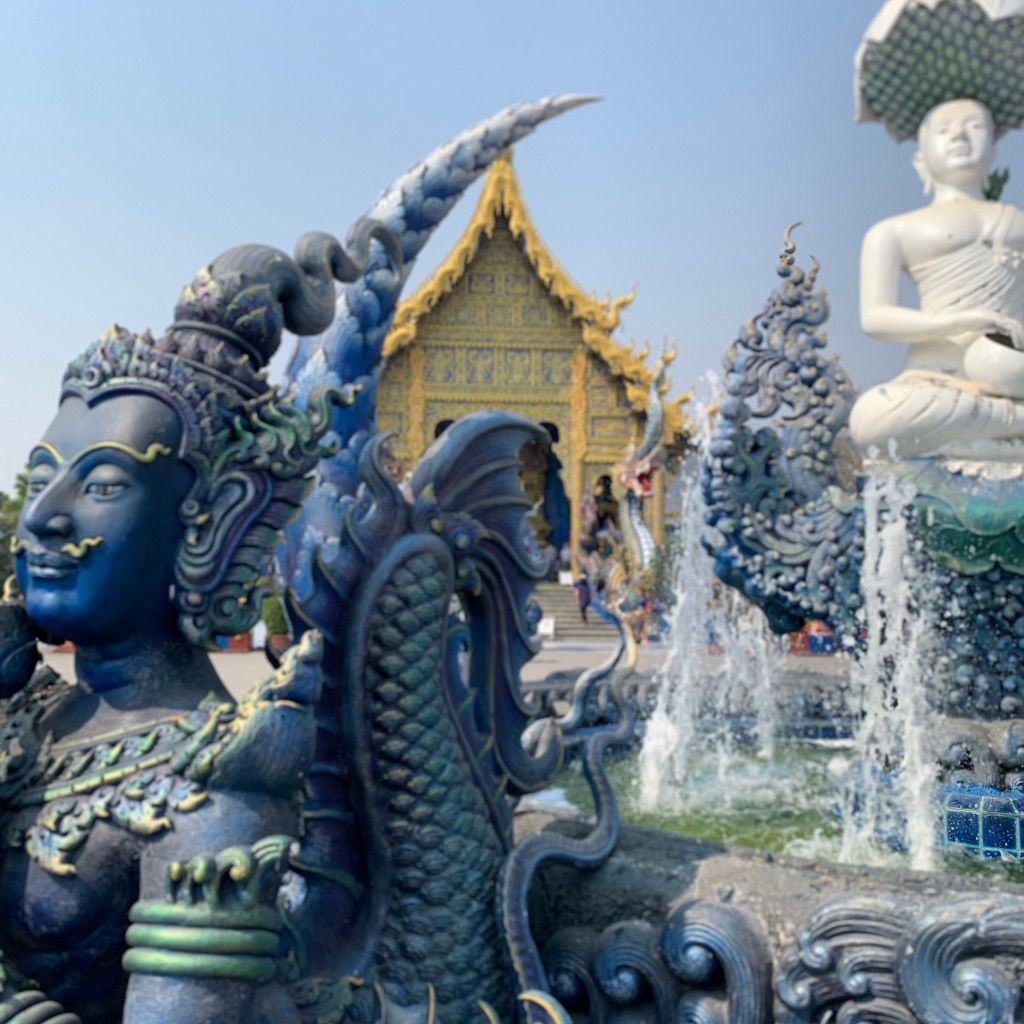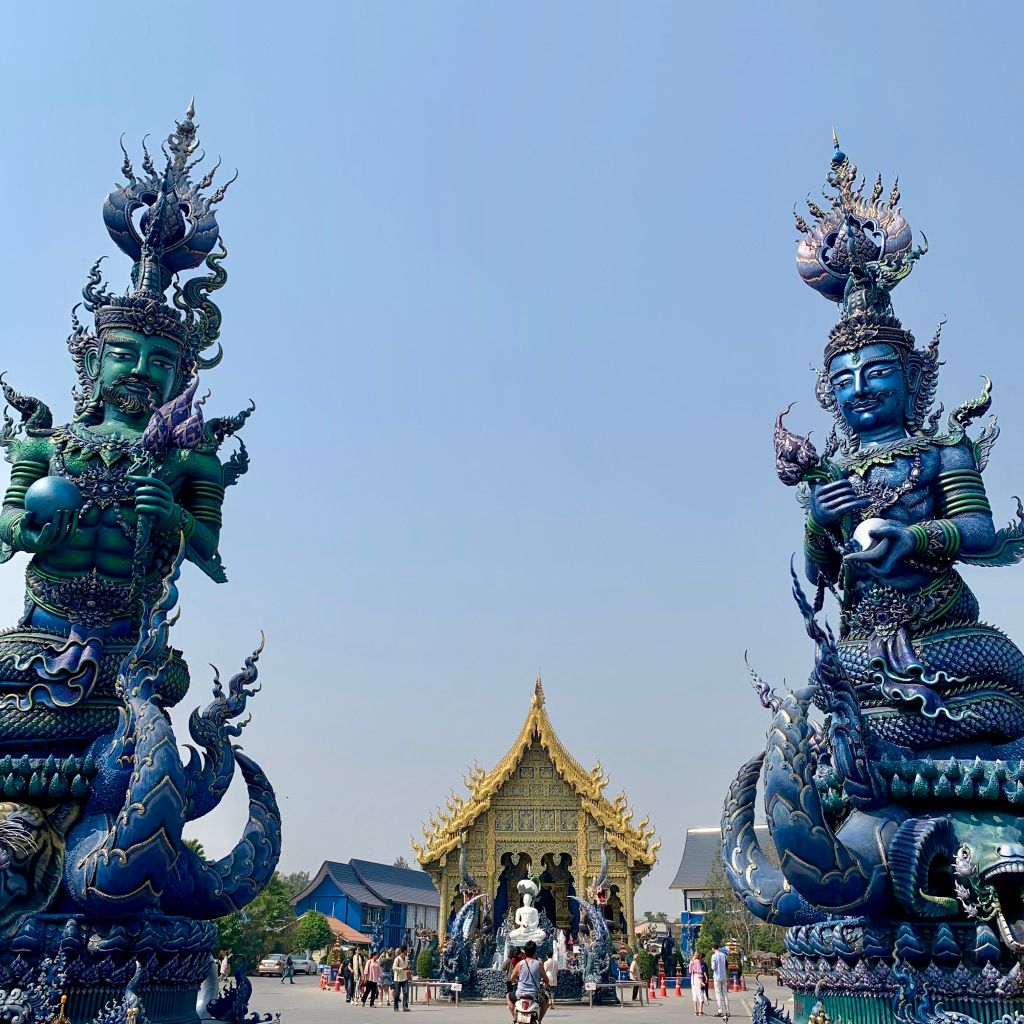 And that folks, concludes one fantastic weekend trip to Chiang Rai, Thailand.  We came, we raved, we templed, we boated (in a long-tail boat!), we had ourselves a couple of memorable pees, one on a bus and one on a river bank.  What more could you ask for in a weekend?
Big thanks to those of you who continue to read our blog.