August 30, 2019
I'm Going To Tell You All About Portland
I love Portland because it's impressive without trying too hard to be impressive.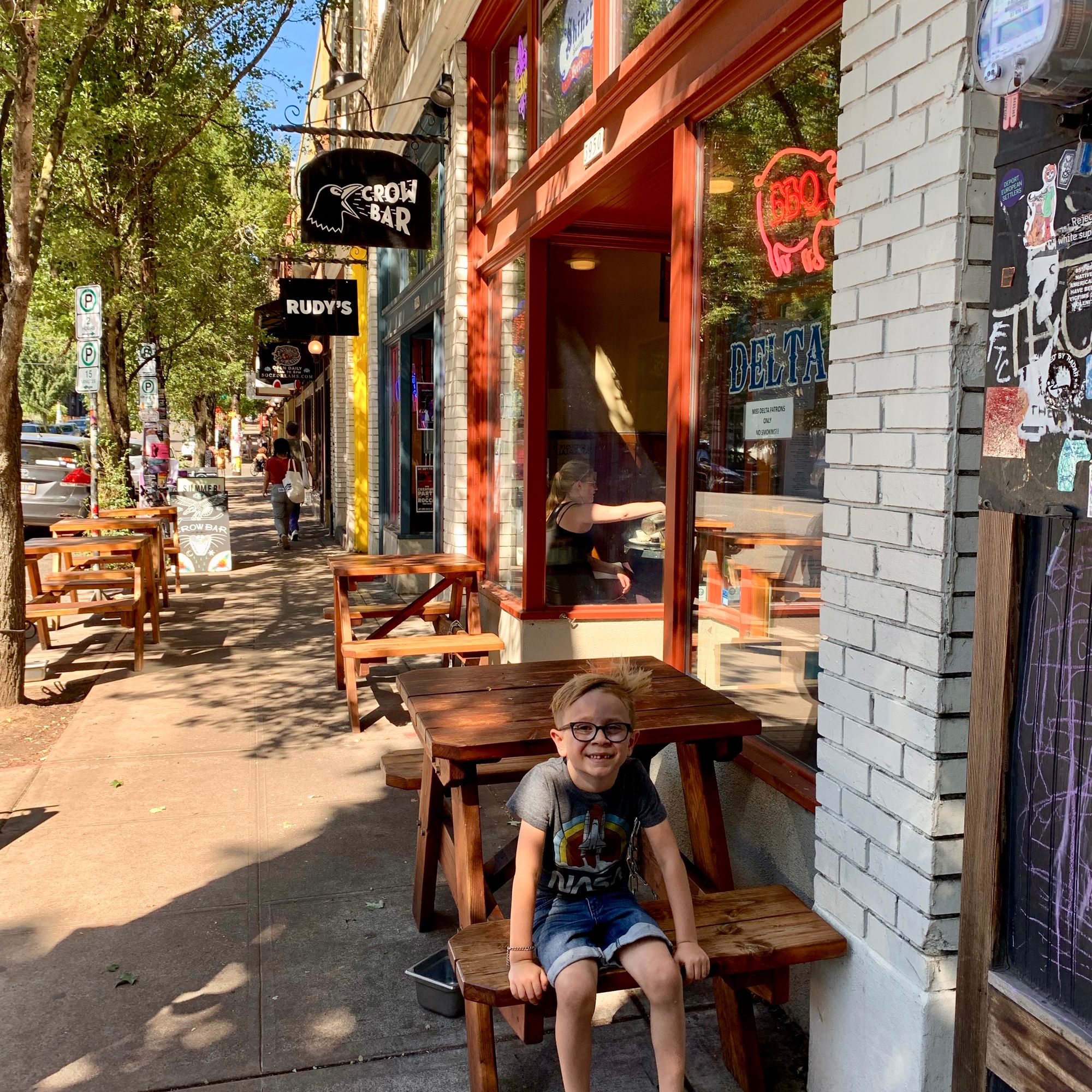 While trying to figure out what I wanted to focus on first when writing a blog about Portland, I stumbled across this video.  Go ahead and give it a watch before reading on...it's exactly 5 minutes long and very relevant, I promise.
Ok ok, I get it.  The same thing has happened in my hometown of Southern California and now it's over priced and over crowded.  It's true, people are migrating in masses to Portland from other cities, but that's because it is pretty awesome.  If you want it to stop, stop being so awesome Portland.  However, the video doesn't lie, the restaurant they reference, Screen Door which is right by our place, truly has that many people waiting in line to get in everyday, weekdays included.
Have we been pronouncing Couch St., Cowch St. instead of Cooch St.?  Yes, guilty as charged.  But c'mon Portland, why ya gotta call it that?  Luckily, a friend of mine who's a local informed us early on about the correct pronunciation (correct or not, I still don't want to say the word Cooch).  
Yesterday was the first rainy day here all month and as luck would have it, I watched this video before heading out for the day, saving Quinn and I the embarrassment of using our umbrella.....phew!
As you can see, there may be a little resistance to folks like us from California being here and bragging about how nice it is.  But it's not just us outsiders who have a tendency to brag about how amazing Portland is, it's the residents as well.  It also may be a little bit of Fred Armisan's fault, with Portlandia.  That being said, let me proceed with telling all of my 10 to 15 readers about how amazing Portland is (calm down Portlanders, we will be out of your space by the end of August).  
Where do I begin?  If you like coffee, beer, wine, amazing food, cute shops, gorgeous trees, waterfalls, lush green landscapes, and incredible parks, there's a chance you will like it here.  If you don't like any of those things you should probably stop reading right now and go look up a blog on Death Valley (I hear it's gorgeous this time of the year).  
Let's start with the name.  The name was actually stolen from Portland, Maine.  In fact the city's name was decided by a coin toss. The two founders of the city, Asa Lovejoy and Frances Pettygrove could not agree on a name so they decided to have a coin toss and whoever won would name the city after their own hometown. Frances won. Had Asa won, Portland would now be called Boston.  Let's think about that for a second y'all.  Speaking of y'all, they also stole the slogan, "Keep Portland Weird" from Austin's "Keep Austin Weird" trademark. Fair enough, Portland actually reminds me a lot of Austin (minus the trees).  
I love Portland because it's impressive without trying too hard to be impressive.  The city is split by the Willamette River which divides the west side of town from the east side and is connected by several very individual bridges.  In fact, none of the bridges bear any resemblance to one another which gives the city a very eclectic flare.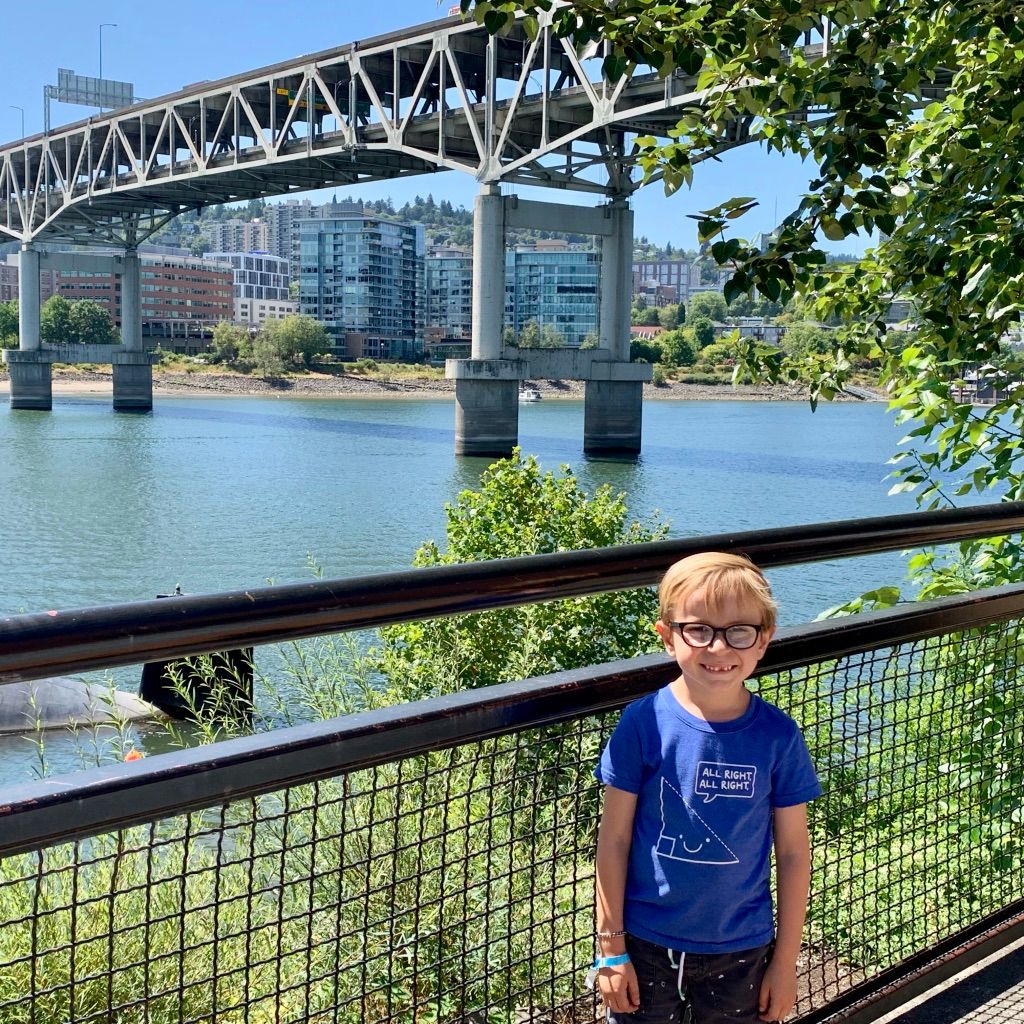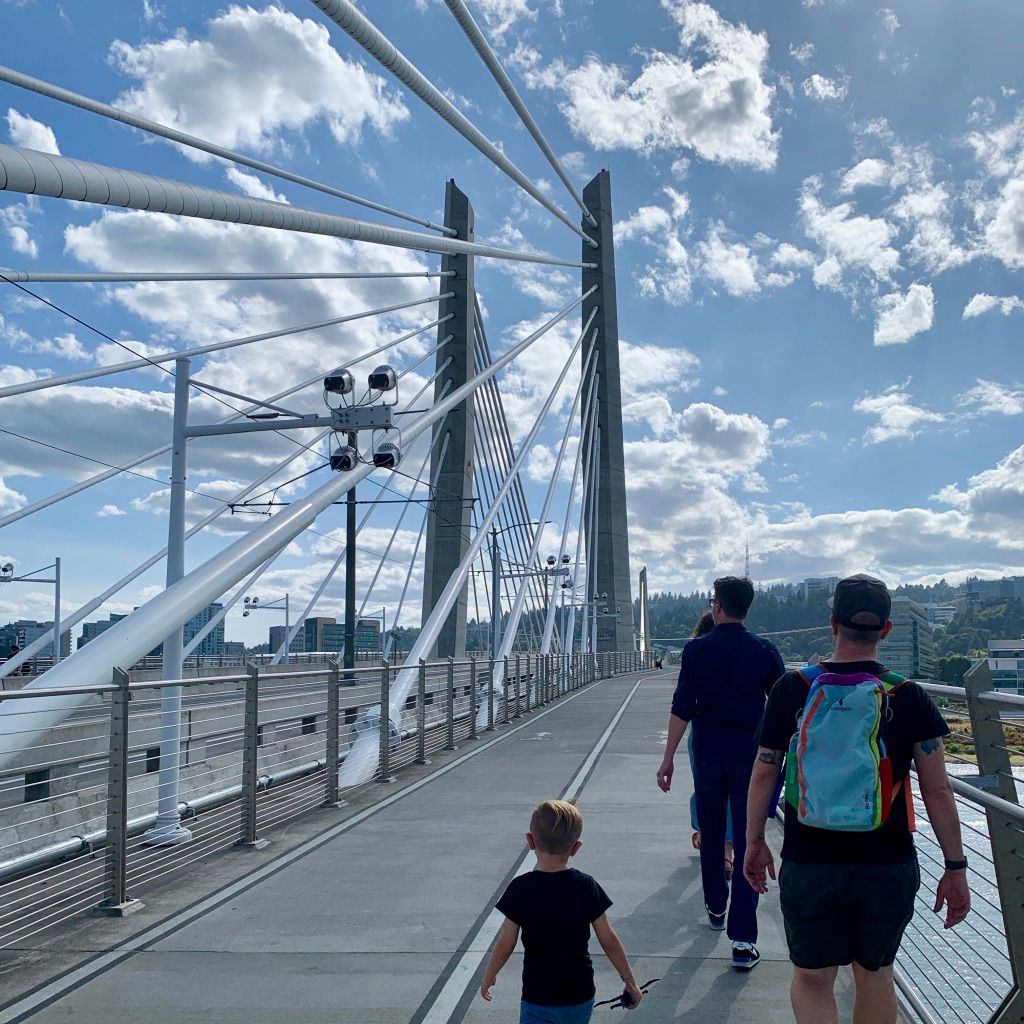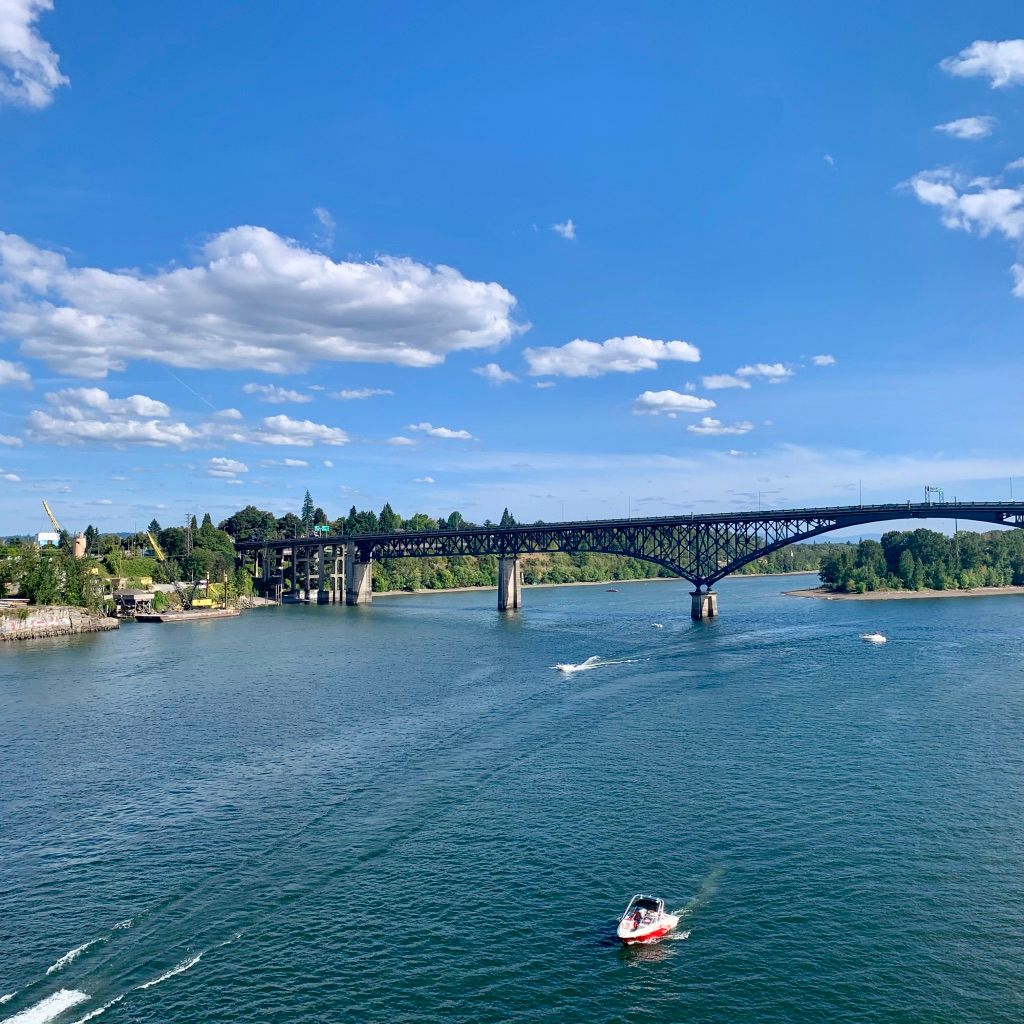 There are several cute neighborhoods, all unique and charming in their own way.  I could spend days wandering through all the neighborhoods looking at the quirky architecture of the houses and untamed gardens. Coming from Orange County, CA, where most of the neighborhoods are carbon-copies of one another with little-to-no unique charm and the yards are perfectly groomed and maintained, Portland is 180 degrees opposite (in the most delightful way).  I couldn't be more enamored with it's charisma.  From our Airbnb we can walk pretty much anywhere we need to.  There are coffee shops, fantastic restaurants, markets, breweries, gift shops, and farmers markets all within a 3-5 minute walk.  I have also noticed that there is art painted on the actual street in some neighborhoods.  Many of which are colorful stars or flowers like this one on our street.  Super peaceful to stand on, until a car blasts through of course.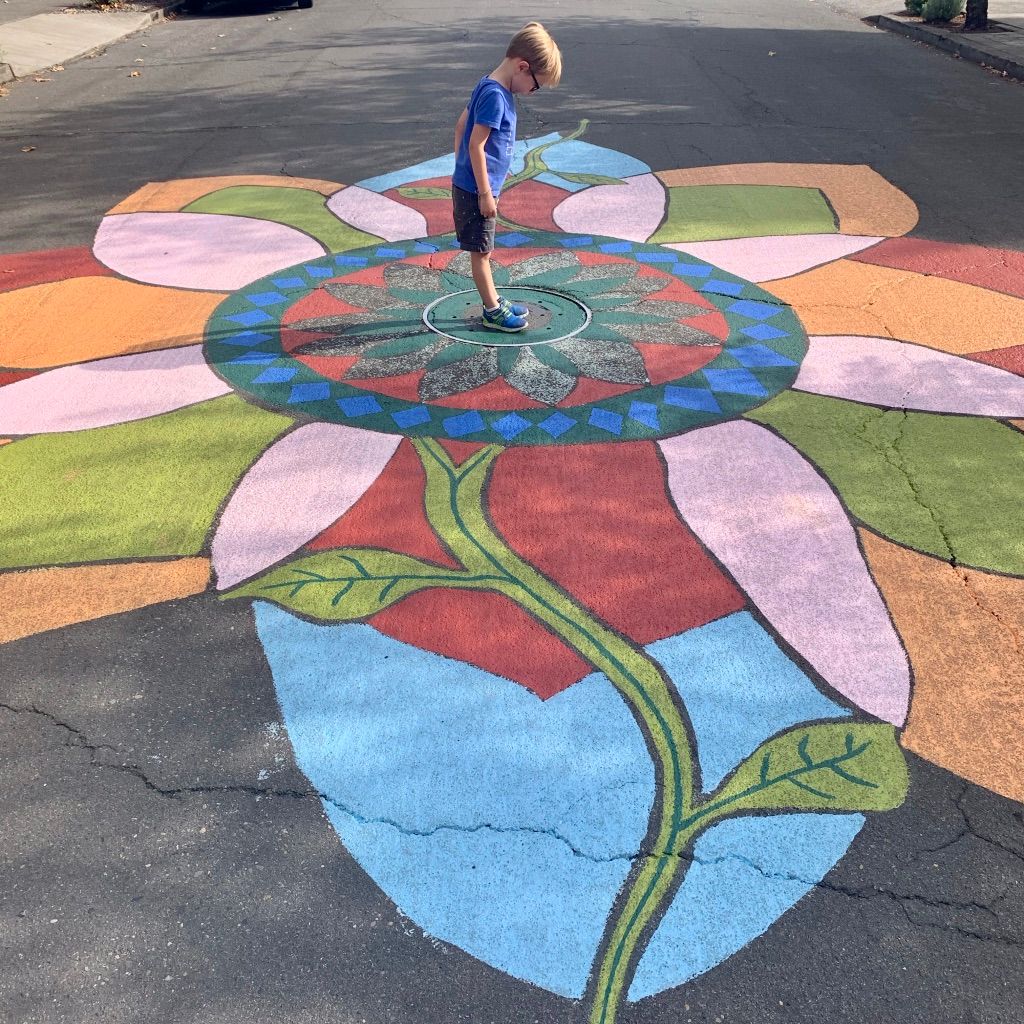 If you're in Portland you must visit the popular neighborhoods like downtown Pearl District, Nob Hill, Division, Alberta, and the Hawthorne districts, to name a few.  You could eat and shop yourself into an oblivion all day in any one of these areas. But I want to give a shout out to our little neighborhood on the Northeast end of town called Montavilla, which even several locals are unfamiliar with. Montavilla is in the process of being gentrified and you could literally see where the line divides in certain areas. It sits amidst major thoroughfare streets like East Burnside St. and SE 82nd Ave. which makes it easily accessible to anywhere in the city.  The main drag on SE Stark Street is home to the Montavilla Farmers Market and the Academy Theatre.  This theatre has become our Tuesday night tradition.  You can't beat the $4 admission and buy one get one free Tuesday nights.  Not to mention the snacks are $2-$3 each and they serve wine, beer and food from surrounding restaurants.  Regal and AMC could take a few pointers from this theater.  Academy is the way all theaters should be.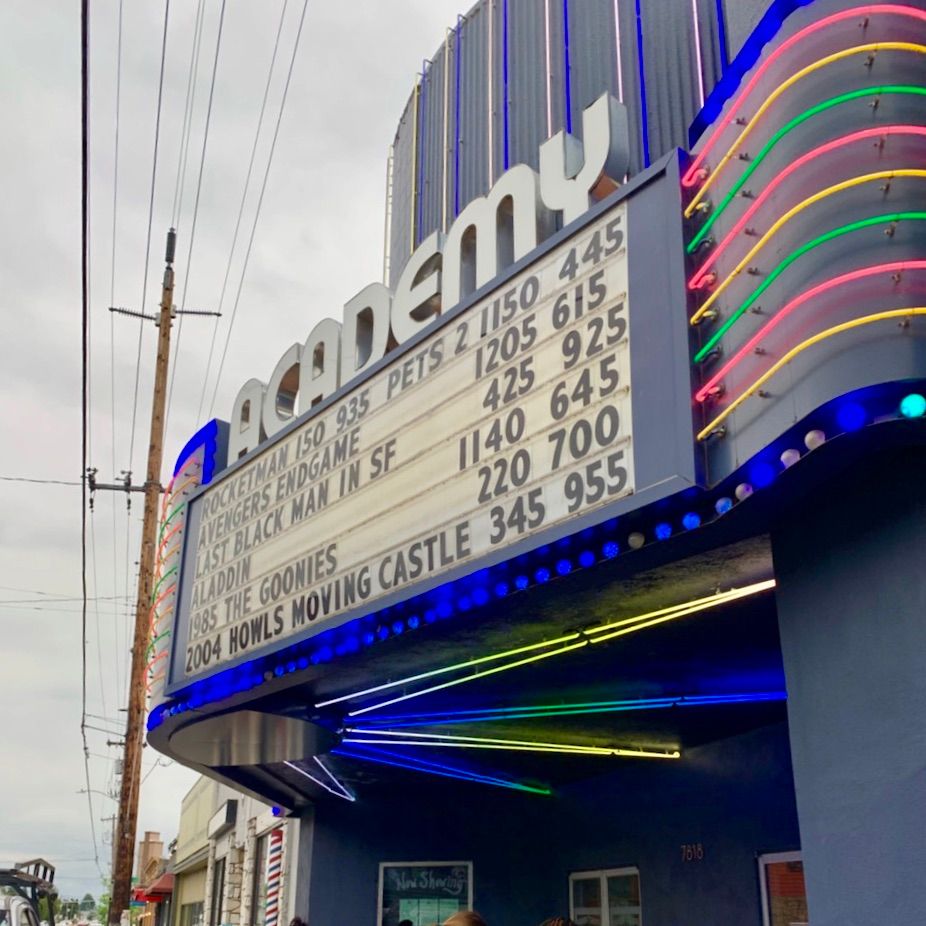 Since being here I have visited several coffee shops, including the famous Stumptown but my favorite so far is Bipartisan Cafe on SE Stark St. in our hood.  This place serves Coava coffee, has the best bagel sandwiches, homemade pies and interesting memorabilia featuring presidents, politicians, and clips of major political or historical events.  Every visit is a history lesson for Quinn with him asking me who all of the presidents and politicians on the walls are.  It has couches to lounge on and legos for kids to play with, it's everything I want it to be. Other standouts on this drag are The Observatory for dinner and Heartbreaker Neighborhood Kitchen for small batch handmade ice creams with flavors like Honey Lavender and Salted Butterscotch.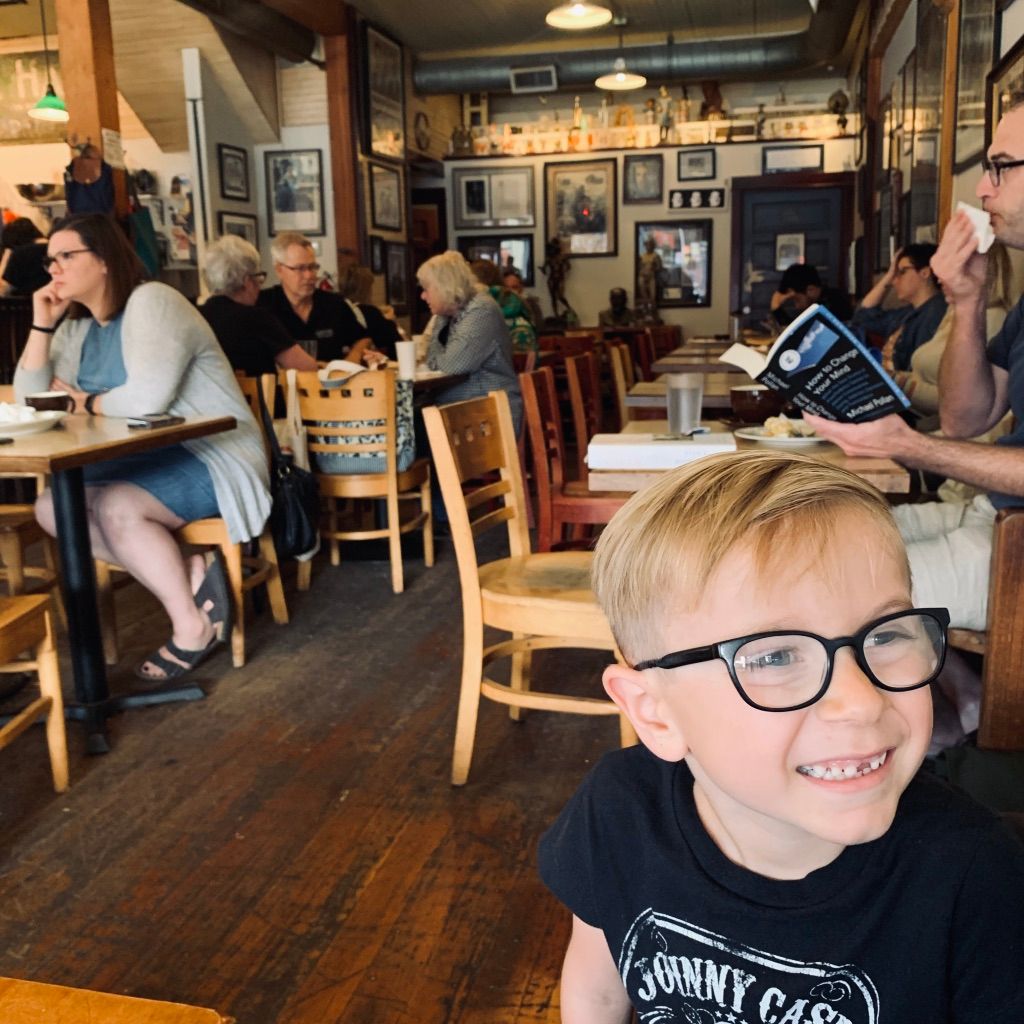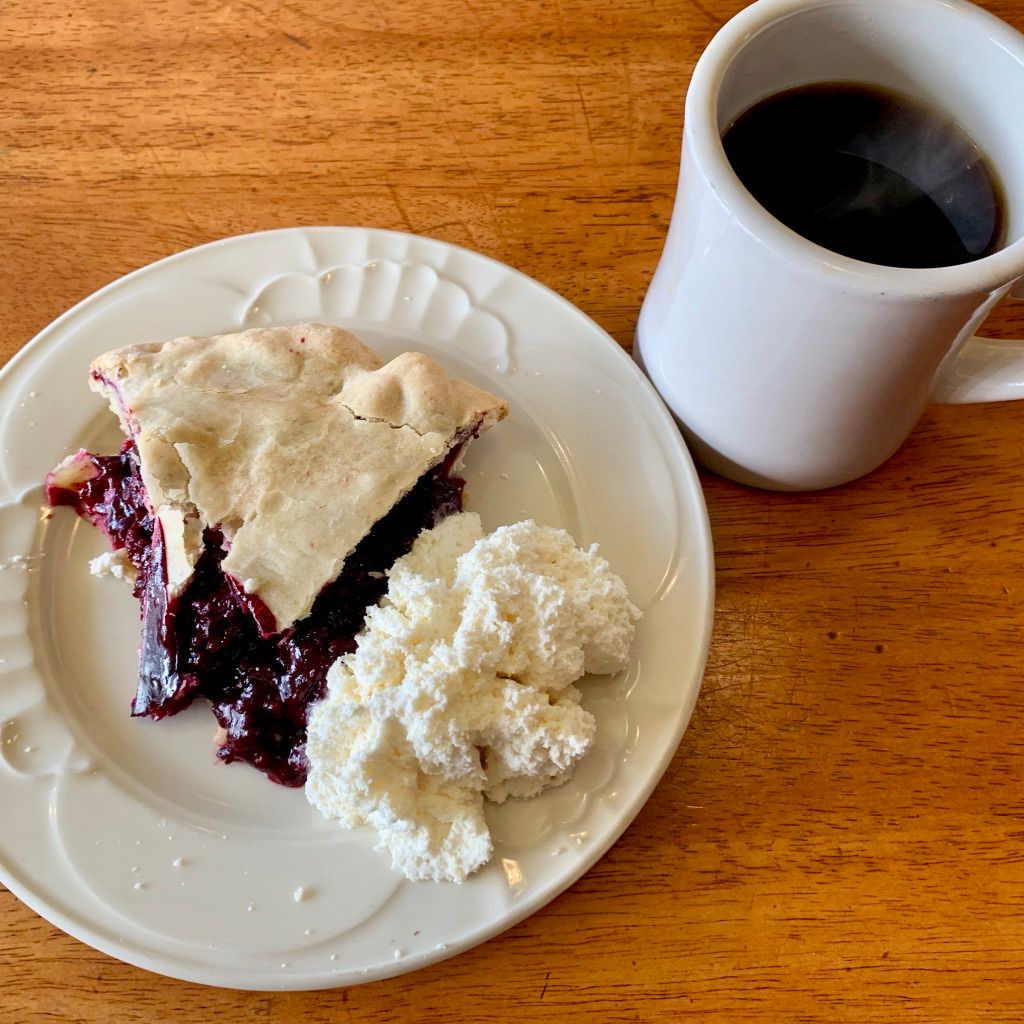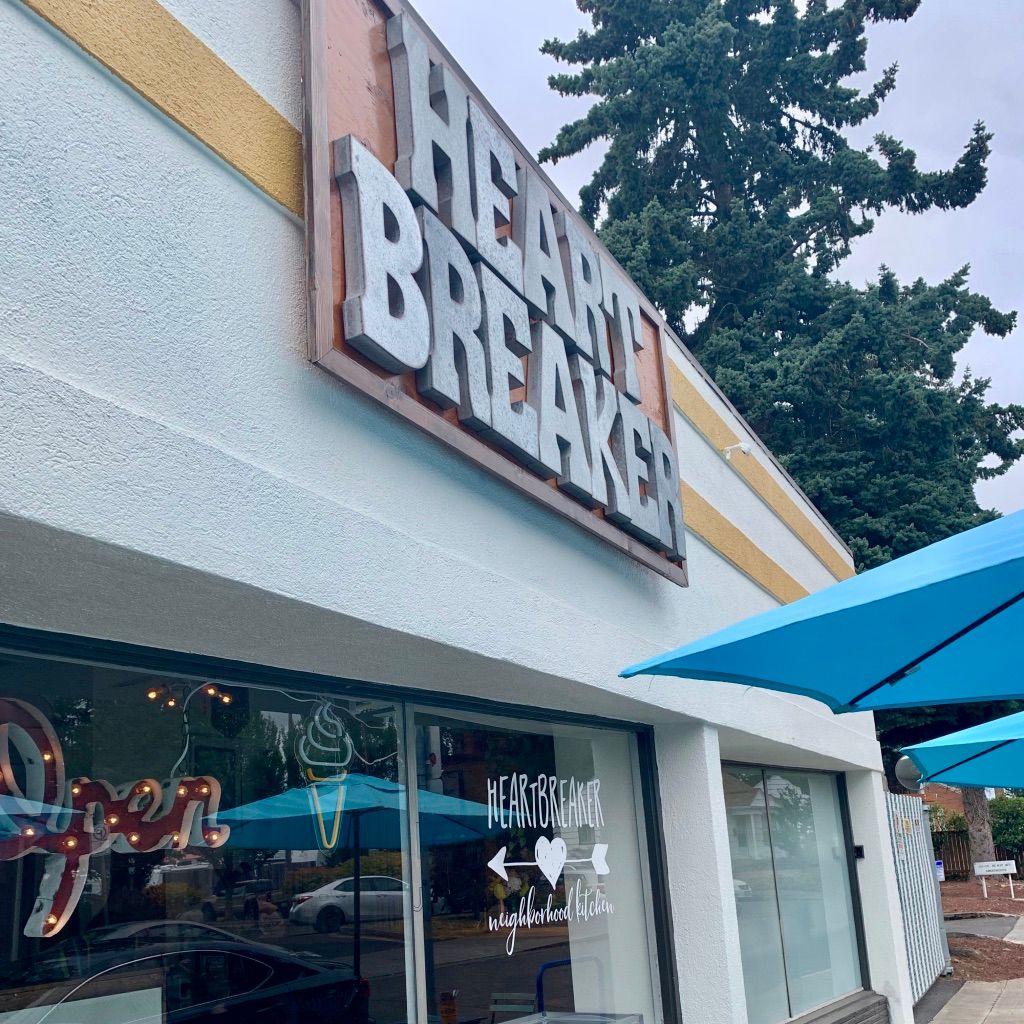 Portland is also known as "Beertown" because there are more microbreweries per capita than any other city in the world.  Jamie is sold on this city for this fact alone.  The breweries are everywhere and many of them are family friendly.  Such as Threshold, located just a few blocks from our place. This place is equipped with games  for the whole family to play and a kids section with a giant chalkboard and toys. The beer was delicious as well.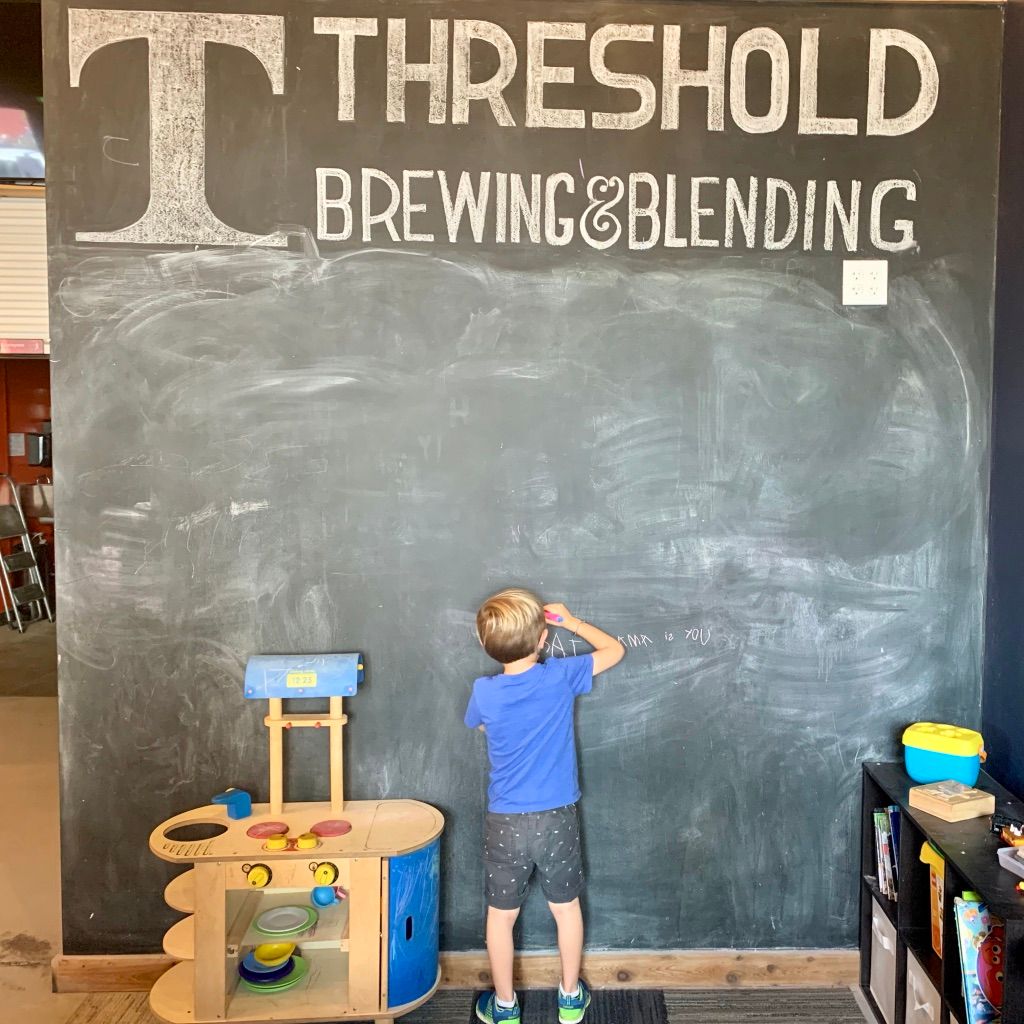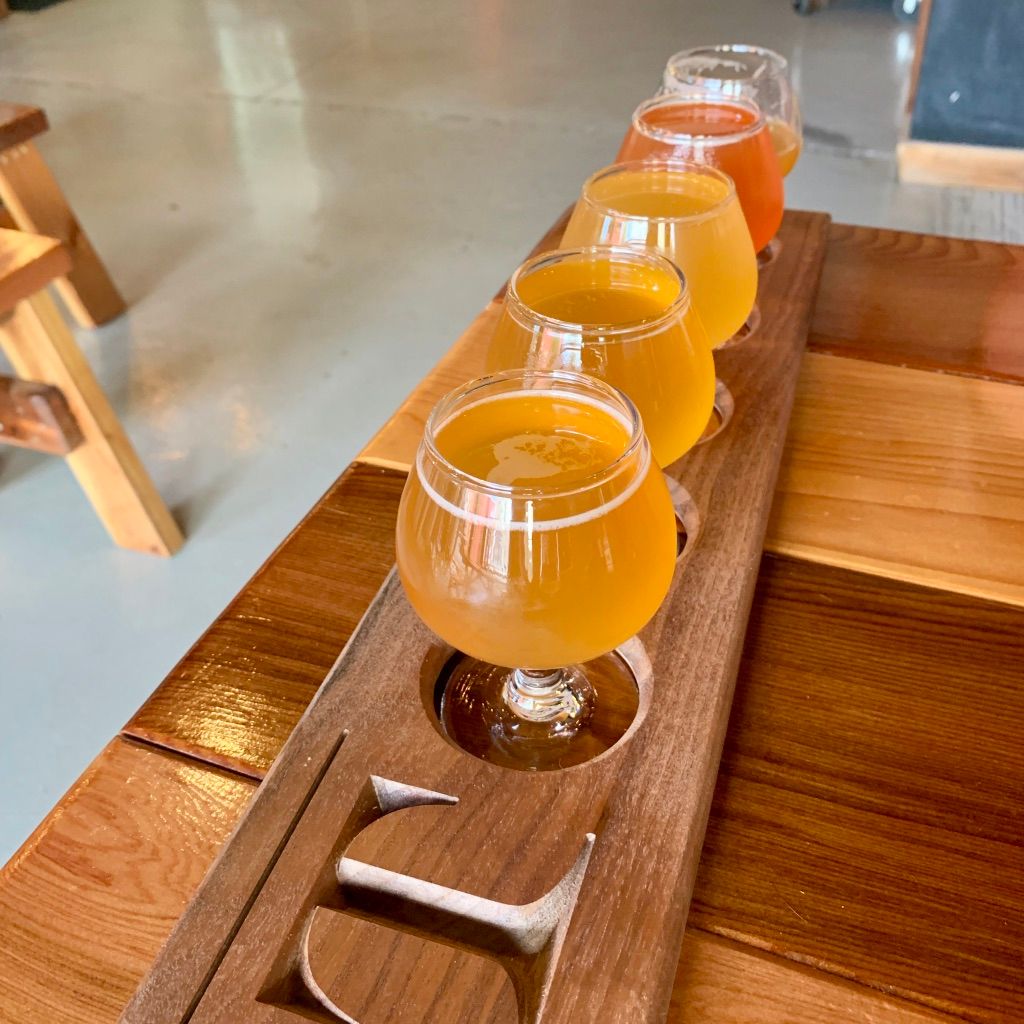 My favorite beer was a from a brewery in the little town of Mount Hood.  The brewery is called pFriem and their hazy guava IPA was all that. So much so, that I had to take a portrait photo of it.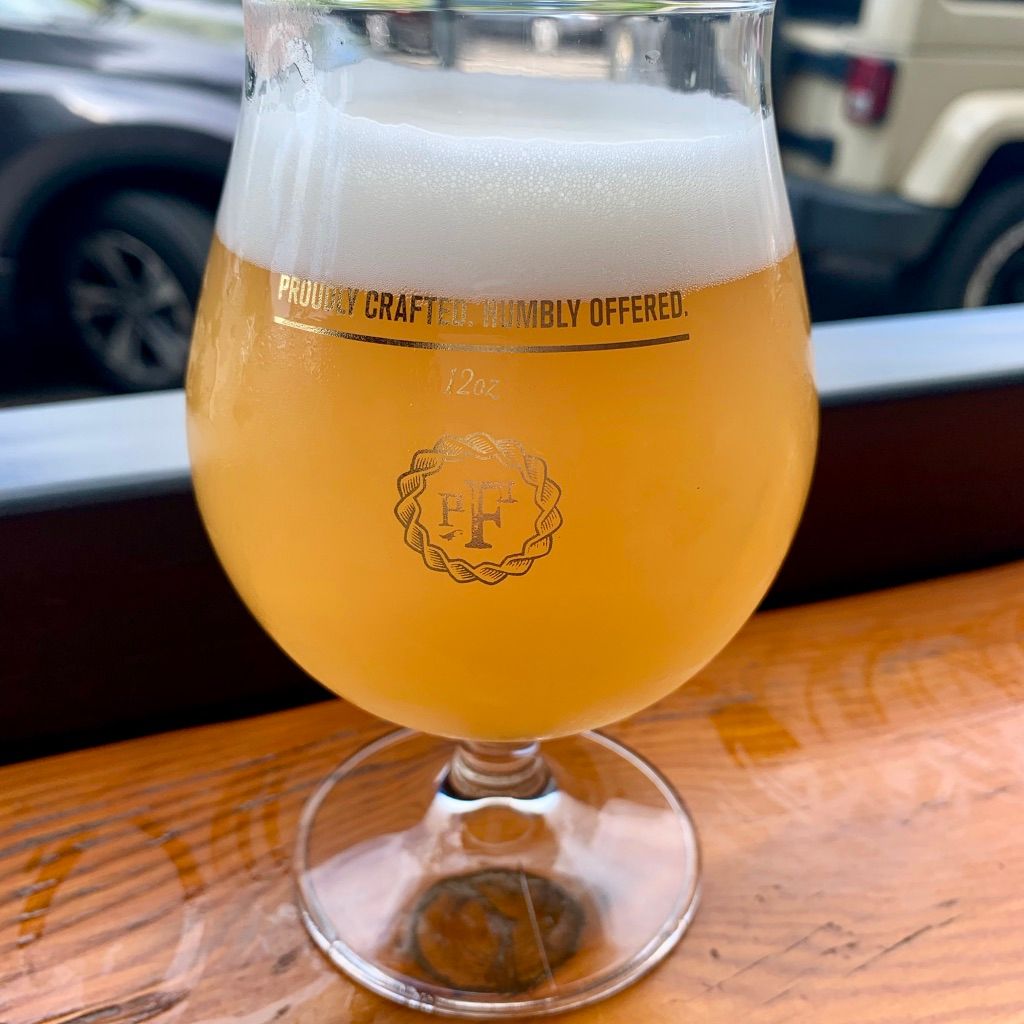 If you are visiting Portland I highly recommend a day trip to Mount Hood.  It's located right on Hood River a little over an hour from Portland and there are tons of great lunch spots, shops and breweries as well the Waterfront Park for kids, with a super cool rock wall to climb. We also spent a whole day in this area driving around what is called the Hood River Valley Fruit Loop.  The drive is spectacular, providing views of Mt. Hood that you can't see anywhere else.  Along the way there are several wineries, fruit, vegetable and flower stands.  The Apple Valley Country Store is a must.  Serving everything and anything berry related included huckleberry and marionberry milkshakes, jams, jellies and the best damn oatmeal chocolate chip cookie ever to hit your mouth.  This is also where I saw a guy wearing a t-shirt that said, "This is what I do, I drink and I know things" so clearly it attracts fantastic folks (shame on me for not getting a photo of this shirt).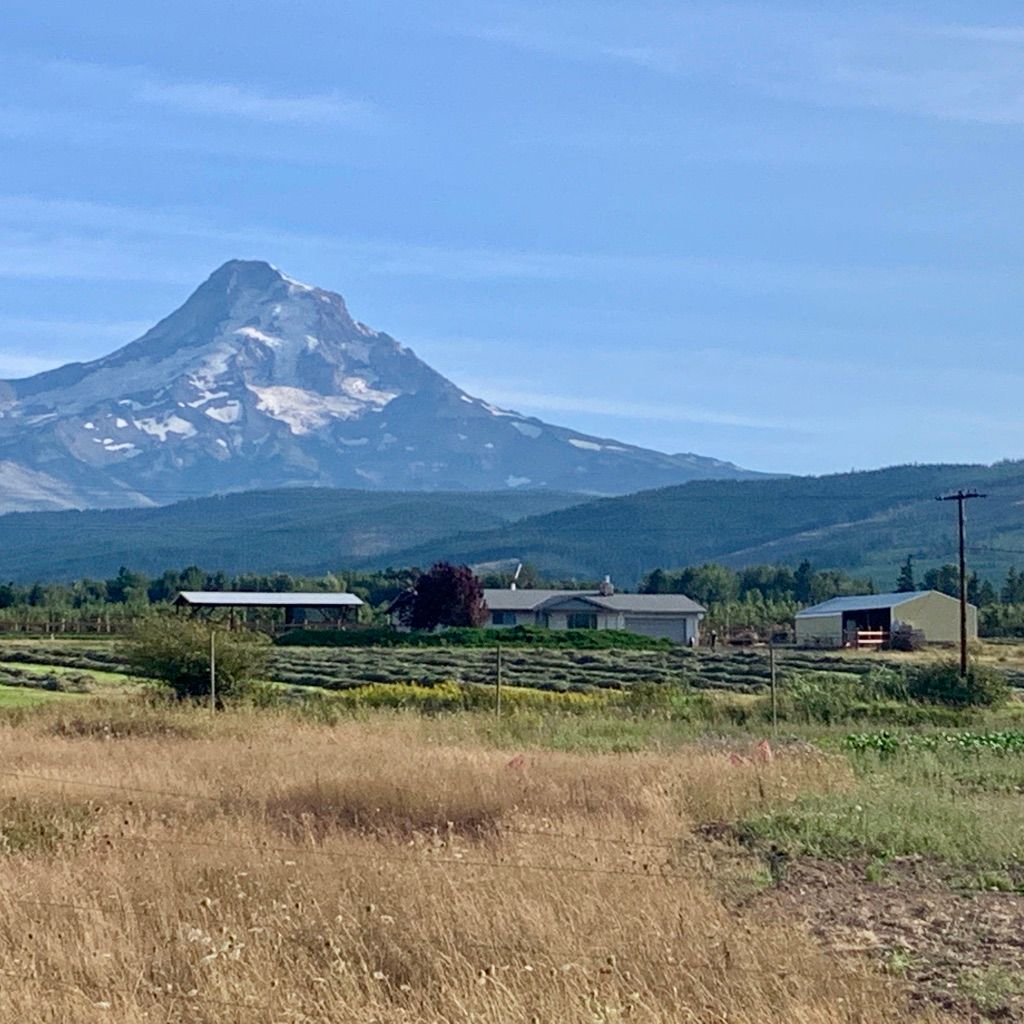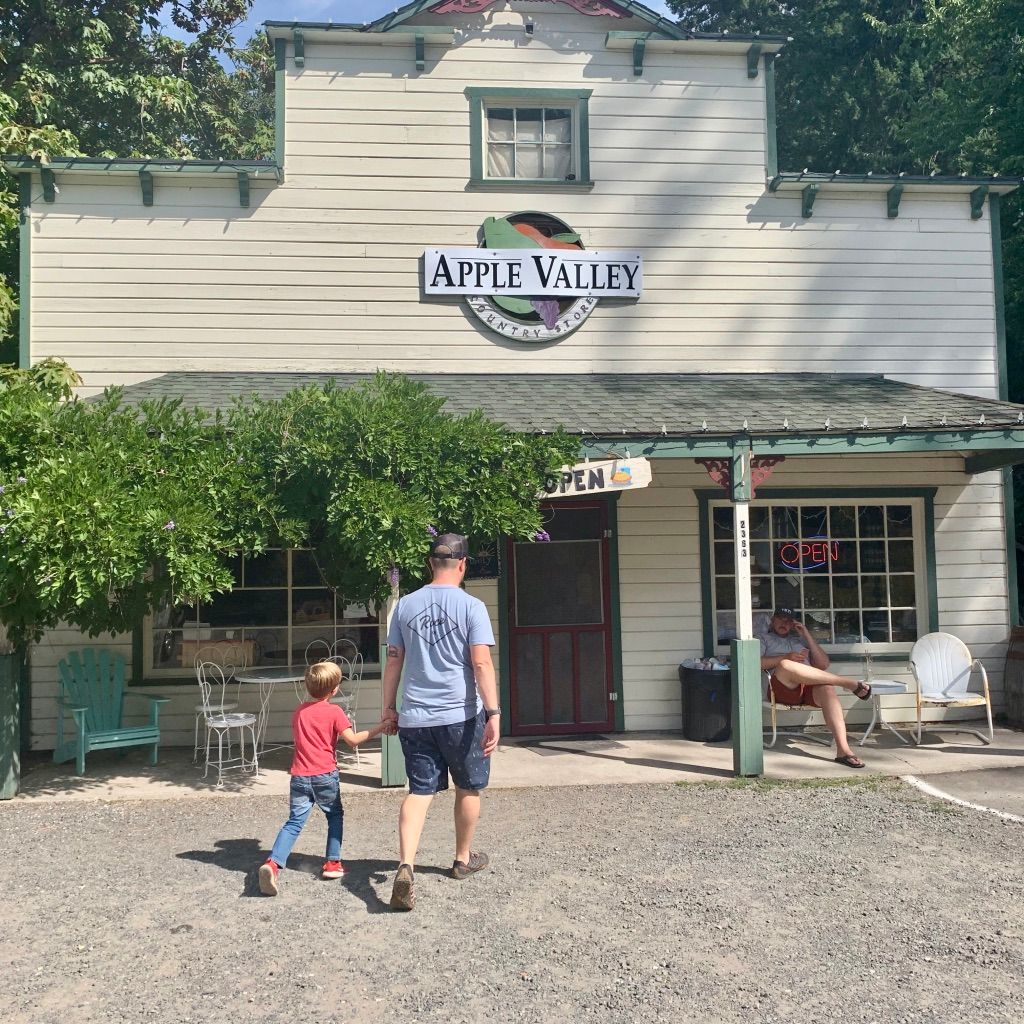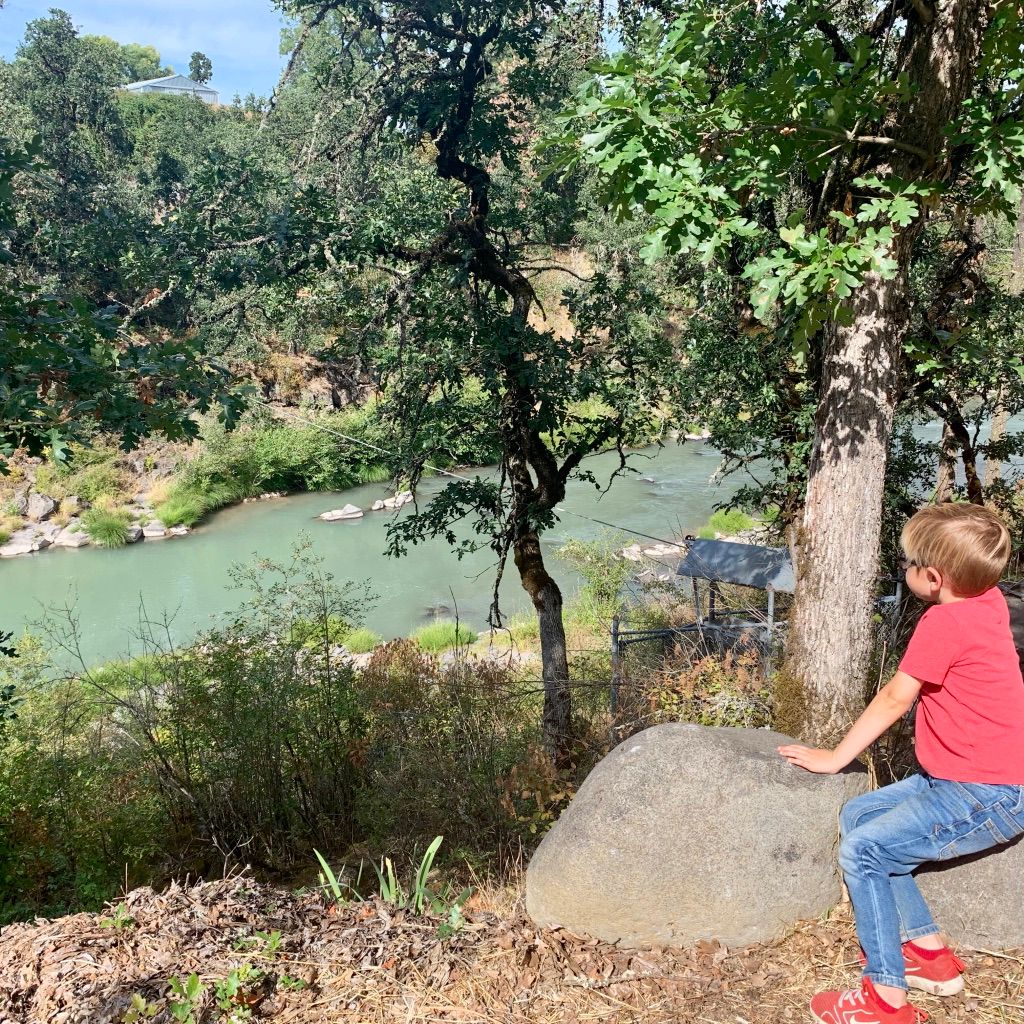 Can we talk about the trees for a moment?   The trees are hands down my most favorite thing about Portland, or I should say about the Pacific Northwest in general.  I just cannot get enough of them.  They are magnificent and they are everywhere.  They canopy the streets like lush green archways.  They tower over the parks and playgrounds creating a wonderful, cool shade on a hot summer day.  They make me feel more alive just being around them.  For me, they are better than any ocean view.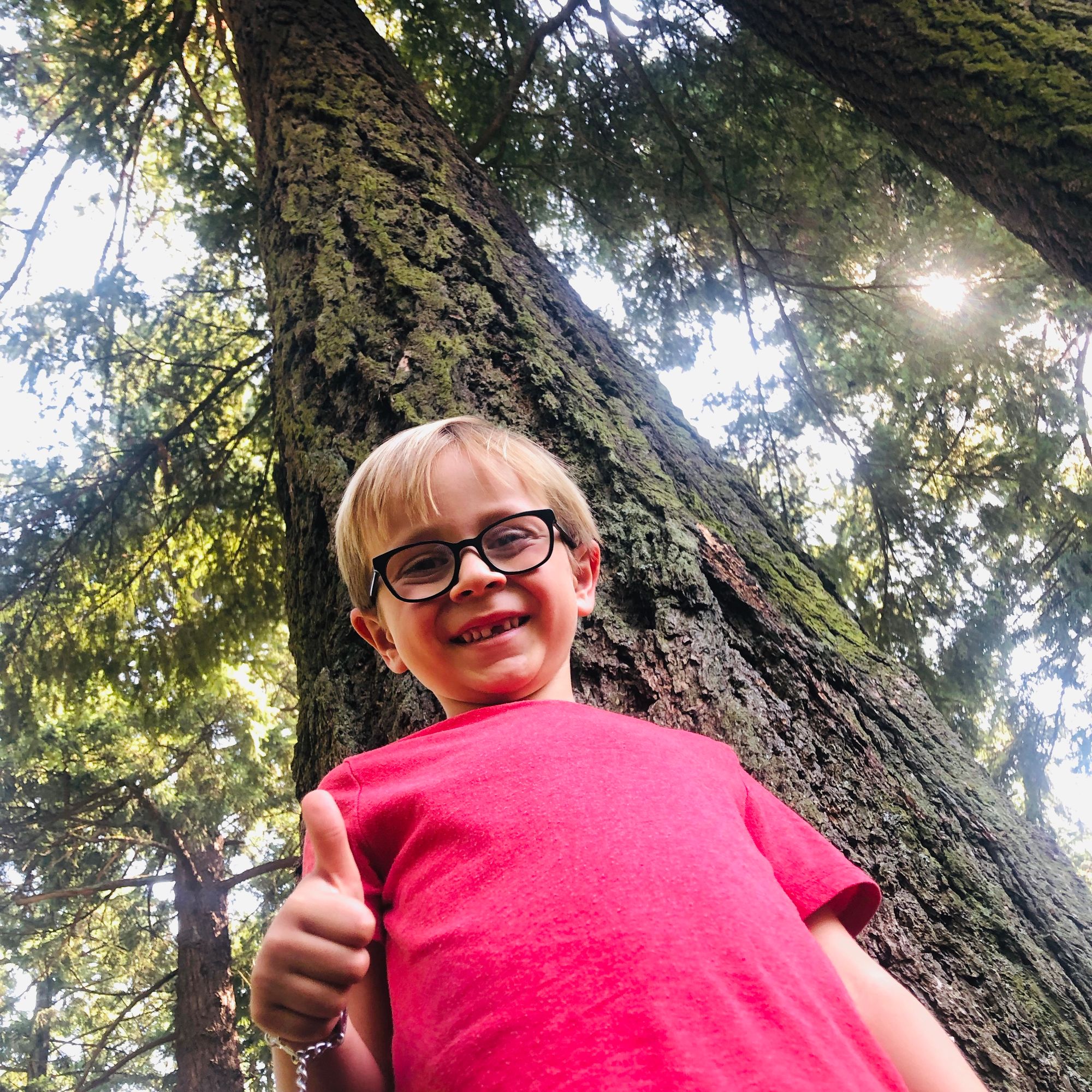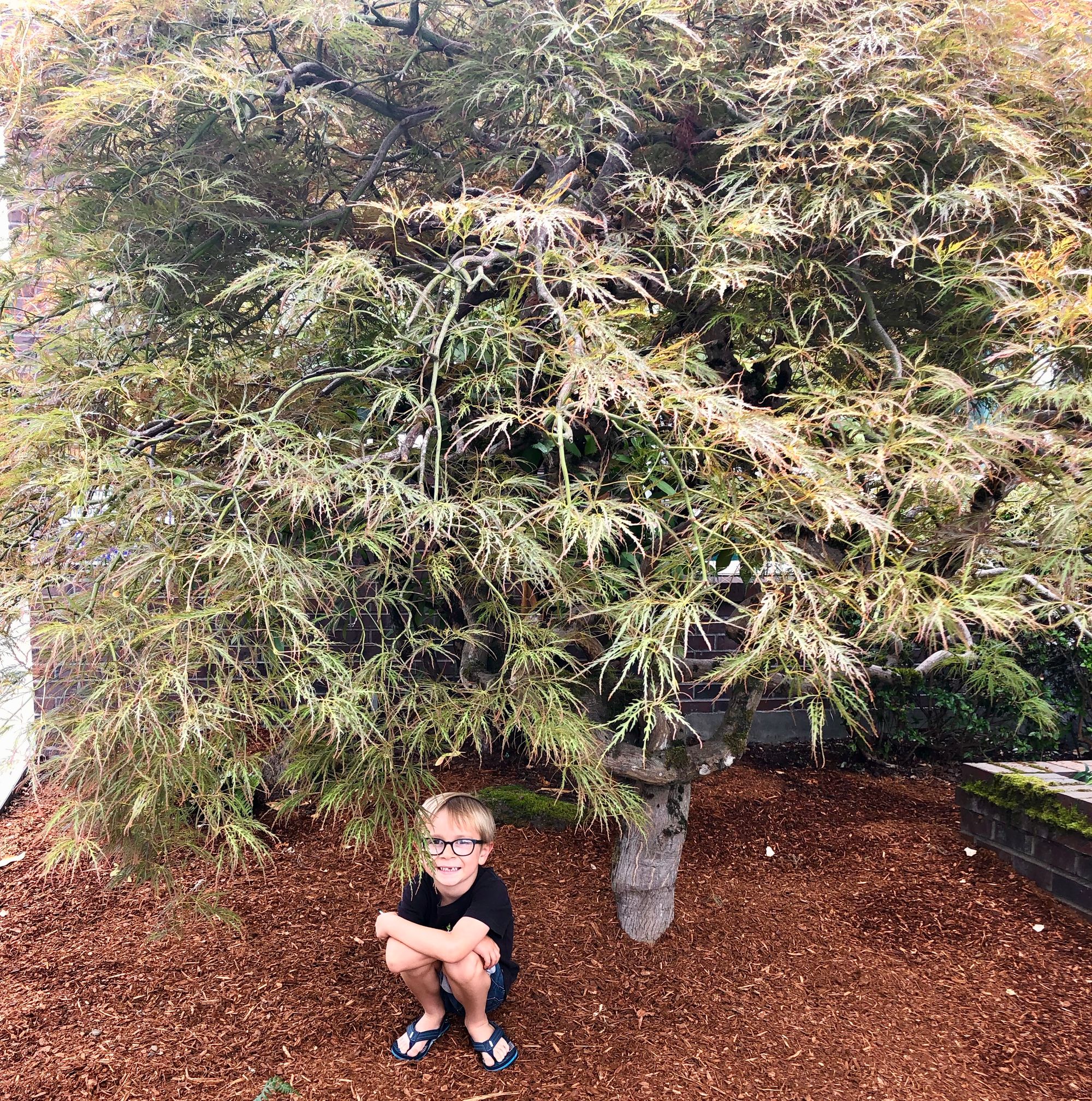 If you have kids, Portland is great for them as well.  There are so many parks and playgrounds to explore.  Many of them nestled underneath magnificent trees which is probably why I enjoy the parks so much.  Quinn loves playgrounds and we have been trying to explore a few new ones every week.  Tucked within the Pearl District is a fantastic fountain called Jamison Square where kids can play on hot summer days and then afterwards adults can shop the streets of Pearl district.  In the summertime there is a program called Free Lunch + Play.  It "provides summer meals and drop-in outdoor activities at 27 neighborhood parks citywide."  How cool is that?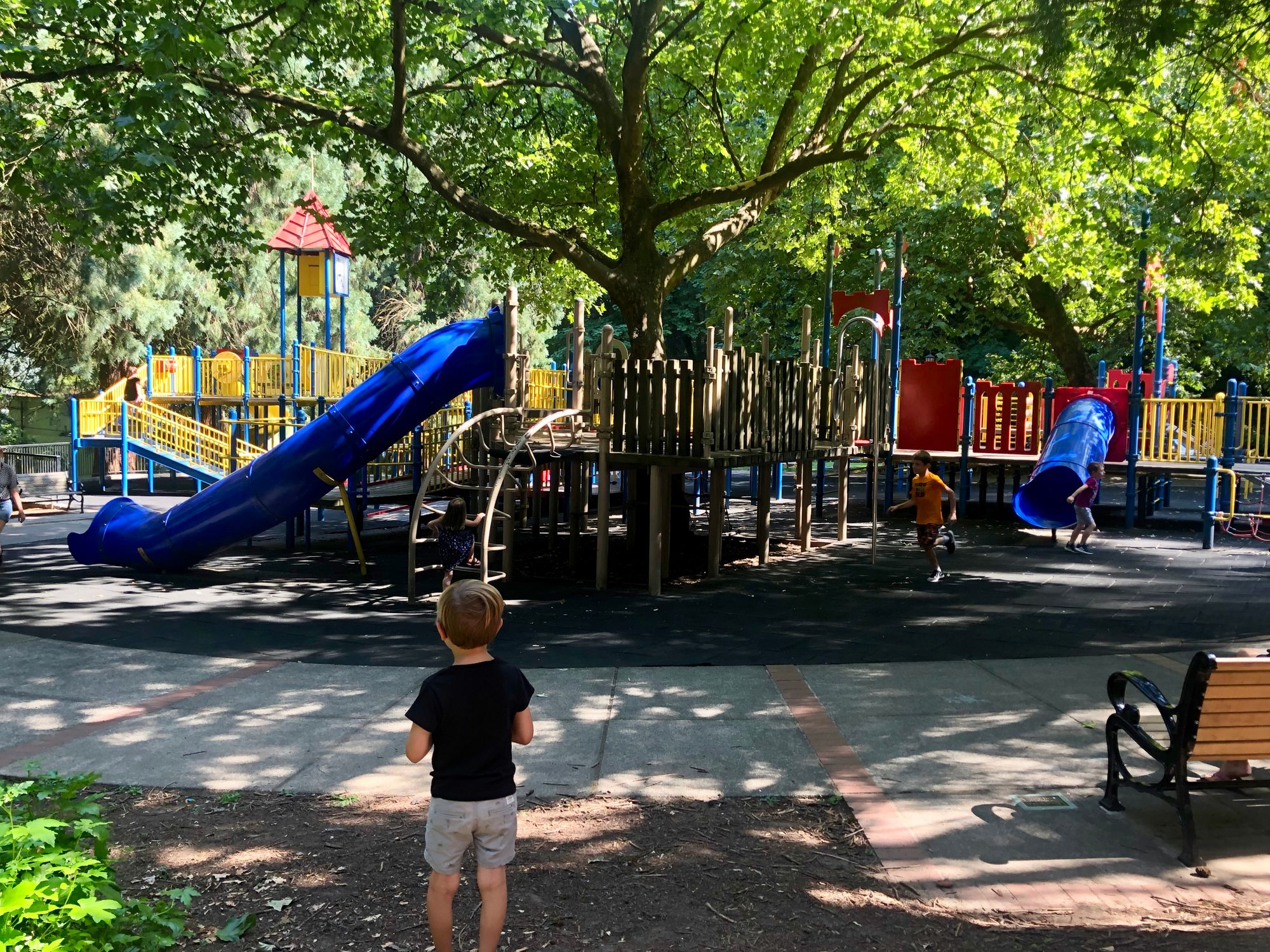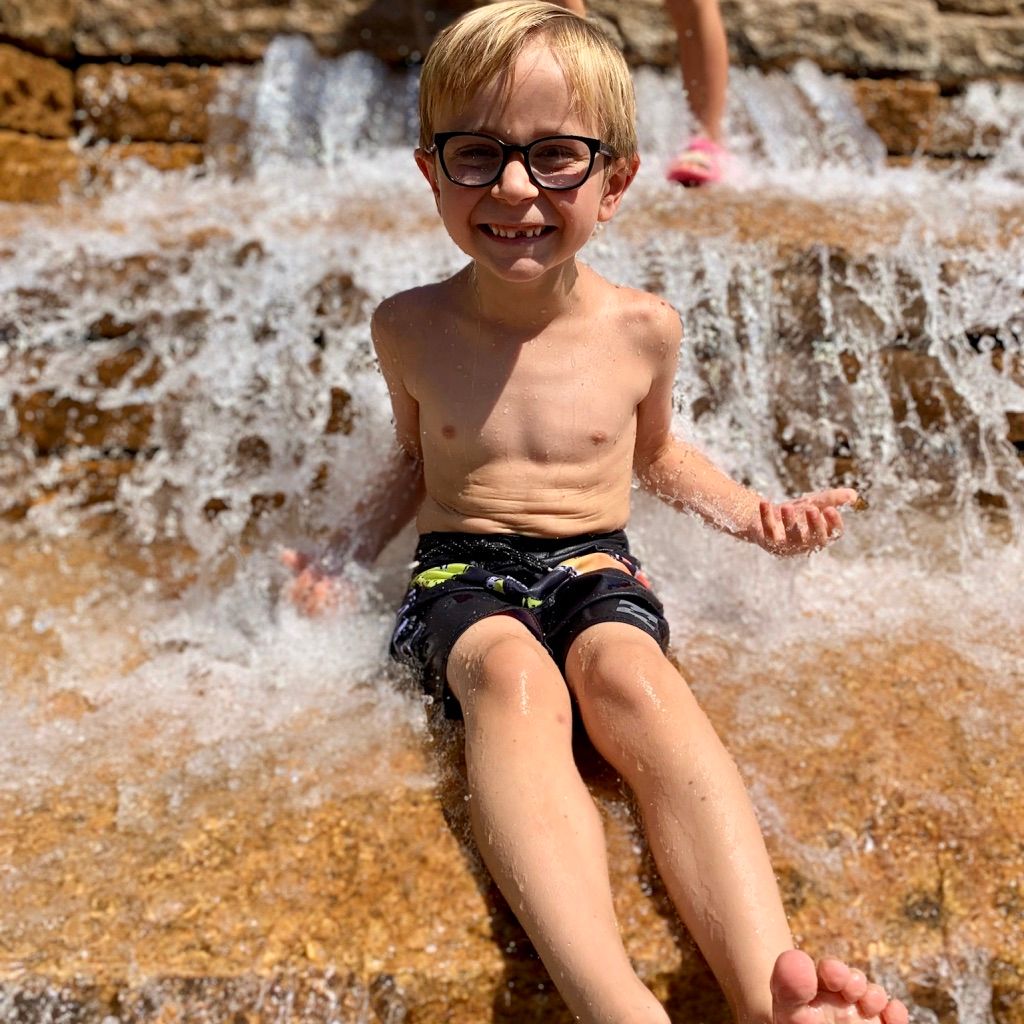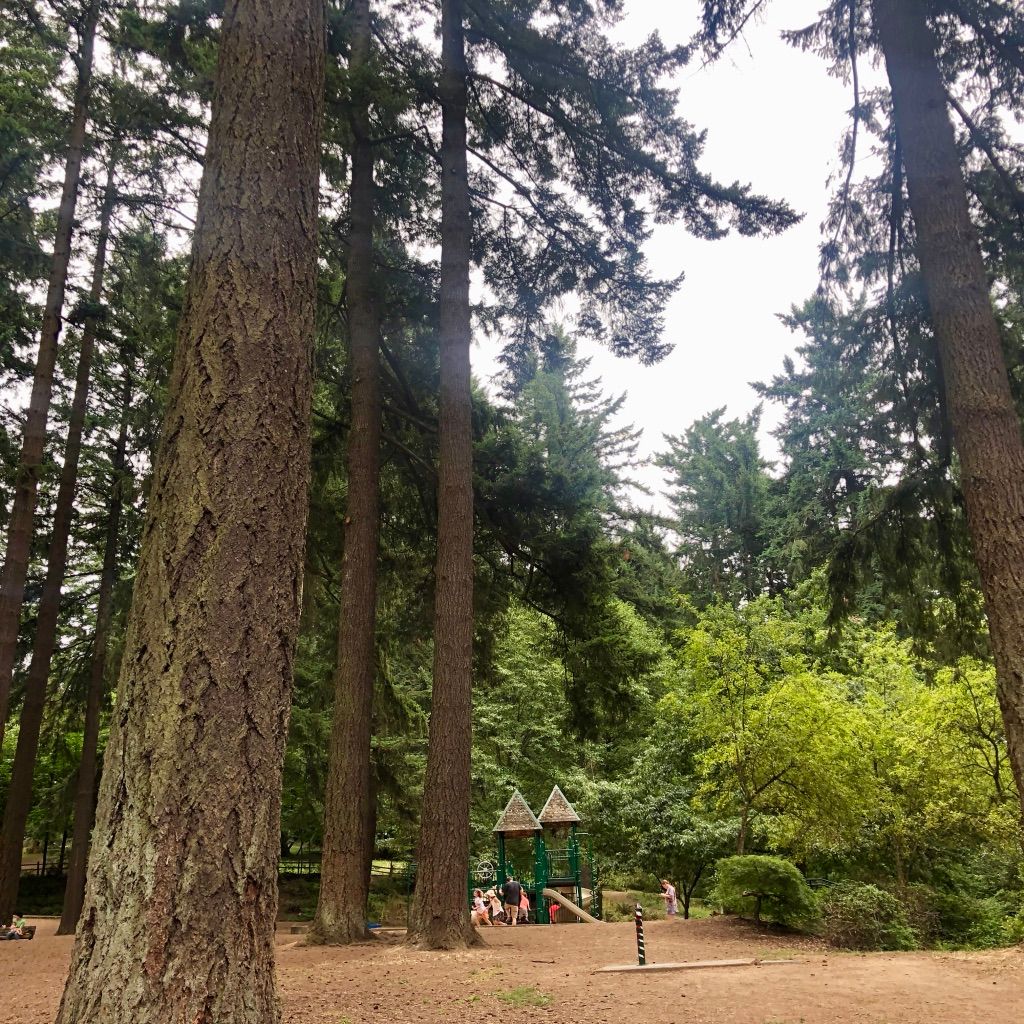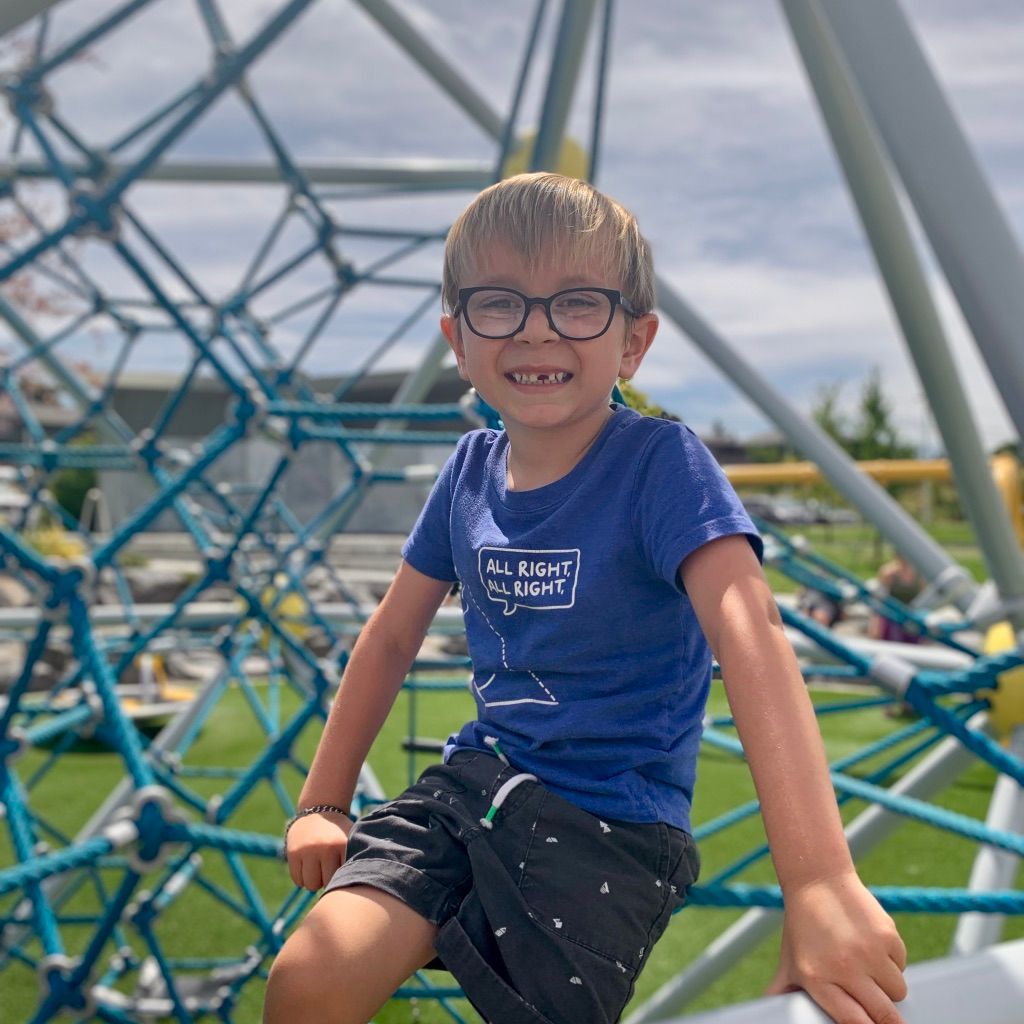 While here, you must make a stop at OMSI (Oregon Museum of Science and Industry).  You don't have to be a kid to enjoy this place, but especially if you have kids, this place is a must.  We spent 5 hours exploring the exhibits and saw a movie in the Planetarium.  During our visit they had the most fascinating Prenatal Development exhibit.  This exhibit features 24 real, miscarried embryos and fetuses who's bodies were donated to be preserved for science.  It highlights the various stages of development from 28 days to 36 weeks and it's done amazingly well.  Both of us were fascinated with this exhibit as well as everything else this place had to offer.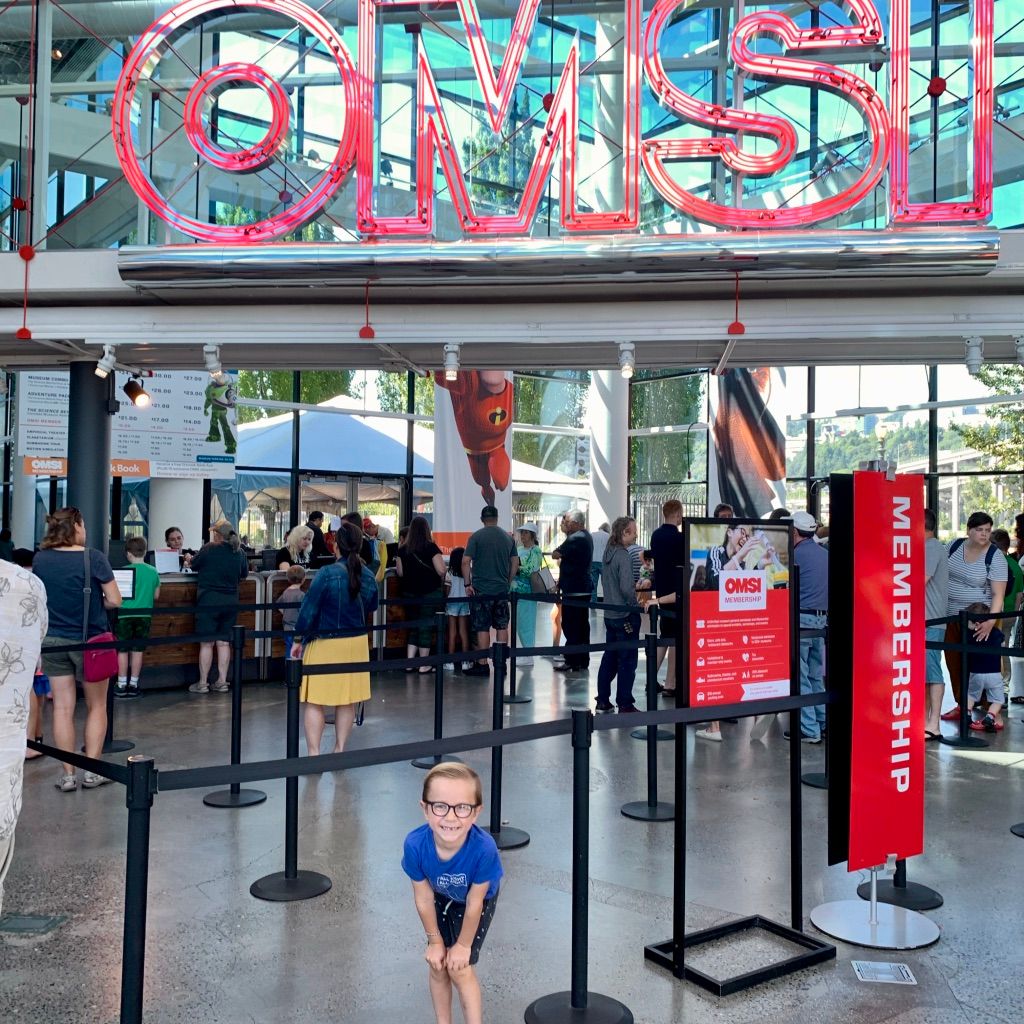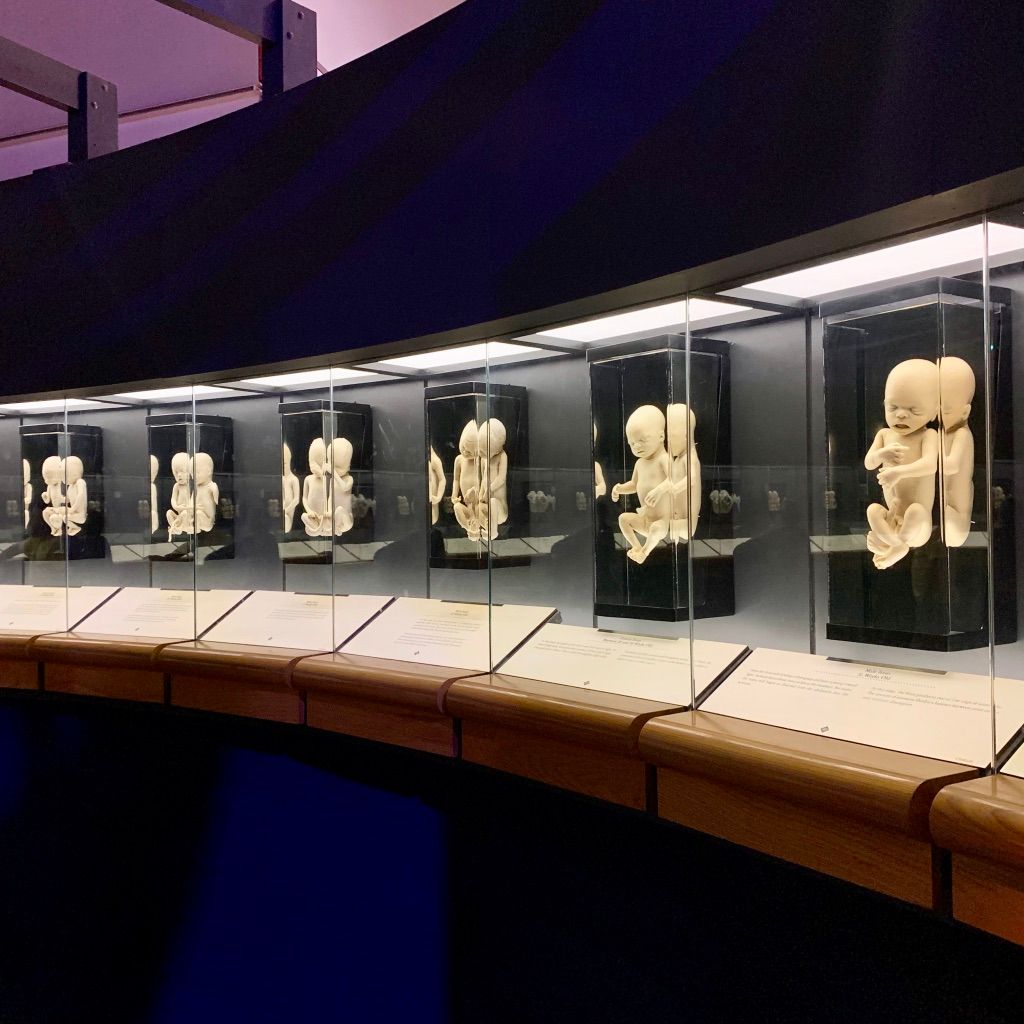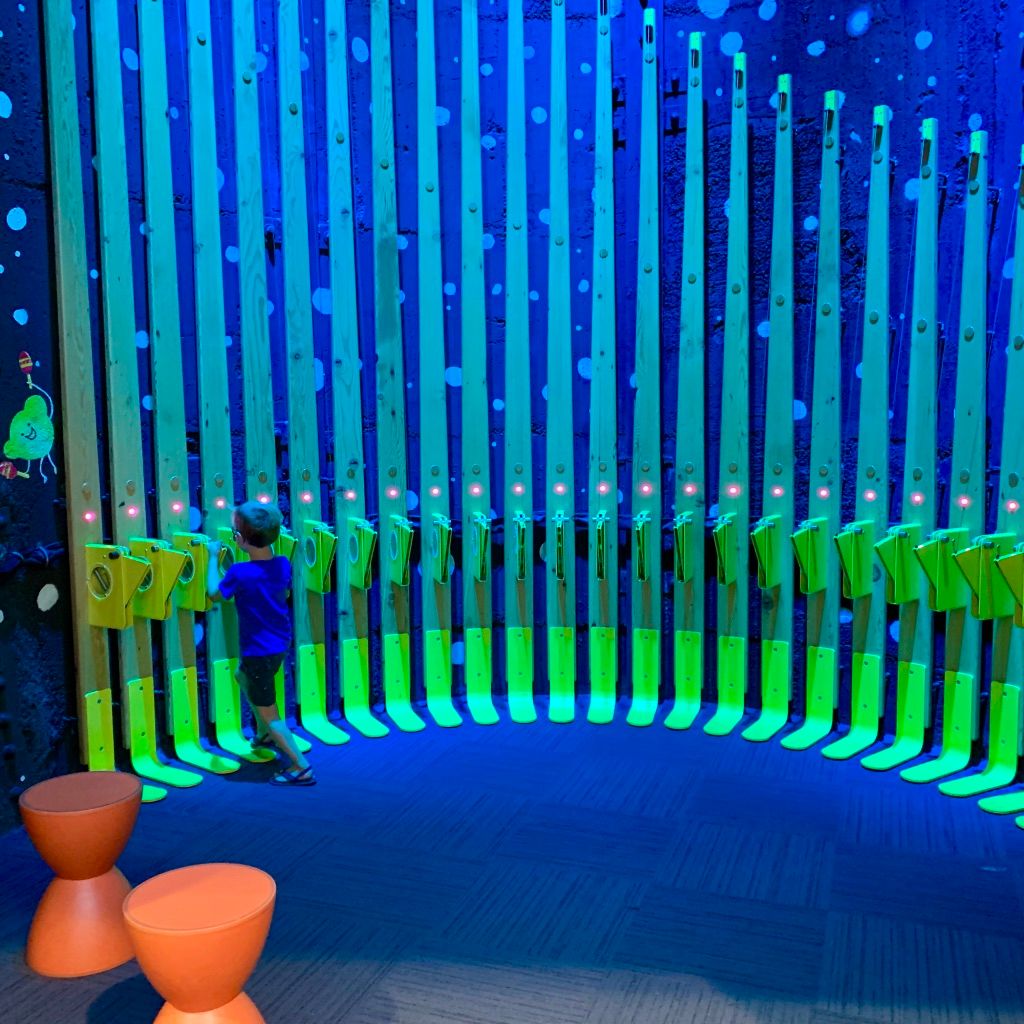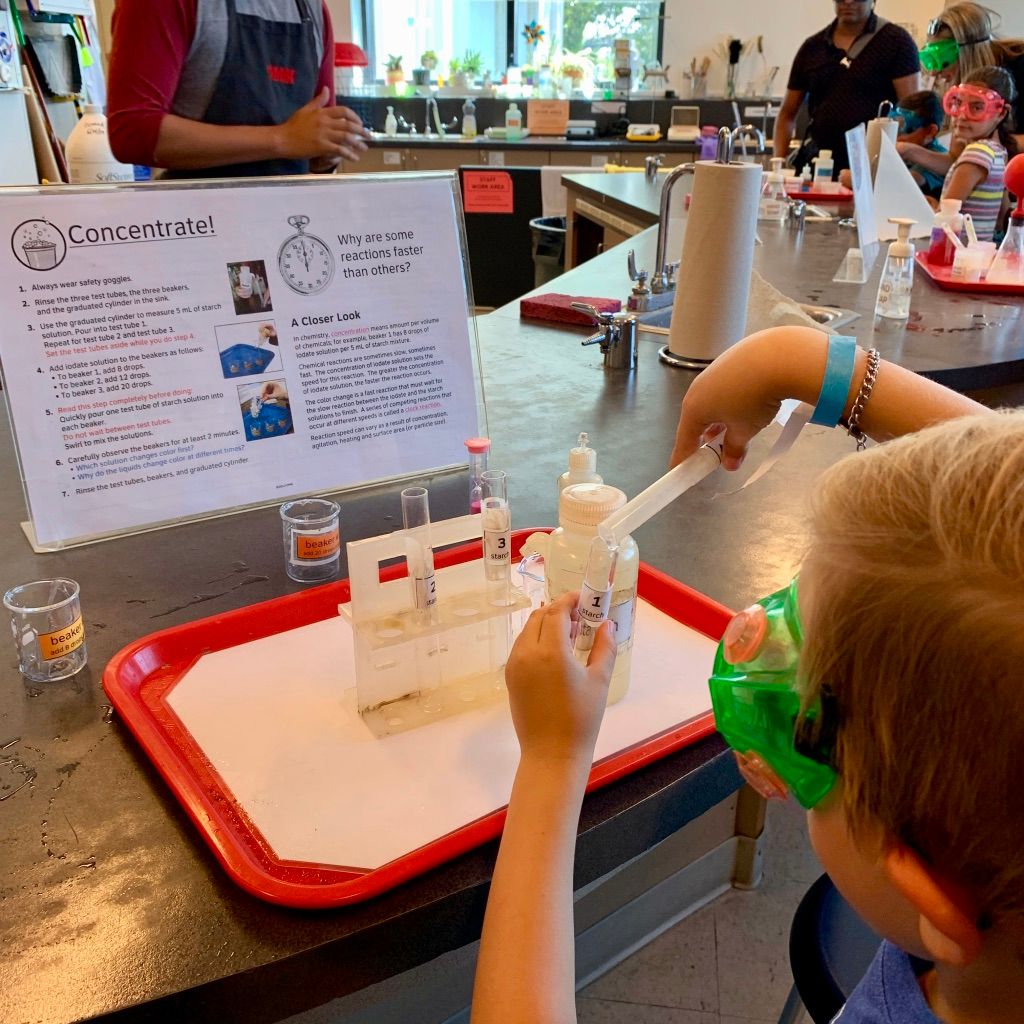 And then there is the much talked about Japanese Gardens which one local told us not to bother spending money on.  In my opinion, they could not have been more wrong.  This garden is exceptional!  I do not regret spending the money to get in (and Quinn was free which was a perk!).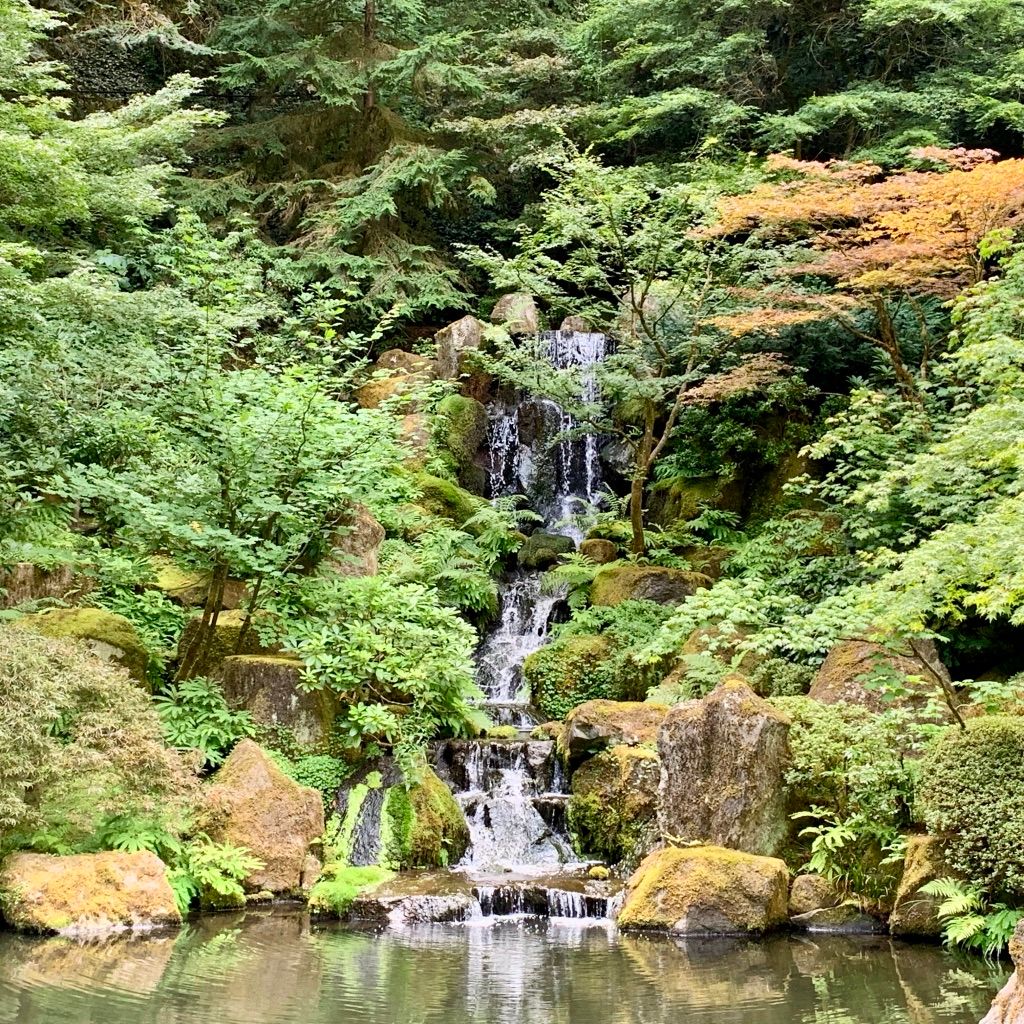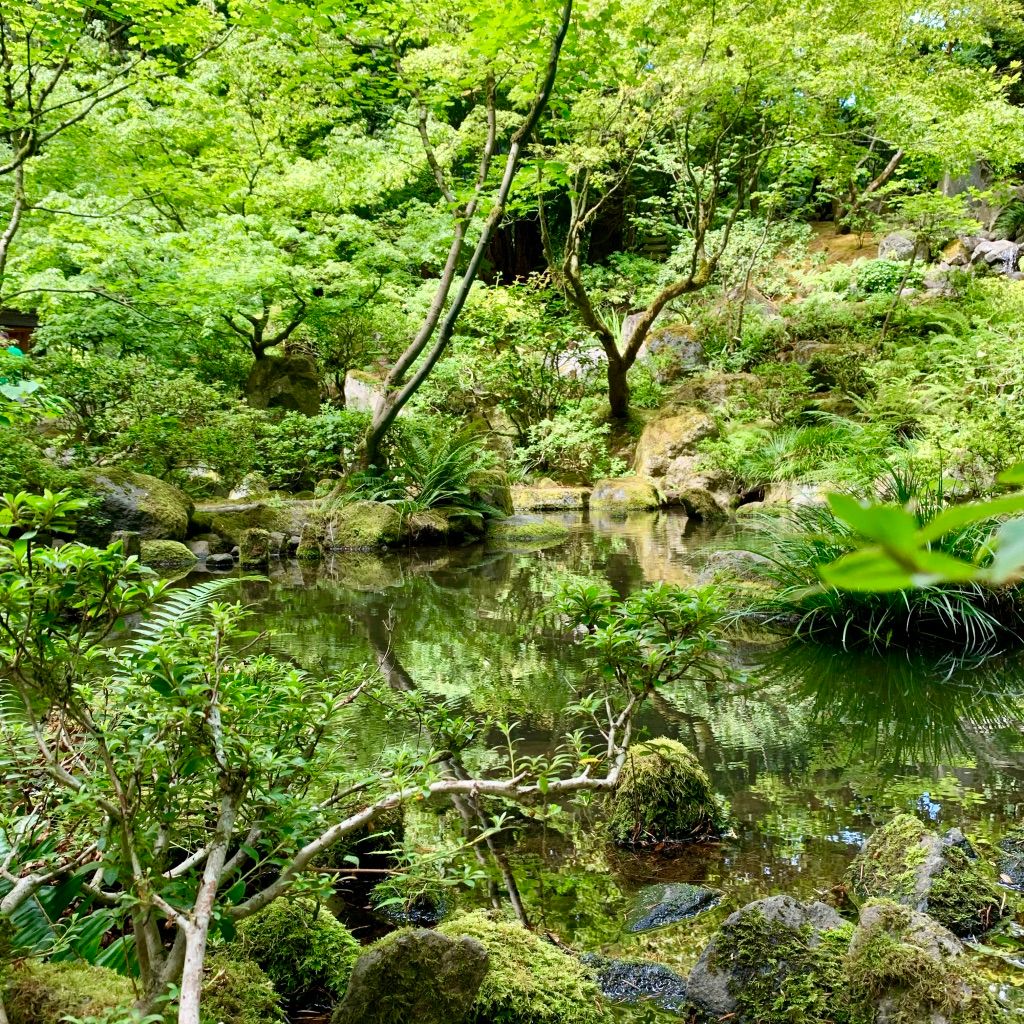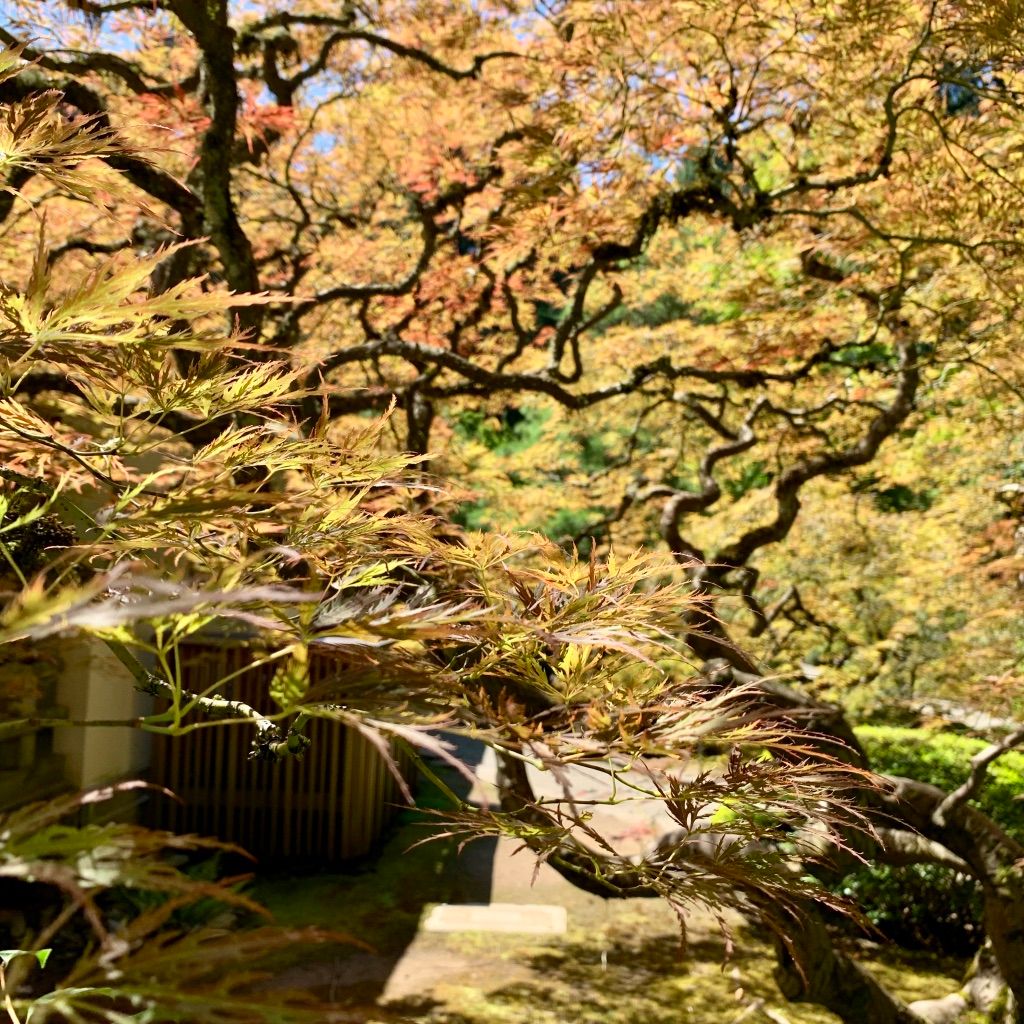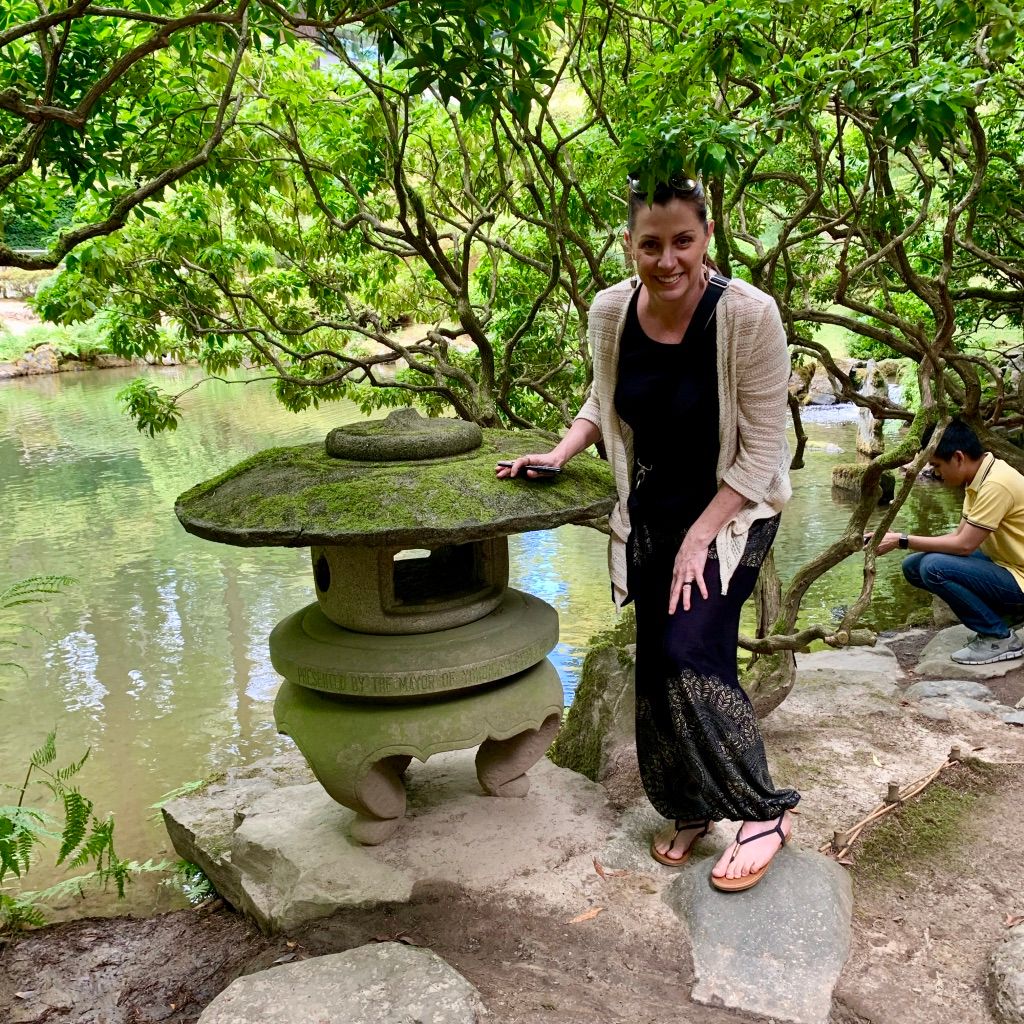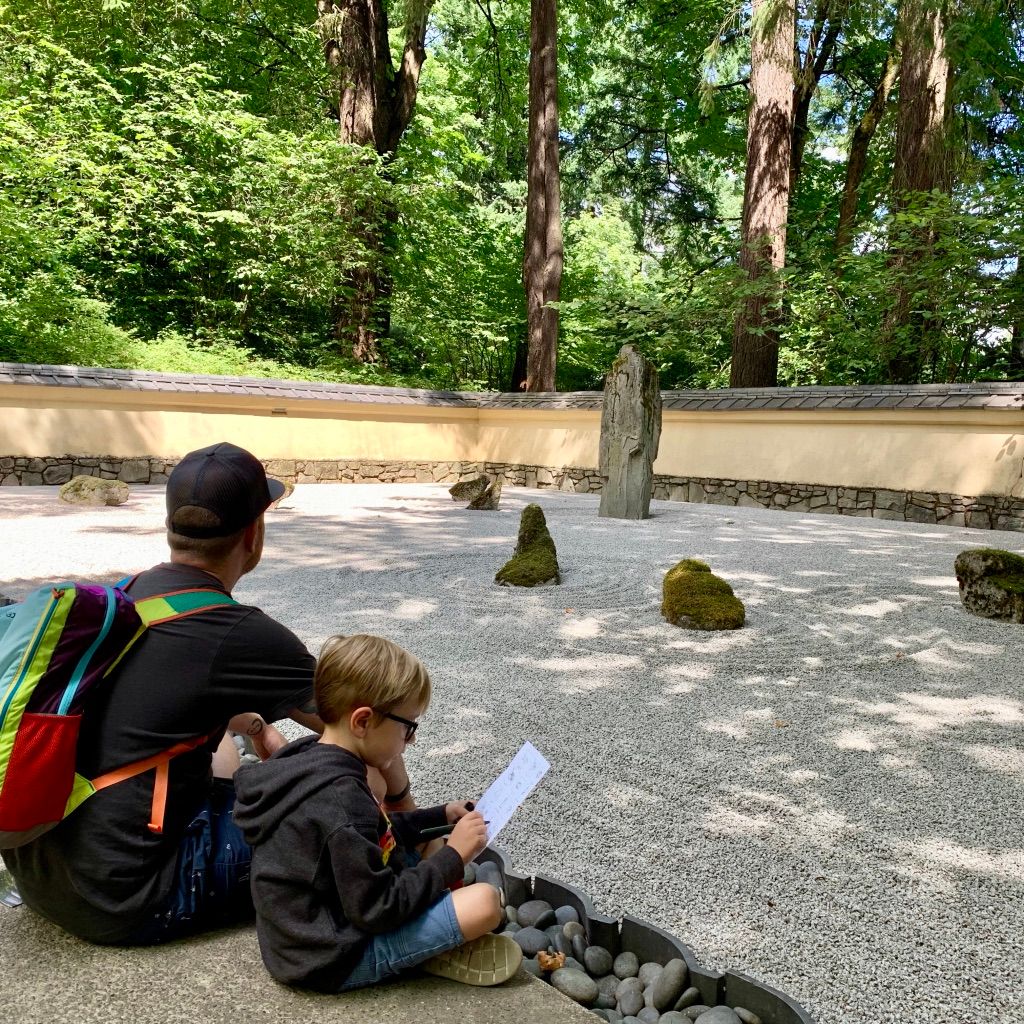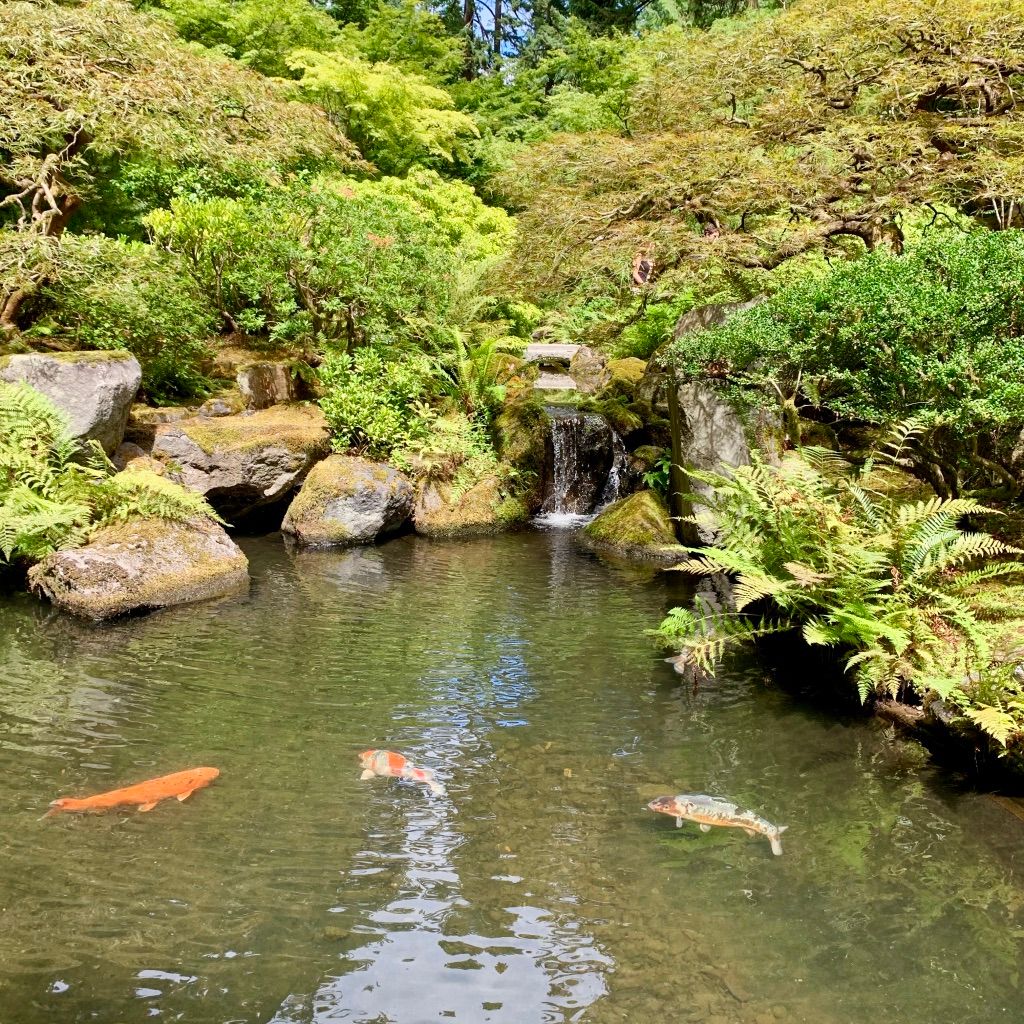 Approximately 25 miles out of the hustle, bustle of the city there are the most extraordinary waterfalls.  You could make a full day out of seeing many of these cascades or you could just casually go at the end of your work day and have a picnic, which is what we did one night.  If I lived here, I would most likely make an early morning ritual out of a hiking these falls at least once a week.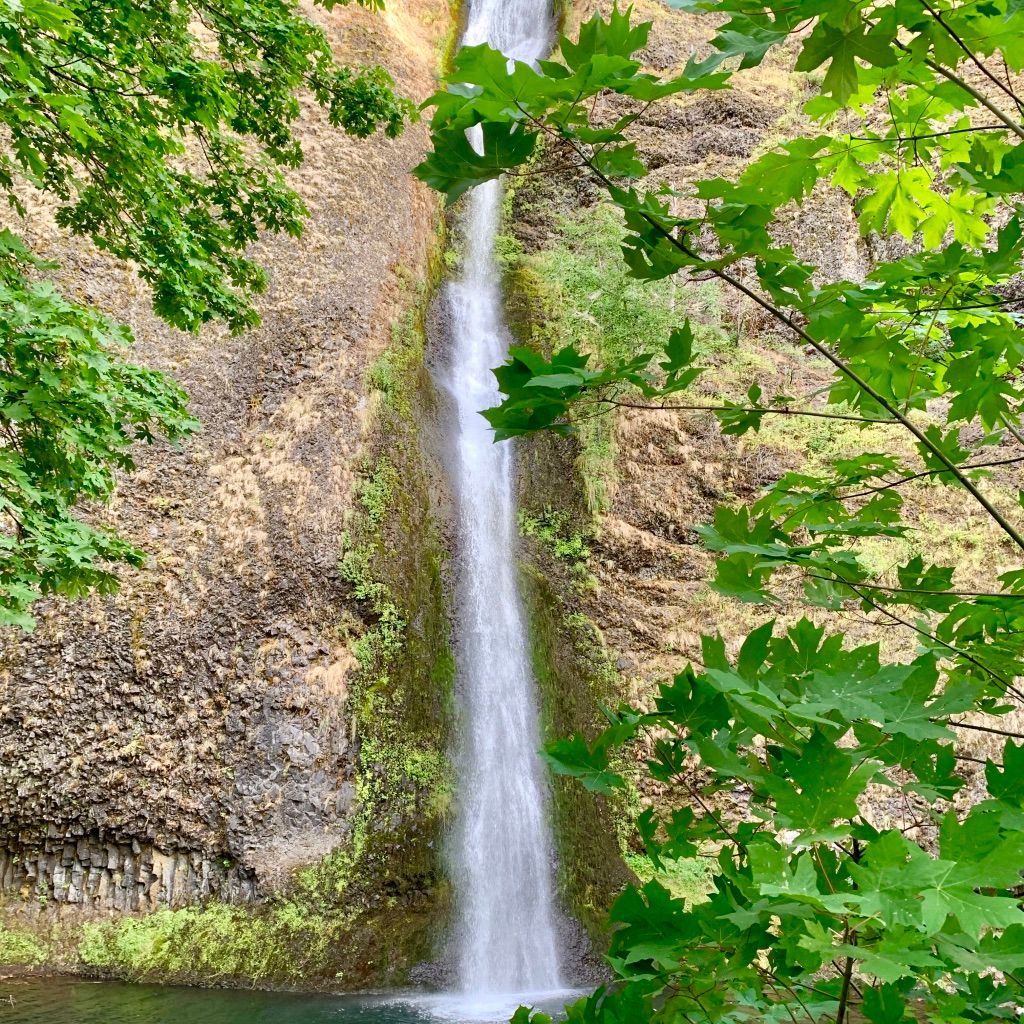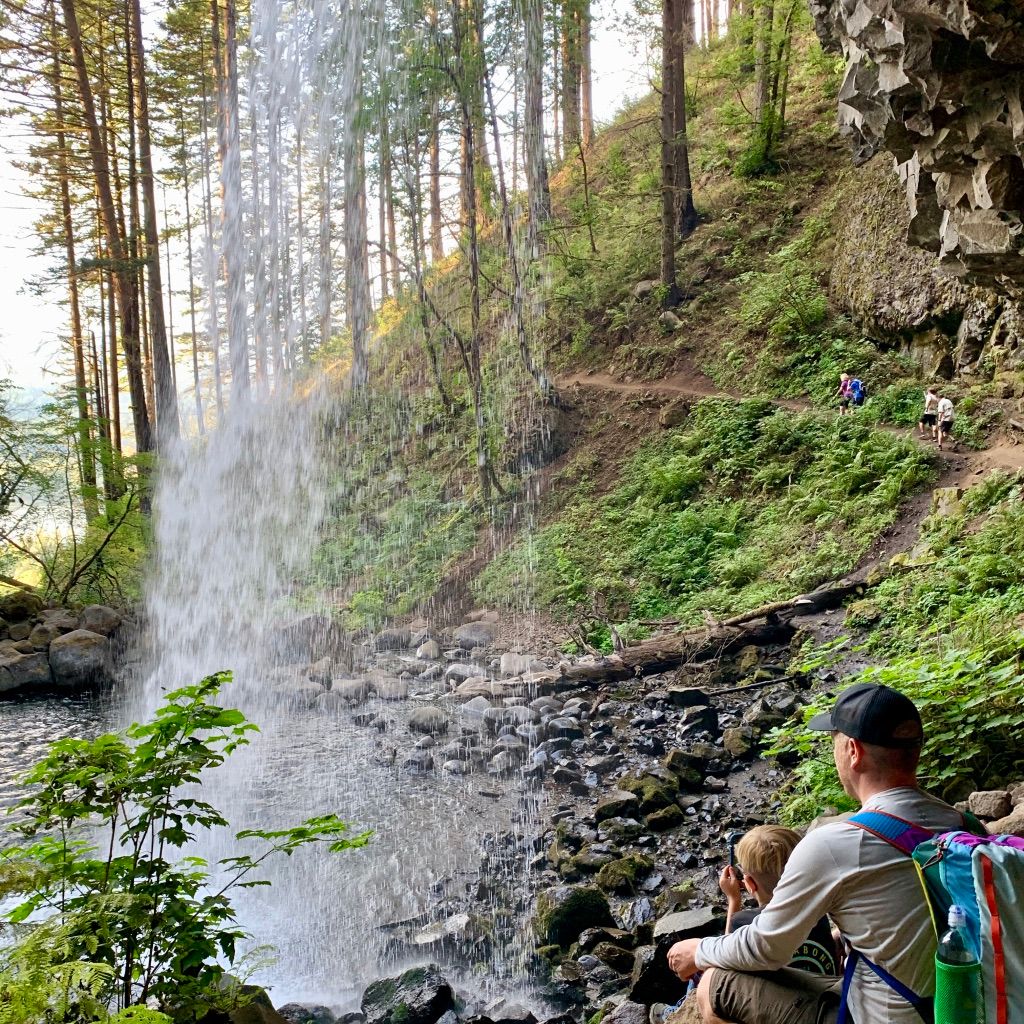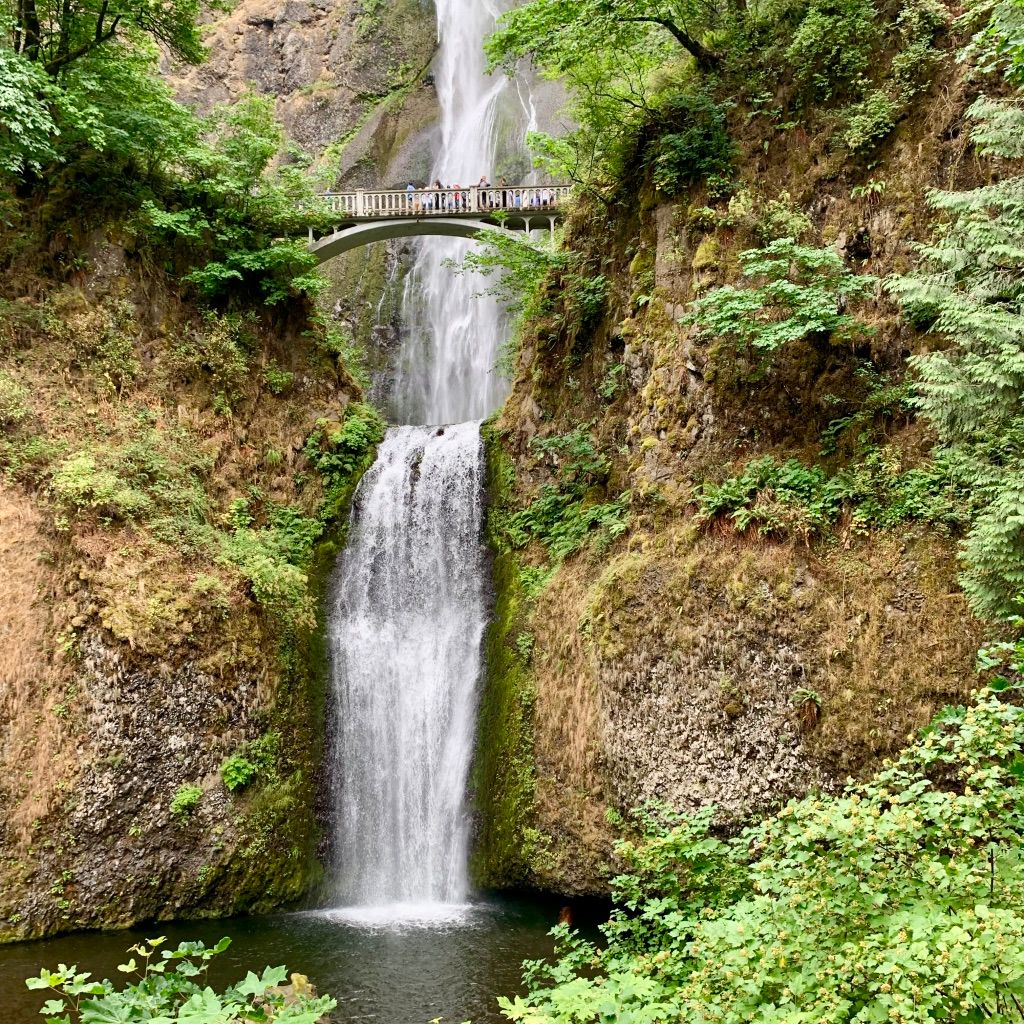 Did I make you want to move to Portland?  If so, just remember my notes from earlier.  Don't be ridiculous and use an umbrella if it's raining and get comfortable saying "Cooch" St. when referencing Couch St.  Also, don't drive like a California idiot, people move a lot slower on the roads of Portland and you will be a dead give-away if you're speeding around like a maniac.  By the way, I have not heard a single horn honk since I have been here (I hate horn honkers).  The drivers are super polite, so much so that it's not uncommon for someone to stop in the middle of the street and let you go even when they have the right of way (ok, maybe that's a little too polite, but you get what I'm saying).  So slow down and enjoy the scenery, there's a lot of it to enjoy.
This is just a sample of all the things we were up to in the city of roses, and I gotta say, it really did turn our crush of Portland into a more "serious" relationship. We all really enjoyed our time here. From the beer to the coffee, the food and the trees (oh the trees!), we really couldn't get enough and can't wait to come back.
Bye for now Portland!