August 20, 2019
A Day (and some change) in Ashland, Oregon
We broke up the drive to Portland with a quick stop in Ashland.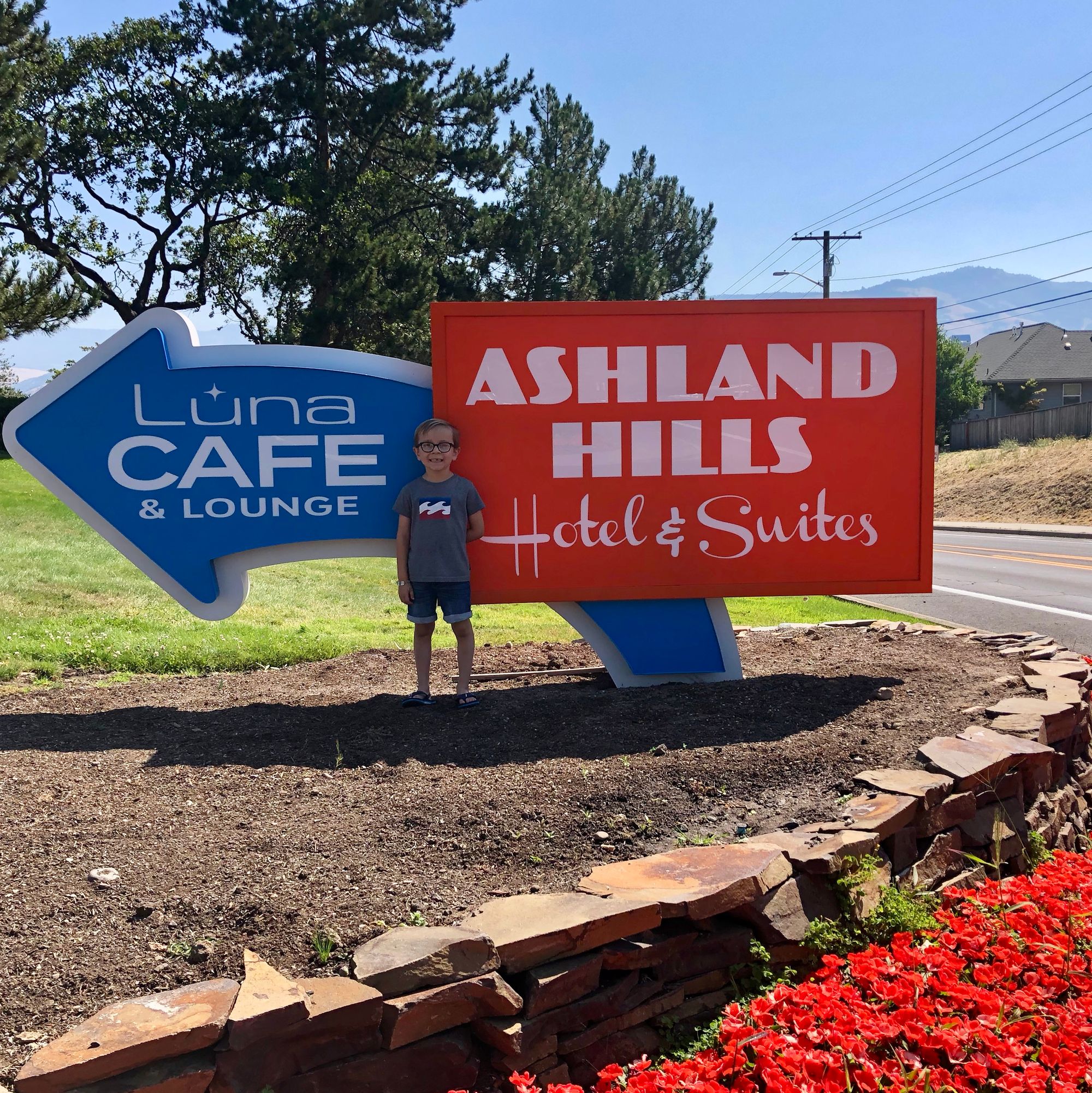 The official first stop of our road trip was in Ashland. What a cute and quaint little town this is.  Ashland is off of the I-5 approximately 16 miles from the California border.  It's about 5 hours north of San Francisco and 5 hours south of Portland.  This made for great mid-way stop to Portland from Tracy, CA. Ashland's claim to fame is the Oregon Shakespeare Festival.  The festival brings in thousands of tourist each year looking to attend a variety of plays.  Because of this there is actually a great selection of upscale restaurants, shops and galleries to visit in the town which makes Ashland even more appealing.  We only spent 2 nights, 1 and half days in Ashland so we didn't get to see nearly as much of it as I would have liked to.  I could have easily hiked and eaten around this town for another few days.
Our first evening in Ashland was spent at a delicious little Indian restaurant downtown called Masala.  This was Quinn's first experience with Indian food and while some of it was too spicy for him he enjoyed a lot of it, especially the mango lassi which he gulped down.  Jamie and I on the other hand, we enjoyed every bite of it.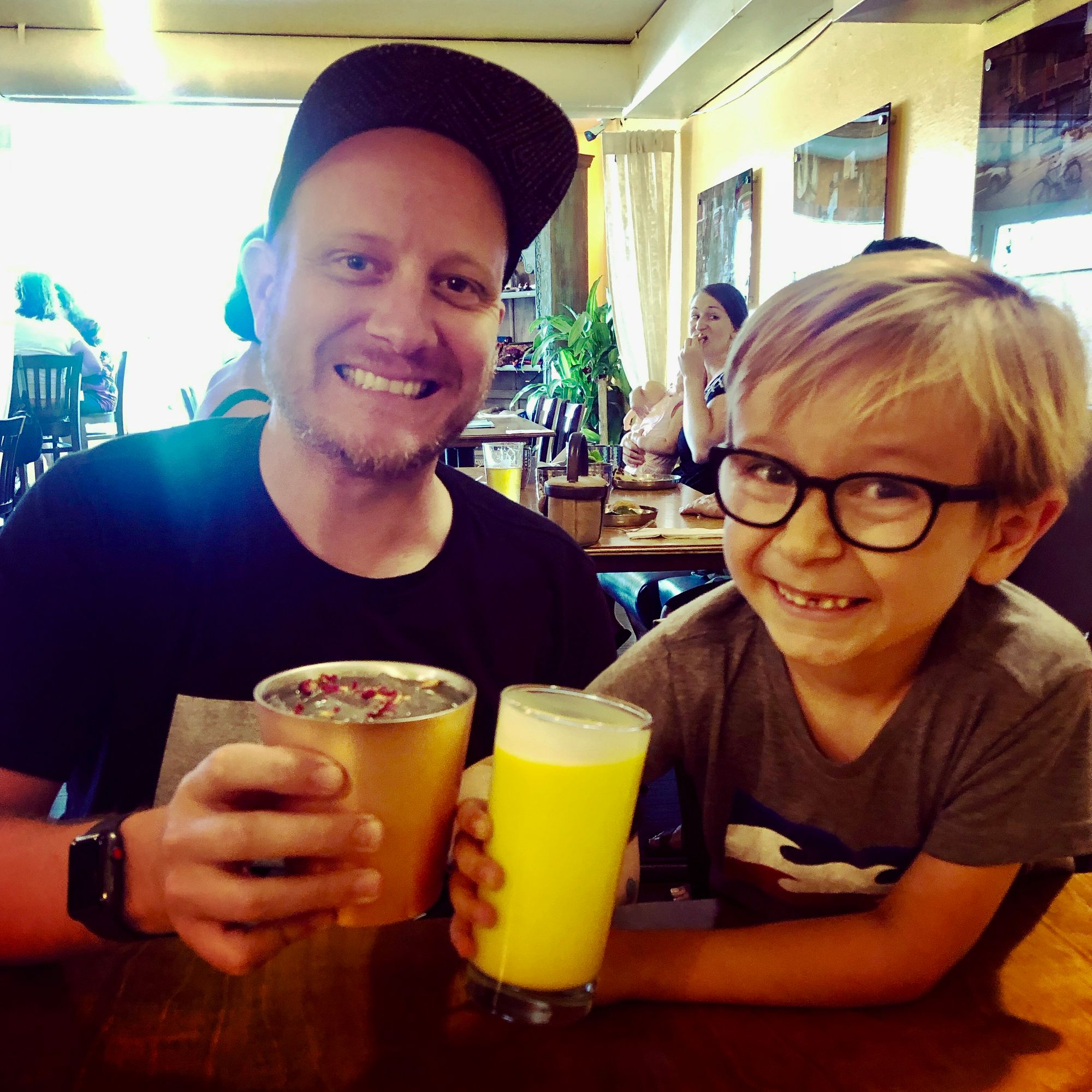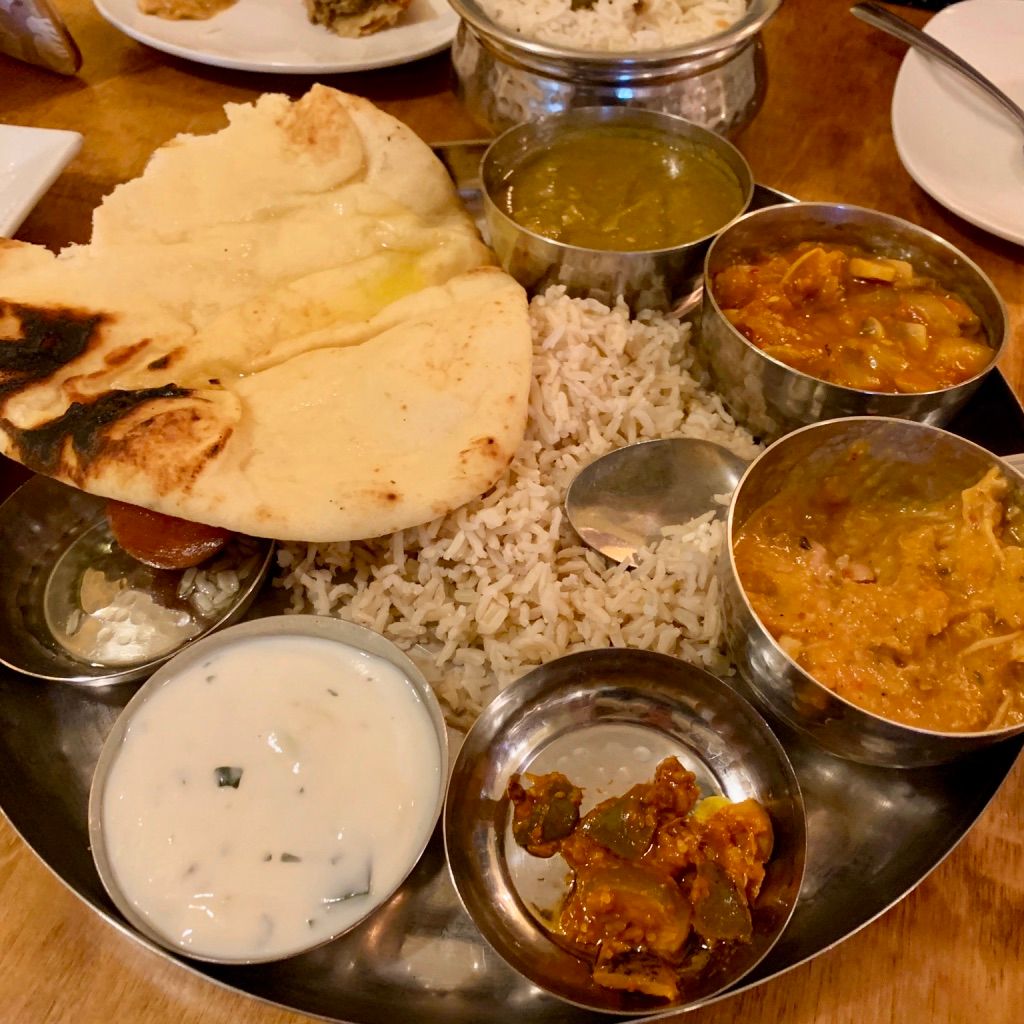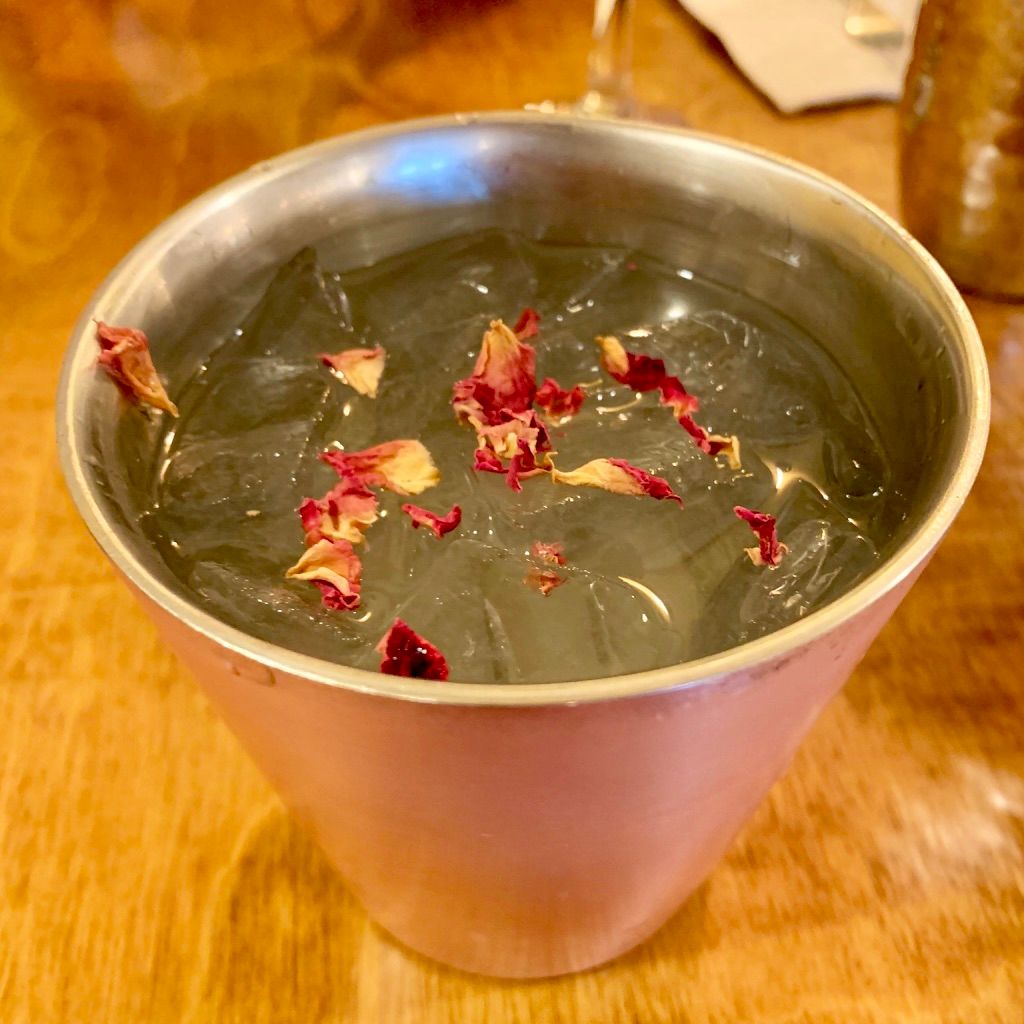 After dinner we checked into the Ashland Hills Hotel and Suites. What a pleasant little surprise this place was.  It's got a cool retro vibe with mid-century modern decor.  Located about 3 miles from the downtown area, its tucked into a little valley which has stunning panoramic views of the surrounding mountains.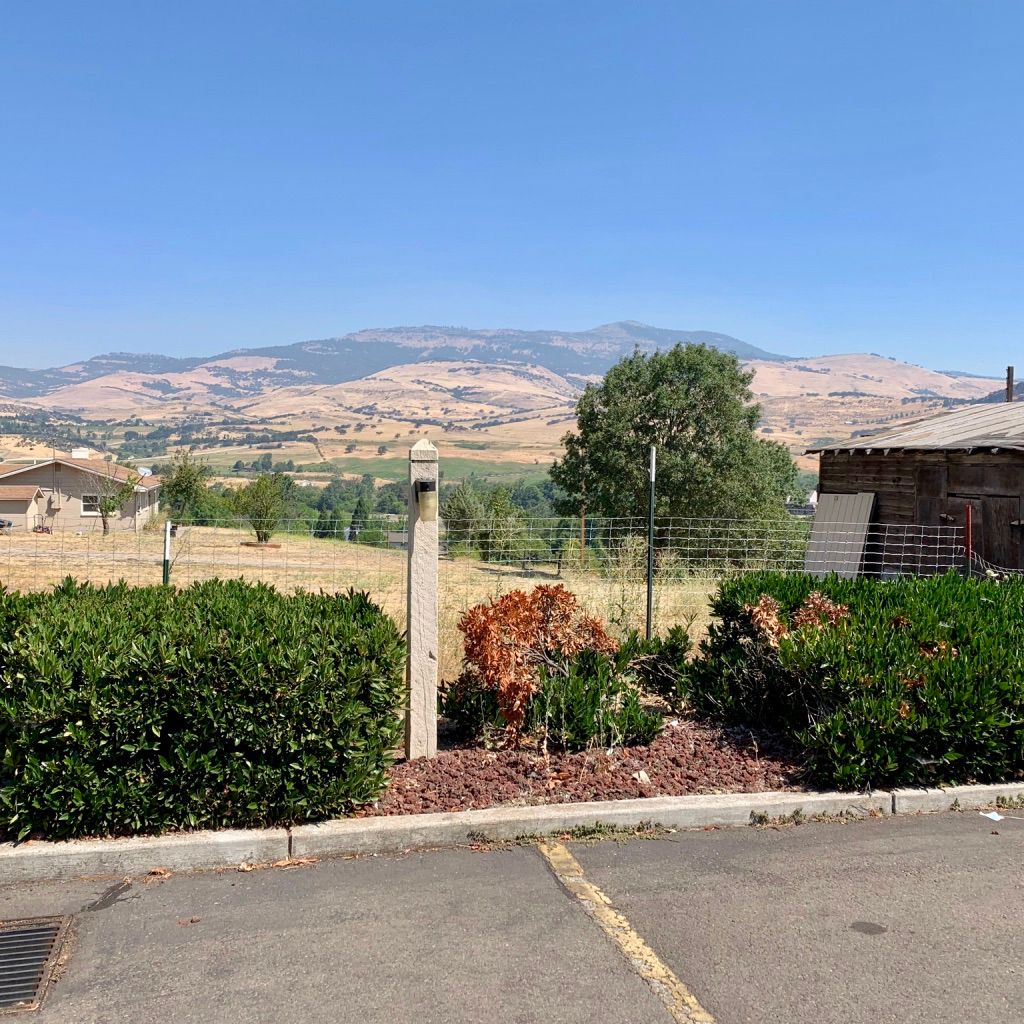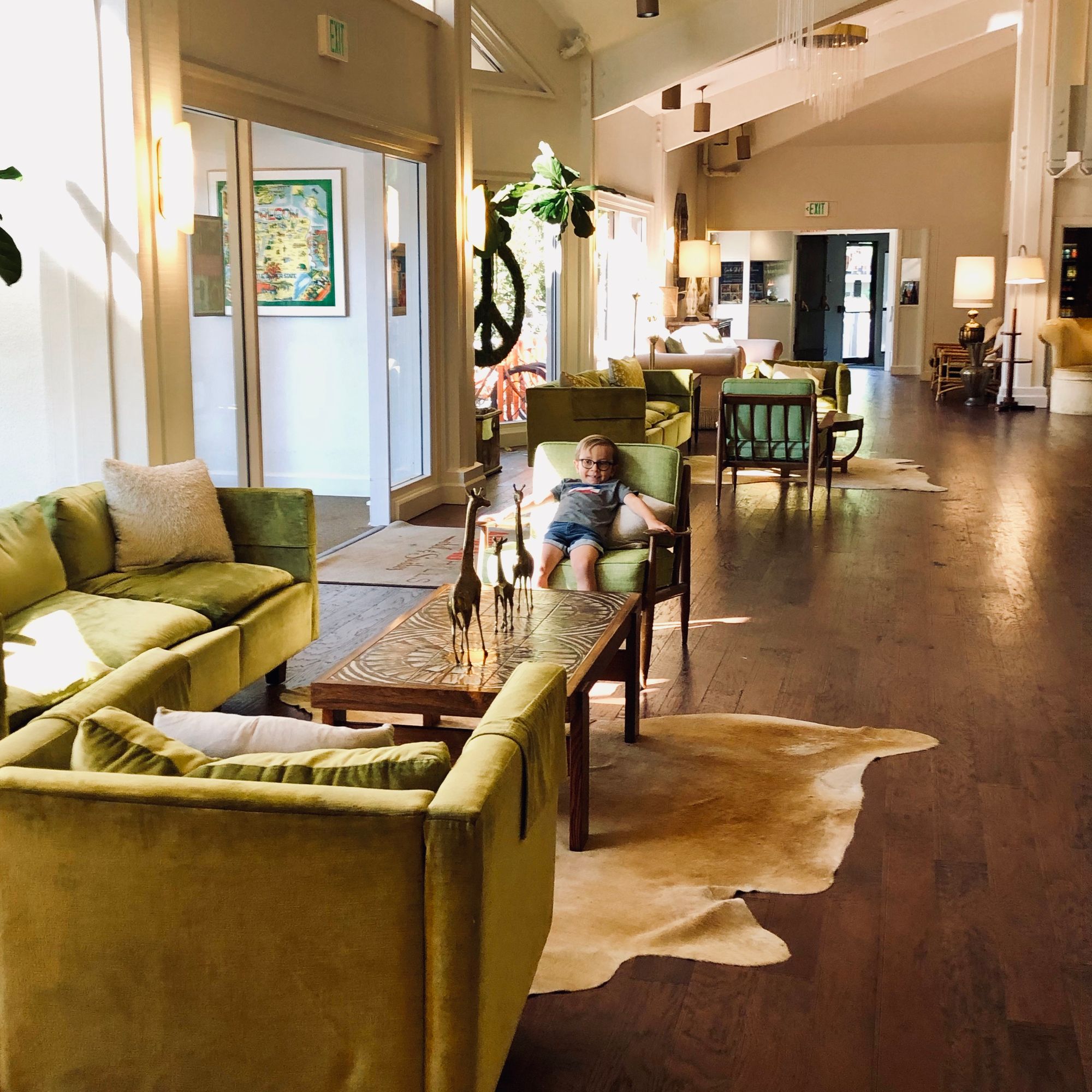 Cafe Luna & Mercantile is a hip little restaurant and bar located right beside the hotel lobby.  It's super family friendly with an adorable gift shop and a photo booth out front, which Quinn and I had some fun in.  We had dinner and drinks here our second night in Ashland.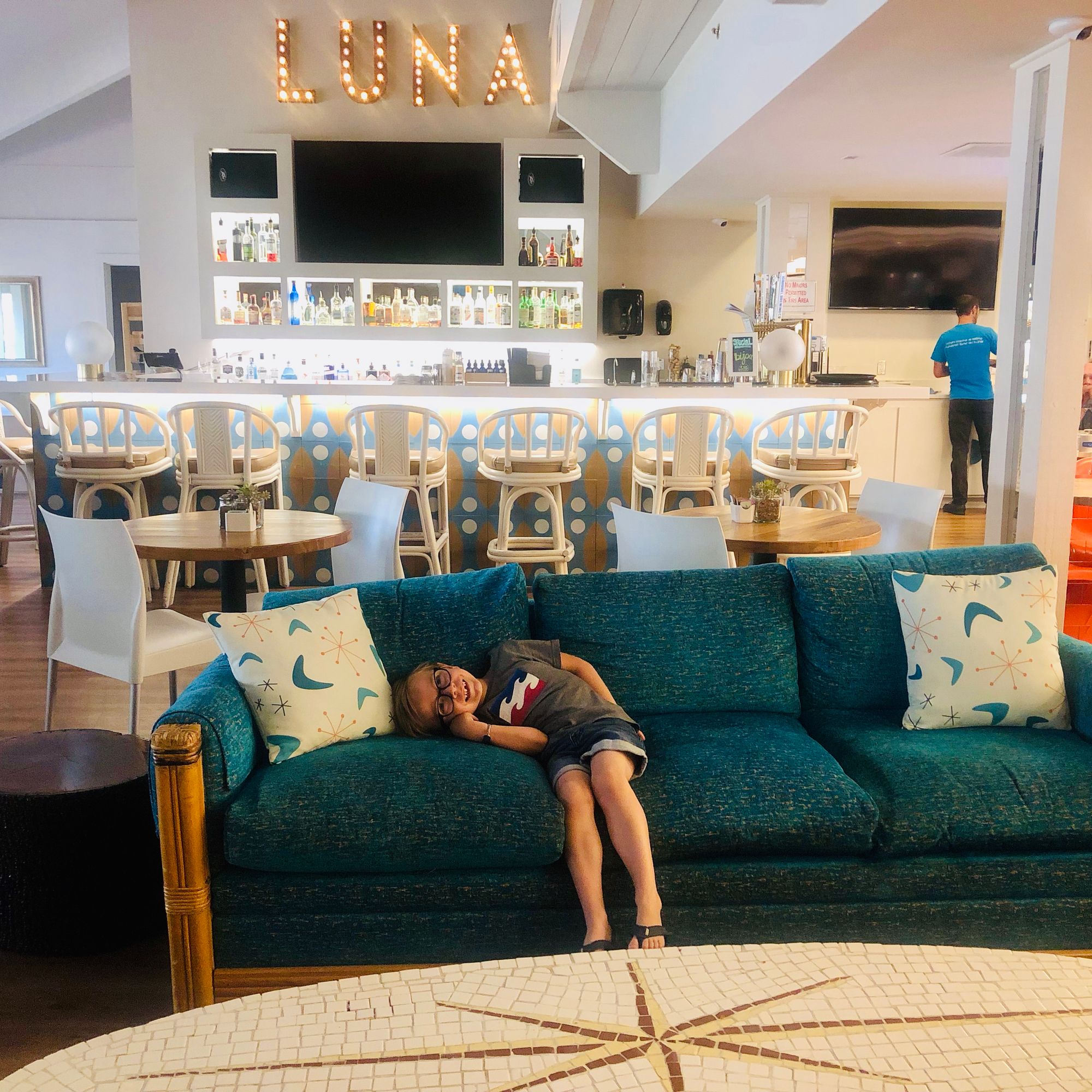 They serve free breakfast in the morning in the upstairs lounge.  After breakfast Quinn and I walked around, exploring the hotel for about an hour while Jamie went to work on the balcony outside of the cafe, stunning mountain views included.  Not the worst view to have while working.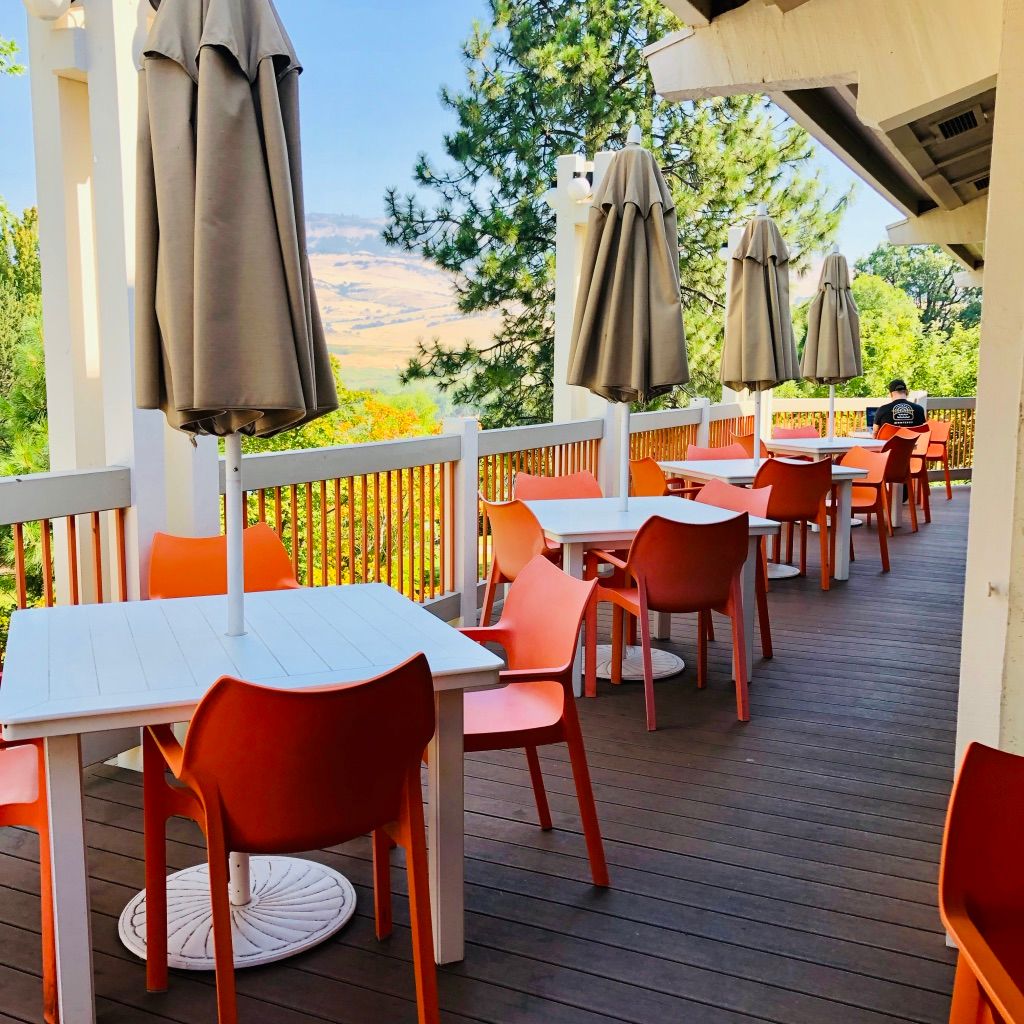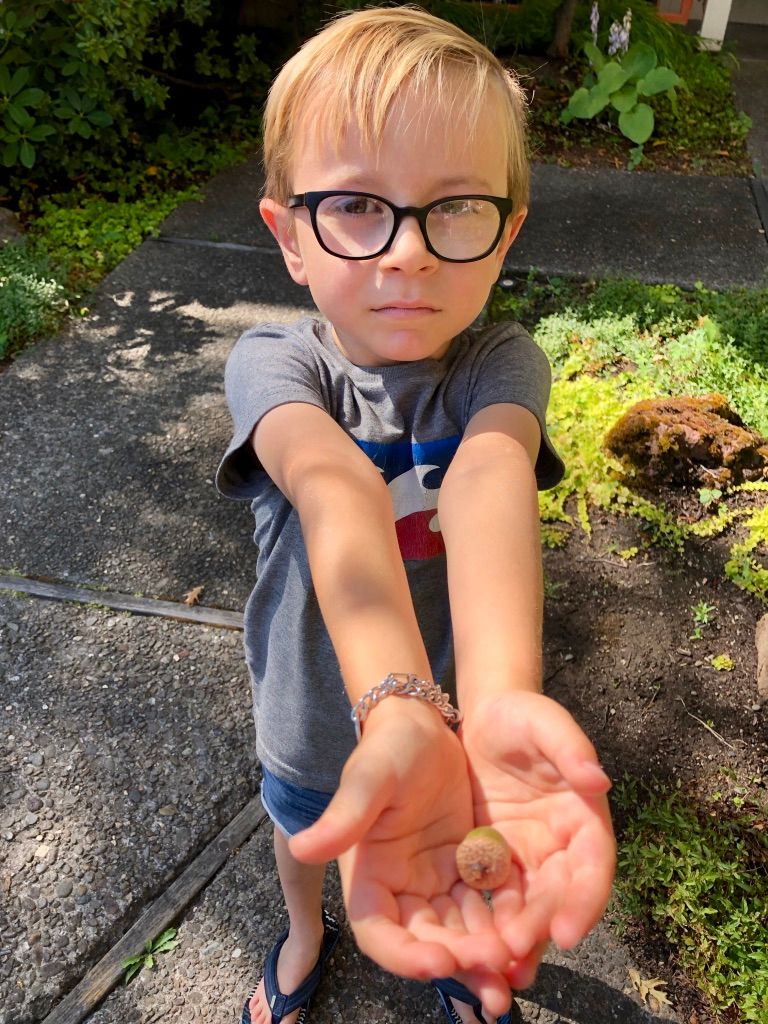 While I would have loved to go see a play at the Shakespeare festival there was nothing age appropriate for Quinn this afternoon so we decided to go to Garfield Park to burn off some energy.  As long as Quinn can run around, climb things, hang around on some monkey-bars and slide down a few slides as least once a day, he's pretty much good for anything else after that (this kid has energy for days!).  After the park we headed to Science Works, a hands-on museum with several interactive exhibits, and spent a few hours there.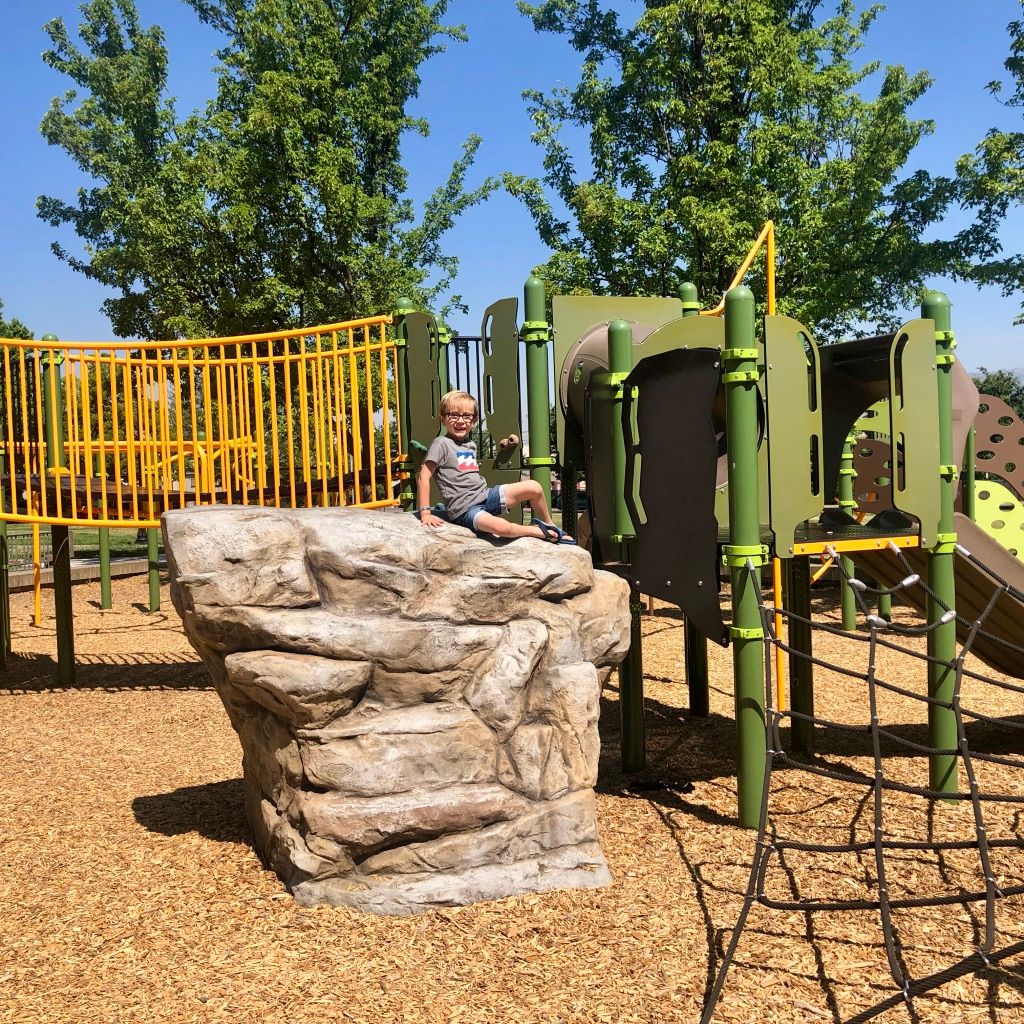 One of the projects we are having Quinn work on while traveling is a travel journal.  The goal is to do a drawing and small writing assignment on every city we visit.  He was anxious to get started on his first journal page so we headed back to the hotel after the museum so he could get to work on his Ashland page.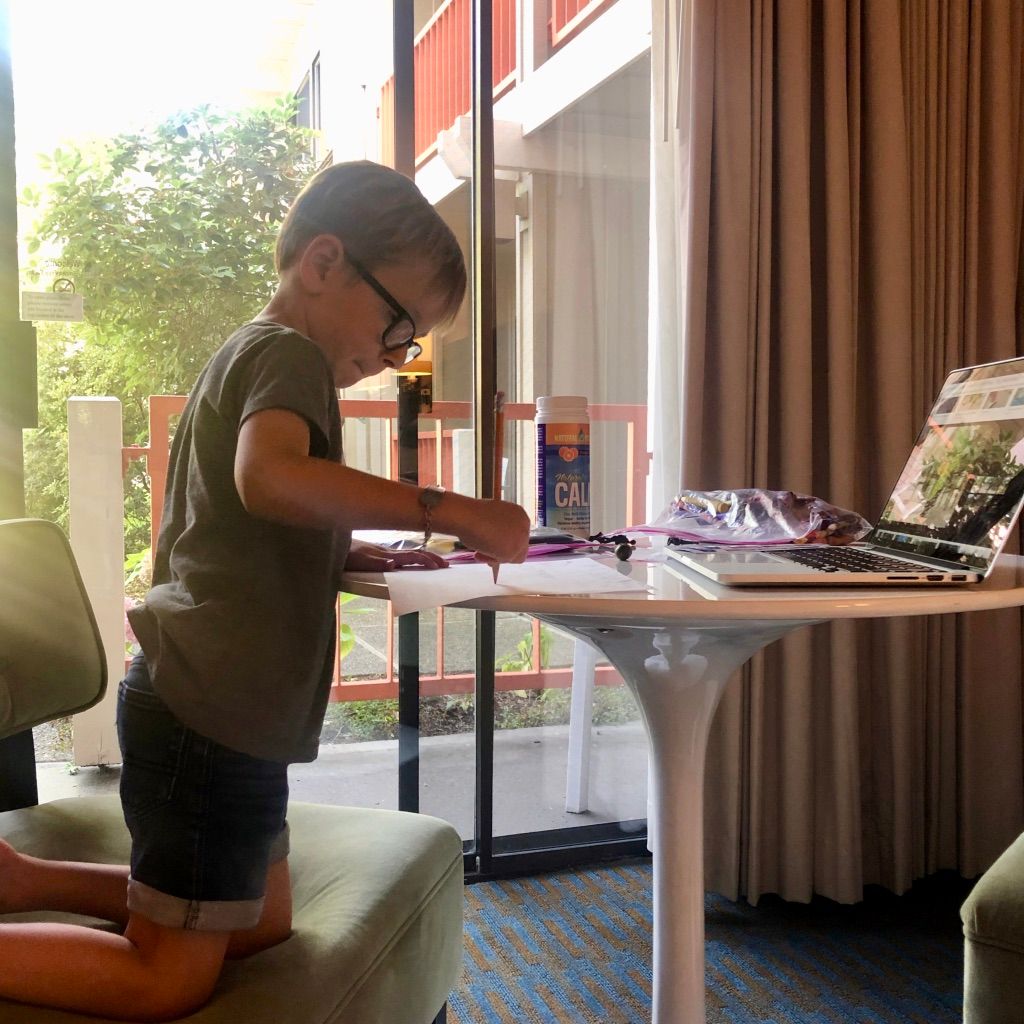 Jamie took the next day off of work to enjoy a little taste of Ashland before leaving to drive to Portland.  Before heading out of town we went to visit Lithia Park.  Lithia Park is the Golden Gate Park of Ashland and in fact was designed by the same landscape architect, John McLauren.  Fun fact: The name comes from a water spring discovered at Emigrant Creek.  When analyzed the water contained the second-highest concentration of Lithium in any natural spring (first being a spring in Saratoga, NY).  The mineral Lithium is presumably good for you.  Honestly, other than it being a psychotropic drug used as a mood stabilizer, I had no idea about Lithium as a mineral....
In any case, the small amount of this park that we were able to explore was beautiful.  Kind of like walking into a fairy garden with tons a shaded walkways amidst a forest of trees.  There are several charming bridges which cross over a creek that kids can play in, as well as several playgrounds.  I could have spent all day here, but we had to hit the road to get to our next home in Portland.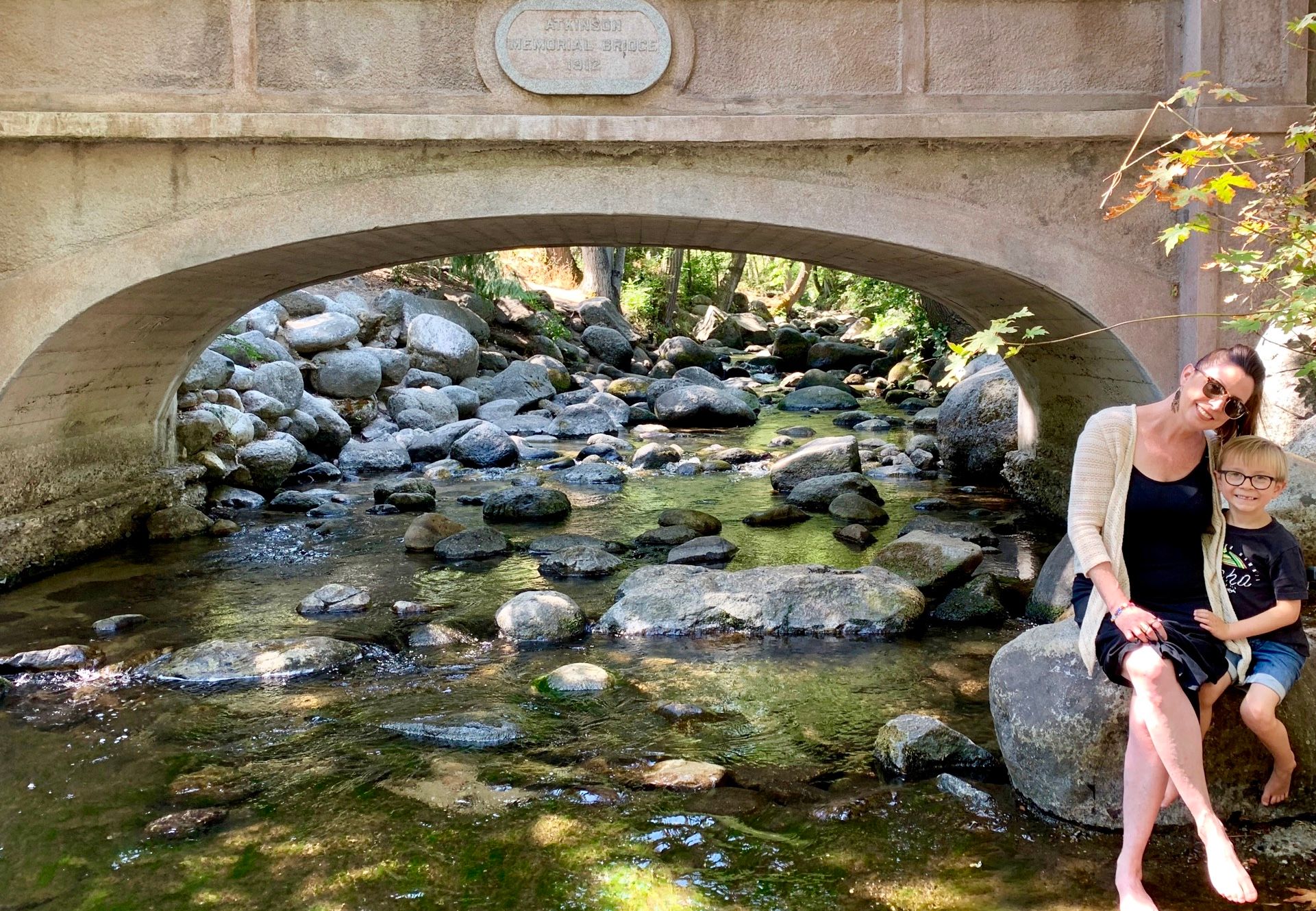 We really enjoyed Ashland and there's easily enough to explore for a handful of days. If you get the chance, we'd definitely recommend stopping for a bit, checking out a play or two and having dinner at one of the several fantastic restaurants.